Overview
Tucked neatly away in the northeast
Appalachian Mountains
is the
Taconic Range
. Formed when the North American plate collided with an arc of volcanic islands, they now lie mostly on the borders of New York and Vermont, Massachusetts and Connecticut. It forms a narrow strip of smaller peaks that run between the
Adirondacks
and
Green Mountains
up north down to the
Catskills
and
Berkshires
in the south. Within this section situated right where Massachusetts, Connecticut and New York meet, lies little Round Mountain. As its name implies, it's a nice mound that is mostly tree-covered but with some nice viewpoints on the summit. Round Mountain sees a lot of traffic with a fairly easy trail that acts as a connector between the
South Taconic Trail
to the west and the
Appalachian Trail
to the east but probably more so because it is directly east of
Mt. Frissell
and every state highpointer knows you got to hit that one to claim Connecticut. And, to get there, you go up and over Round Mountain (by the more popular and shortest route). The summit and south part of the mountain lie within Connecticut while the northern slopes are in Massachusetts.
To be sure, this one would be considered an easy, quick summit but there is a great little scramble section before the summit with viewpoints to the east and north on the way. One does need to be mindful there as it would be unfortunate to have a spill. The summit affords views of several Taconic Peaks to the north (mainly Mount Ashley), Mts. Frissell and Brace to the west, Riga Lake to the south and the Berskhires in the east (also the Taconic peak,
Bear Mountain
). The hike to Round Mountain will only take you about 15-30 minutes and although the mileage is just a guess, it would definitely seem like less than a mile with maybe 400-500 feet of elevation gain.
Many people mistake being on the summit of Round Mountain for Mt. Frissell but that peak is still a dip to a saddle and a hill climb away to the west. The summit of Round Mountain has many open rocky areas where it appears people got carried away with the idea of making cairns. There are a number of them (and the views here are better than Frissell's summit so why not?) but if you are heading over to Mt. Frissell you will need to keep following the red markings west. While Round Mountain gets little credit or mention anywhere (except as a stopover to Frissell) it does make a nice short hike and scramble if you are looking for a quick getaway with excellent Taconic views.
The northern, Massachusetts part of the mountain lies within the
Mount Washington State Forest
while the southern, Connecticut part of it falls mostly in the Mount Riga Forest Preserve. To be sure, there are a whole lot of trees and woods to enjoy in this quiet area.
Getting There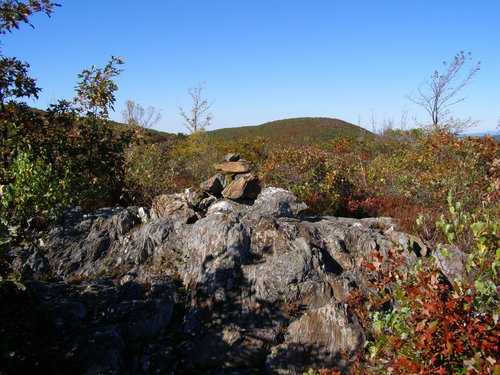 If coming from the northeast:
(read these carefully first)
Take Massachusetts Turnpike to the Stockbridge exit (W Road), turn left onto W Road and go short distance to Sockbridge Road. Take a right on Stockbridge Road/Lee Rd. and drive to the fork in the road, veering right and staying on Lee Road. Go 2 blocks to East Street (Route 7) and go left on Rt. 7 through the town of Stockbridge. Following signs for Highway 7 you will turn left at the Red Lion Inn. Continue on Rt. 7 to Great Barrington. Route 7 becomes also Route 41 and in ot slightly after Great Barrington you need to switch and start following signs for Route 41 (it will be a right fork in the road, also known as Maple Ave). Then follow Route 41 on and through the town of South Egremont. Route 41 will at this point also be Route 23 and these roads will then split off from each other. Just after this split (and staying on Route 41) turn right onto Mt. Washington Road. Stay on Mount Washington Road until it splits and take the left fork (East Street). Staying on East Street you will go past the Mount Washington State Reservation on your right and shortly the road will turn into a dirt road. Keep your eyes peeled here for a
sign on the left side of the road and a state border marker
sticking up out of the ground. It's easy to miss so make sure you are specifically looking at all places where you think there is a pullout to park in and you should be able to spot it. Park on the right side of the road (west) at the trailhead-room for a few cars. Do not park on the other side of the road in the pullout area-it is a tow zone.
If coming from the northwest:
Also take the Mass Pike but to the exit for Route 41 to Great Barrington. Follow Route 41 into Great Barrington and continue as above.
From the south:
Take Route 41 north to South Egremont and then same as above.
Red Tape
No fees or permits required, just mind the No Parking - Tow Away Zone signs if not parking directly at the trailhead. You could park along the road as well but try to pull off as much as you can.
Camping
This is really a dayhike but there are campgrounds in the area:
Near Great Barrington, MA is
Beartown State Forest
Information about Massachusetts Campgrounds
Connecticut Campgrounds
Mountain Conditions
Mount Washington State Forest
RD 3 East Street
Mt. Washington, MA 01258
(413) 528-0330
When To Climb
Spring, summer and fall are usually the best but a winter climb would be possible (and probably nice) as long as you can get to the trailhead at 1800 feet (sometimes this is not passable due to snow).