Overview
When filled with snow, Mount Woodrow Wilson's South Couloir sticks out like a sore thumb for miles along the approach to upper Titcomb Basin. This inset, highly aesthetic couloir splits the peak's impressive south face down the middle and simply begs to be climbed.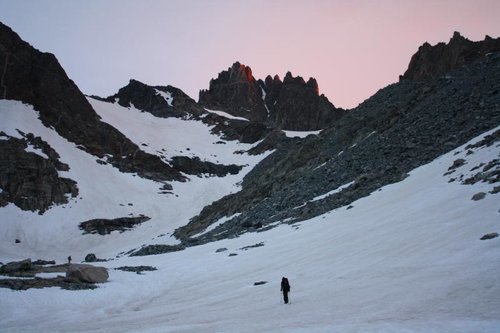 When To Climb
Conditions in the couloir vary greatly throughout the spring and summer and from year to year. In the last week of July 2009 the couloir was badly melted out at the bottom and contained rotten snow and a bit of ice higher up. A
brief report from some skiers
indicates exposed rock and bad snow in May 2007. However, a friend reports finding fantastic snow conditions the first week of July many years ago.
Sphinx Glacier
To reach Sphinx Glacier from upper Titcomb Basin head north up a gully and then continue northwest, north, and then northeast on easy and moderate snow slopes as shown on the map below. Although Bonney & Bonney state that crevasses must be negotiated on Sphinx Glacier, we found them to be completely snow-filled in late July.
South Couloir
From Sphinx Glacier Mount Woodrow Wilson's South Couloir is more than obvious. Climb up it for several hundred feet to an airy notch just east of the summit. In spring and early summer this is a straightforward and enjoyable snow climb. Later in the summer the couloir begins to melt out exposing loose rock and nasty rubble. If conditions or comfort levels warrant, protect with pickets or by placing rock pro in the couloir walls. We found several established anchors but needed to replace the webbing.
In very late July the bottom of the couloir was melted out and we were forced to begin on rotten low 5th class rock. I don't recommend climbing the route under these conditions; our group contained some steadfast peakbaggers who really wanted to reach the summit.
Once you reach the top of the couloir the summit is very near. Climb west up about 10 feet of 5.easy rock to reach easier ground above. From here its a short, straightforward scramble to the summit. Admire the incredible views!
Essential Gear
Necessary gear is very condition dependent, but I recommend crampons, an ice axe, at least one 50 or 60 meter rope (though the pre-existing anchors were clearly set up for two), a light alpine rack, pickets and webbing.