Overview
This is a great route to do if you're pressed for time yet still want to get out and climb a high 13'er (summer with road open to Blue Lake). Can do this without an alpine start and still make it to Breckenridge for an early lunch and beer.
Getting There
From I-70 take CO-9 through Breckenridge and look for Blue Lakes Road, to your right, just before the road begins the steep climb up to Hoosier Pass. Any passenger vehicle should be able to make it to the Blue Lake parking area at the end of the road. The trail head is marked and is north, across the road from the lake.
Approach and Route Description
From the Blue Lakes trail head, the trail initially climbs up moderately through very dense brush and works its way westward to a high valley. Once in the valley, follow the gradually climbing trail northward, staying left to just before the end of the valley.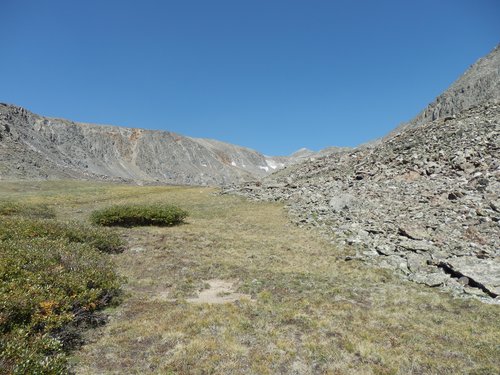 There is a snowfield on the slopes to your left (west) that typically lasts well into late summer. Climb straight up the slope to the plateau at the top. Fletcher Mountain will be the prominent peak to the north west. You'll have a complete view of the south east ridge of Fletcher Mountain.
It's now a quick and straightforward talus run up to the summit.
Essential Gear
Axe and crampons if climbing early season.
style="display:block"
data-ad-format="autorelaxed"
data-ad-client="ca-pub-6523272176520096"
data-ad-slot="7132222476">