Overview
Stomping Knob, also known as Little Piney, is the second of the Seven Sisters above Montreat, N.C. Although viewless unless climbed in winter, it has unusually pretty rhododendron groves and woods, and the main trail to the top passes the interesting remains of two stills.
Trail Access
The trail up Stomping Knob is called the Little Piney Ridge Trail. To reach the trailhead, take NC route 9 into Montreat. One half mile beyond the stone gate into the community, turn left onto Louisiana Road. After 0.4 miles turn right on Harmony Road. The trailhead is about a hundred yards up this road on the left. There is parking for two or three cars.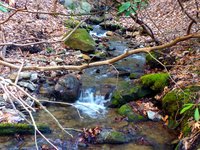 From here it is 1.14 miles along a well-constructed, yellow-blazed trail to the summit. Vertical gain is 1250 feet, most of which is in the steeper second half of the hike, after you pass the first of two moonshiner's stills. Hiking time to the top is 30 minutes if done very briskly; 1-2 hours for most hiking parties. You'll know when you've arrived because there is a
marker
.
The summit is wooded and has essentially no views in summer, although a hint of a view may be had by bushwhacking to the rocky south summit about 200 yards south of where the Little Piney Ridge Trail first bends onto the crest.
The West Ridge Trail over the six highest sisters begins on Stomping Knob. It is about 0.6 miles to the next sister, Brushy Knob.
Nomenclature
Stomping was an essential step in making moonshine, and the name "Stomping Knob" probably comes from the moonshining history of this range. Professor Perrin Wright theorizes that the name may have been invented
in the 1980s or may have migrated to this peak from another knob farther up the ridge. However, there is no other official name for this mountain, and the presence of moonshining remains on the trail to the top seems to make it an appropriate one.
The knob is located at the top of Little Piney Ridge and above the hollow called Little Piney Cove, and for this reason people sometimes refer to the peak as Little Piney.
Links and Sources
Seven Sisters page
(more info)
Perrin Wright, "Geographic Place Names In and Around Montreat, N.C. (2003).
Rock Hill, S.C. Evening Herald,
Nov. 1, 1938
(describing a major fire in the area the Little Piney Ridge trail traverses).