Overview
Tangerine Falls, in the context of a "Rock" page, refers to a rock formation located in a deep gorge to the west of
Cold Springs Canyon
in the mountains of Santa Barbara, California.
For decades residents of the south coast of California would rush up the trail after a hard rain to see the Tangerine Falls cascading nearly a hundred feet down the side of a cliff. It is only natural that the beauty of an impressive waterfall would steal the show, unless you are a rock climber, of course. Where there is a waterfall, there have to be steep rock formations on either side.
The steep rock formations of Tangerine Falls may have gotten past the attention of the ordinary visitors, but not the local climber Tony Becchio. In the early 1990s Becchio invited his friend and climbing partner Pat Briggs to join him to explore the climbing possibilities on the steep rock formations to the left of Tangerine Falls. The steep right side rocks were broken up into large blocks, but the left side presented solid faces that rose two hundred feet from the base. Becchio and Briggs went to work cutting a trail to the base of the wall. They spent weeks cleaning and bolting six routes on the steep face of the left side.
Routes of Tangerine Falls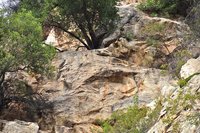 As it is a common practice amongst seekers of first ascents, the route development on Tangerine Falls was kept among a tight circle of friends. But, when the word got out about a new formation in the area, climbers were scrambling over each other to repeat the routes. Unfortunate for those new to climbing, they did not find any easy routes on Tangerine Falls. The easiest route was a solid 10a with a base not very easy to get to. Becchio and Briggs, of course, had kept the hardest route on the crag for themselves. That route is called Infectious Groove, rated 12a.
To climb Infectious Groove, you need to first climb a fourth class section of the rock to a ledge. Right off the ledge you are confronted with an overhanging crack. If you are going to Tangerine Falls for this route, I think it's a good idea to bring a few larger cams to supplement the bolts. The crack itself may not be all that difficult, but turning the lip of the overhang definitely is. At this point, if you have anything left in your body, climb past a few more bolts to a double bolt chain anchor on the top.
On my last visit to Tangerine Falls, I noticed that the approach gully to the base was badly overgrown. It seems that not many people have climbed on the crag in some time. It helps to bring some large sheers to do a little gardening while you're at it. Bring a long sleeve shirt as you will run into many poison oak plants.
To get to Tangerine Falls Rock Formation
start your hike at the same trailhead as
West Fork Of Cold Springs Canyon Trail
and
Tangerine Falls Summit Trail
. After a quarter of a mile you will see a rusty old sign marking the point where you need to cross the creek. From here on you won't be crossing any major creeks until you arrive at the main gorge where Tangerine Falls formation is located. About half a mile up the trail you will come to a fork. Take the right one that passes by a boulder and a broken pipe. After a short distance you will come to another fork. Take the right one that passes by an exposed pipe. Soon you will cross the creek and follow the trail to the base of the crag. The trail will disappear in places, but don't get discouraged. Use your best judgement as to where the trail will continue and head that way. This is a narrow gorge and the trail cannot disappear for long.
List of the select routes
| | |
| --- | --- |
| | List of the climbs of Tangerine Falls |
| A | Fools Gold, Variation # 1, 11a, bolts, a number 3 cam may come in handy |
| B | Fools Gold, Variation # 2, 11a, bolts |
| C | Infectious Groove, 12a, bolts, a few large cams will come in handy to supplement the bolts |
| D | Cosmic Tarantula, 11a, bolts |
| E | Chunky, 10b, bolts, |
| F | Ballistic Midget, 10a, bolts |
Camping
Unfortunately, there are no campgrounds close and convenient to Earth Watch.
There is, however, one very large and well developed campground at Cachuma Lake, and a few less developed ones along Paradise Road off Highway 154. There are also a few campgrounds along Highway 101 at El Capitan State Park and Refugio State Park.
El Capitan Beach Camping
Refugio State Beach Camping
Cachuma Lake
External Links