Overview
The
"Via ferrata Merlone"
was built in 1966. It leads via the west pillar of the Cima Cadin Nord-Est to the summit.
The "Via ferrata" follows a previous climbing route (Difficulty: III according to UIAA).
The demands on climbers are average, the route itself is very steep, in some sections vertical.
You should plan half a day for this tour – and you should definitely reserve enough time for a stop-over at the Lake Misurina.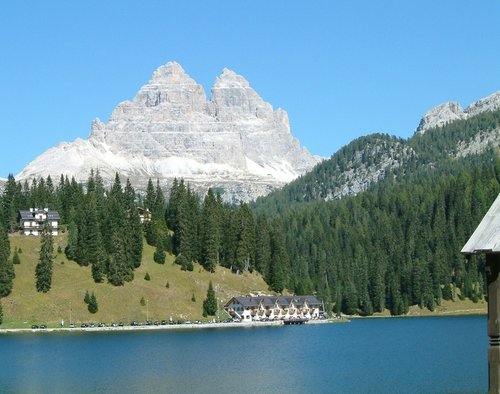 Getting There
Refer to the
"Getting There"
section of the parent page "Cima Cadin Nord-Est".
Route Description
Approach:
On the marked trail (no.
115
) you reach the Tocci Pass in app. 75 minutes. Directly on the Tocci pass the nice hut "Fonda Savio" is located.
Route ("Via ferrata"):
You reach the start of the ferrata itself in about 25 minutes from the hut Fonda Savio, using the path marked with
116
and heading to the left at the junction near Cima Cadin Nord-Est (good red marks on the rocks until here). The path is not very visible from here, because it leads mostly through scree. But from here you can already see the start of the ferrata (blue arrow, ropes) and some ladders, when looking up the impressive wall.
Ropes lead via stepped rocks to the start of the so called
"Heaven's ladder"
. This series of ladders – with rope secured and some non secured easier parts inbetween – leads to a scree terrace (check possible
rockfall-danger
especially during this section).
From the exit you reach the summit very soon via a couloir (app. 75 minutes from the start of the ferrata).
Summit view:
For the descent typically the same route is used.
Total time: app. 5 hours
Hint:
Instead of going straight back to the trailhead, you can combine this tour with the northern part of the route "Sentiero Bonacossa" (marked with 101). Then the total time will be app. 7 hours.
Essential Gear
- A pair of good hiking shoes (you should feel comfortable with them during hiking
and
climbing)
- Helmet (because of rockfall danger)
- Harness and "Via ferrata set" with carabiners for belaying
Recommended:
- Hiking poles for the approach, if you prefer using them for hiking parts on the route
When To Climb
Best time: from the mid of June until the beginning of October
Mountain Huts
Rifugio Fonda Savio
For details refer to the
"Mountain Huts"
section of the parent page "Cima Cadin Nord-Est".
Literature
Map:
TABACCO (sheet number 03) "Cortina d'Ampezzo e Dolomiti Ampezzane" (1:25.000)
Books:
All sorts of ferrata-guides for the dolomites from the guide-author
Eugen E. Hüsler