Overview
The Humber Park/Devil's Slide Route is the second most used and popular trail to San Jacinto Peak. It is only surpassed by those hiking from the Palm Springs Aerial Tram. So techinically, this is the most used "non cheating way" to access the peak. It is probobaly one of the best maintained trails within
Mt. San Jacinto State Park
as well. The trail begins at Humber Park, which is heavily used to access
Suicde Rock
,
Tahquitz Peak
and
Tahquitz Rock (Lily Rock)
. This actual Devil's Slide Trail is only 2.5 miles long and then joins the PCT. It then leaves the PCT and follows the Wellman Cienega Trail to Wellman's Divide. So the name sake for this trail is Devil's Slide/Humber Park simply because of its starting points.
Also, parking may be limited at the trailhead if you arrive later in the day. Arrive early and you will have choice parking along with clear trails.
You must have a
permit
. Click the link for permit information. This is important becuase they do check permits. This is mostly in the summer, however its still a good idea to have one in the winter months as well.
Also an Adventure Pass is neccesary to park at the trailhead. This can be obtained in a yearly pass or a day pass for $5. You can find them at most sporting goods store and at the ranger station.
Route Discription
From Humber Park, head up Devil's Slide (and you will find how it got its name). This part of the trail is 2.5 miles long. You will then reach Saddle Junction and then from here, continue towards Wellman's Divide. This part is around 1.9 miles. From here, you then continue the last part to Wellman's Divide. This stretch is 1 mile long. After reaching Wellman's Divide, take the San Jacinto Peak Trail (you can't miss it). Follow this till you reach the last junction for San Jacinto Peak. You will take a right and head towards the peak. The last part involves mile boulder hoping. This route is around 16 miles long with around 4,384' in elevation gain.
Camping and Water Supply
Camping
- This trail has plenty of places to camp along it. This first being around Saddle Junction. Around Saddle Junction there are plenty of spots to camp and further on in towards Tahquitz Valley and Chinquapin Flats have plenty of camping as well. Also, just beyond Wellman's Divide there is the famous Round Valley. However, the mile from Round Valley to Wellman's Divide is gruesome. Aside from these areas, there are plenty of areas where one could camp. Camp at least 200ft from trails, streams or meadows.
Water
- this most important thing in SoCal Mountains. There are a few streams that come down across Devil's Slide, however these dry up fast later on in the season. Skunk Cabbage Meadow generaly has plenty of water from what I have heard. The most reliable source of water on the trail is through Wellman's Cienega. There has always been water here when I have hiked this trail.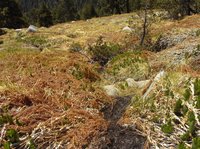 Essential Gear
Summer-
Boots, plenty of water, map/ compass, and sun protection.
Winter-
The same as mention above, but also snowshoes, crampons, and an ice axe might be needed as well. Also, warm clothes would be a good idea.
Getting There
This is the tricky part. From Hwy 243, take a right (if your heading north) and take a left (if your head south) onto Pine Crest Ave. Then take a small right at S. Circle Dr. Then take a left at Fern Valley Road. Follow Fern Valley Road all the way to Humber Park.
External Links
San Bernardino National Forest
San Jacinto Ranger District
54270 Pine Crest
P.O. Box 518
Idyllwild CA 92549
(951)-659-2117
Mt San Jacinto State Park
29505 Hwy 243
P.O. Box 308
Idyllwild CA
(951)-659-2607
Mt San Jacinto State Park
Misc
If you have any additional information or pictures regarding this route please post them or let me know. Thank You