Overview
This range is very dificult to climb. The mountains are vertically, the trail hasn't water by the way and is very close, because Mina's region rains hard. The Mina's range ( Serra Fina ) is in front of Itatiaia National Park and just one valley separate the ranges. The geology is same, rocks and rocks. Another group of mountains, Itaguaré group and Marins Peak are very close to this mountain, with wonderfull places and great peaks too. Pedra da Mina is the 4th highest peak in Brazil.
Getting There
The start of the trail is in the Passa Quatro county. From Rio de Janeiro , around 320 km and São Paulo, the same. The mountain is far of any county around it. By the way , you must be with a good guide to your security to climb or camping in this region. However , from Dutra's road ( BR-116) you take some views of the range. If you want to know more about this mountain, get the brazilian websites about " pedra da mina".
Pedra da Mina Map
When To Climb
At winter. April to October. At winter the weather is very good to hike. At day , subtropical temperature( 10° - 20°C) and at night , the coldest place in Brazil , with temperatures near -10°C. The icefall is rare , but exists in a few moments of the year.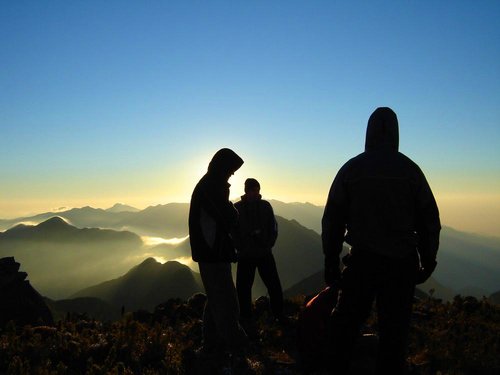 Rotaturismo - Pedra da Mina
Serra Fina Expedition
Camping
There are a lot of places to camp in Pedra da Mina region, but nothing is better than you fix the tent over the top of this big and stunning mountain.
Miscellaneous Info
Pedra da Mina is the mountain with more dificult to climb in this region, because is far from everything. The trail isn't visible and don't have celular signal. if you want to go there , prepare your group and you too!
A guide service is available in Passa Quatro Tourist Center
Mountains conditions
Weather in Passa Quatro
Links About Pedra da Mina
Ecophotos About Mina by Adilson Moralez - 1
Ecophotos About Mina by Adilson Moralez - 2
Pousada Pedra da Mina
Environmental Ecological Trips
Mario Lucio Sapucahy - Photos Pedra da Mina