Overview
This is a pleasant if somewhat steep (3,100 feet in 3.5 miles) hike on the western slope of the Pikes Peak massif to gain the Teller County Highpoint. It is almost entirely on trail and, once the hiker overcomes a bit of spaghetti junction of trails near the beginning, the later part of the hike is easy to follow (conditions permitting). Roughly two-thirds of the route travels through deep forest, while the remaining third is above the trees with wide-open views.
Roundtrip Distance:
7 miles
Elevation Gain:
3,100 feet
Getting There
From US 24 in Divide
• Turn south onto CO 67
• Follow CO 67 for 4.1 miles
• Turn left onto dirt road
• Continue on dirt road for 3 miles to trailhead
Note: Park your vehicle at the newly developed Forest Service trailhead; do not continue on to park at the campground if you are day-hiking.
Route Description
• Depart the parking lot toward the trailhead (see Crags Trailhead postings).
• Continue on the trail for about 1/10th of a mile to a trail junction. At this point, the Crags Trail goes left and the trail you want goes right.
• Follow FS Trail 664A across a well-built log bridge. Be cautious to continue following the correct trail. After the river crossing, your ascent begins.
• Continue east on an easily discerned trail, occasionally switching back, to timberline.
• Above timberline (just below 12,000 feet), the trail will lead you up through a gentle notch in the slope. The trail in this section can be steep and slick (in either snow or dry conditions on Pikes Peak gravel).
• Once the top of the ridge (approximately 12,700 feet) is gained, "Devils Playground" will be visible ahead of you to the east.
• The trail arcs in a northeasterly trend toward the Pikes Peak road.
• About ¼ mile from the top of the ridge, depart the trail toward a low point between un-ranked Point 12,792 and "Devils Playground."
• Ascend the western slopes of "Devils Playground" to the summit.
Essential Gear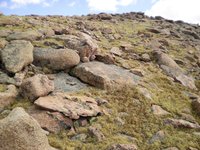 • Bring outerwear appropriate to the season.
• Haul plenty of water, there is little available once the route leaves the valley.
• Carry a good area map like the
Pikes Peak Atlas
.