Overview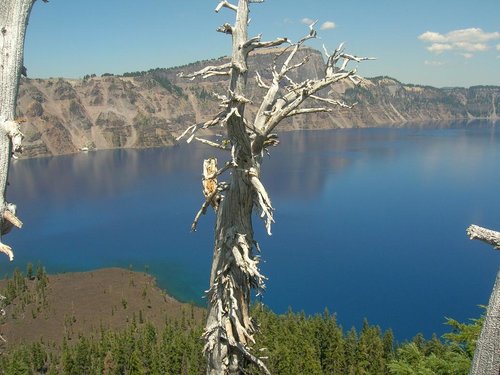 Summit Elevation: 6933 feet
Season: Mid-July - Early September
Round Trip time: 1 hr
Elevation Gain: 765 feet
Wizard Island is one of the most photographed views in Crater Lake National Park, however, most simply drive around the rim of the Caldera and maybe step out of their car a few times. Others choose to hike to some of the viewpoints like
Hillman Peak
and
Mount Scott
. It seems that a small few of the nearly half a million visitors to the park per year actually make it to Wizard Island's summit or even to the lake itself.
Getting There
From the North Park Entrance getting to the Cleetwood Cove trailhead is done by driving south to North Junction. Once there turn left on East Rim Drive and go 4.5 miles to a signed turnoff for the Cleetwood Cove Trail. You will need to get there early and buy a ticket for the Boat Tour as they fill up early.
*2013 Rates June 28 - September 15, 2010

2014 Dates TBD

2013 Ticket Price

Adult
$35.00
Adult with Wizard Island drop off
$45.00

Child (age 3 through 11)

$21.00

Child with Wizard Island drop off
$27.00

Infant (under 2 years of age)

Not Permitted
Pricing For the Boat Tours
Approach
After you've got a ticket for the Boat Tour you must meet the boats at the bottom of the Cleetwood Cove Trail. It is about 1.1 miles (1.2 km) and descends about 700 feet (213 m) to the lake. At your selected time the boat will depart and you can listen to a tour guide explain the geologic features visible along the way to the island. Once they drop you off, you have
3 hours
to explore the Island. Other activities on the island are swimming, SCUBA, and fishing which can be done without a license since the fish in the lake are not native.
After being dropped off on the island the route to the top is pretty straightforward. It is only about 1 mile each way with 765 feet of elevation gain. At the summit you will have 360 degree views of the rim of the crater as well as a surreal view into another crater. This one being about 90 feet deep and 300 feet across.
Red Tape
To enter the park you will need to pay either $10 for a 7 day pass ($5 for motorcycles)or $80 for the yearly pass (good at all National Parks)
Camping
Their is no camping on the Island. You may be able to organize staying an extra 3 hours if you discuss it with the boat operators but I'm not even sure about that.
Mountain Conditions
Crater Lake has an average of 533 inches of snow per year (about 45 feet). Having said that, it's important to know the current conditions before planning a trip to the park. The Crater Lake National Park website had a tab showing
current road conditions
and another which shows
webcams
.
External Links
www.craterlakelodges.com
travel.yahoo.com
vulcan.wr.usgs.gov
www.nps.gov