What's New On This Page?
October 11th, 2004 - Initial set up of the page.

Overview
The long shoulders of Lavanttal Alps have their undisputed king. Zirbitzkogel is so the same character as others, but higher, so it is no wonder why this area is so developed for mountaineering. The highest point of Seetaler Alps stands in the center of this 35 km long massif, west of the Obdach saddle, where the long Lavanttal reaches its highest point. On its slopes there's also the source of Lavant creek.

The area is known by nice areas, covered with 'Zirben' (sort of pine-trees - pinus cembra), magnificient trees, which can live up to 1000 years, and grow up to 20 meters. Because of its high quality woods, they are much used for carving. But despite this, I was surprised reading that the name of Zirbitzkogel comes from an old Slovenian word 'zirbiza', which would mean a red alpine meadow.

As seen on the map all around the main summit there are many mountain huts. The importance of this mountain for mountaineering is expressed also with the fact, that there's a mountain hut on the very summit and that there is an abundance of marked paths, ascending on the summit from all sides. Reaching the summit is really rewarding, first of all because of a broad view in all directions. The surrounding is hilly, the most beautiful view is towards north, where ranges of Niedere Tauern strech.

From the mountaineering and aestethic point of view Zirbitzkogel has also one or two dark sides. One is an area around the summit, which is reserved for military training. In most cases this will not affect visiting the summit. When nothing is going on, you can move there freely, but it's one more information you need to have, prior ascending Zirbitzkogel. The other point is a noticable weather radar station on the neighbouring summit.

Zirbitzkogel can be climbed from all sides and in all times of season. The shortest ascent goes from east, the longest is traversing the whole mountain range from north to south or vice versa. No need to say that besides hiking, Zirbitzkogel is also a first-class tour skiing mountain. Its slopes are just ideal for a long and nice downhill, preferably in powder snow.

Getting There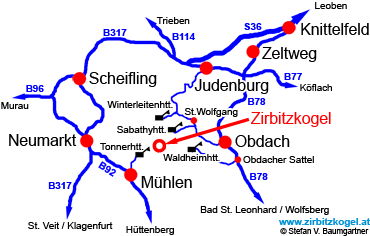 For general overview, see the Lavanttal Alps page.

Zirbitzkogel can be ascended from the valley of river Mur, where we start in Judenburg and drive towards SW to Judenburger Huette, 1421m. This hut can also be reached from the East, from Obdach.

The other starting point for the eastern approaches is Waldheimhuette, 1620m. From Obdacher Sattel (saddle) we can drive up to St. Anna, 1370m, and from there walk one more hour to the hut. A little more remote starting point is Sabathyhuette, 1620m (or the nearby Zirbenwaldhuette, 1610m), which can both be reached from the East, from St. Wolfgang in an hour walk.

From the West, we drive up on the mountain from Neumarkt in the valley of Olsa. So we reach one of starting points, either Jacobsberg from where we hike to Tonner Huette, 1650m, or See, 1131m, from where we hike directly to the top.

And finally, from south there's a long way to go to the summit. Ideally we can start hiking on the main road on Klippitztoerl, 1644m and do the crossing of the whole massif.

On web, you can see a detailed map on: http://www.austrianmap.at/.

Routes Overview

Zirbitzkogel and some of its main routes.

All routes are easy hikes over grassy slopes. Here are just some of them:


From Waldheimhuette, 1614m. 2:30h.

From Zirbenwaldhütte, 1610 m. 3h.

From Tonner-hütte, 1650m. 2h.

From Klippitztoerl, 1644m. 5h.

Red Tape
No restrictions, exept when the military region is closed for training.

When To Climb
Any time of season.

Camping
The ascent can be easily done in one day. But as the area is so developed for tourism, there are many mountain huts, supporting activities:


Zirbitzkogel-Schutzhaus: 2376 m. On the summit of Zirbitzkogel. Opened fromJune 20th to September 20th and also on weekends and holidays. 20 beds. Family Grillitsch, Tel.: 03578/8205 (Waldheimhuette).

Winterleitenhuette: 1800 m. By the Kleines Winterleitensee. Opened the whole year, except in November. 31 beds. Tel.: 03578/8210.

Judenburger Hütte: 1421 m. Alpine hut between St. Wolfgang and Schmelz. Opened the whole year, except in April and November. 32 beds. Family Sauer, A-8742 St. Wolfgang, Tel.: and Fax: 03578/8202.

Waldheimhütte: 1620 m. Mountain hut on Kaseralm. Opened the whole year, except in April and November for two weeks. 28 beds. Family. Grillitsch, Tel.: 03578/8205.

Sabathyhütte: 1620 m. Alpine hut on the eastern side of Zirbitzkogels,opened the whole year, except in November. 38 beds. Family Hoermann, Tel.: 03578/8230.

Zirbenwaldhütte: 1610 m. Austrian Alpine Club hut. For members and guests (self-service). Close to Sabathyhuette. Tel.: 03578/8279. Mrs. Felfer, 8753 Fohnsdorf, Hauptstrasse 2, Tel. 03573/211720 (Raika).

Rothaidenhütte: 1836 m. A restaurant between Sabathyhuette and Waldheimhuette, opened from June 8th to end of September. 8 rooms. Tel.: 0663/833017.

Köhlerhütte: 1855 m. Austrian Alpine Club hut. For members and guests (self-service). On the east side of Zirbitzkogel, close of the Lavant source (Lavant lake). 30 beds. 8 rooms. Herbert Kozak, Tel.: and Fax: 03124/51919 od. 0664/201637.

Rohrerhütte: 1854 m. Pasture hut, near Wildsee. Family Rohrer, Tel.: 0664/2636894.

Tonner-hütte, 1650m. Opened from December to April and May to October.
60 beds, 15 rooms.

External Links
Austrian Map online
Online digital maps of Austria (OEK 50, OEK 200 and OEK 500) by the BEV (Bundesamt für Eich- und Vermessungswesen) - in German

A very good page in German: http://www.zirbitzkogel.at/index.html

Images