In memory of

The previous owner of this page put the following dedication foremost, and out of respect to his wishes and to the deceased, I am keeping that.
In memory of Thomas Andrew Whitley who loved these mountains. To see all of his photos, click here.
Overview
Although Amon Carter Peak, often simply called Carter Peak, is one of the lower named summits in the Chisos Mountains, it is one of the most dramatic, especially since, with Vernon Bailey Peak, it frames the Window, a popular hiking destination and the target of many a camera at sunset.
Reaching the small, rewarding summit requires some Class 3-4 scrambling and some cactus-dodging, but the views are awesome. On a clear day, you can see the high Chisos Peaks, the sprawling desert to the west, and well into Mexico.
According to Wikipedia, Amon Carter was "the creator and publisher of the Fort Worth Star-Telegram, and a nationally known civic booster for Fort Worth, Texas."
In Big Bend National Park, drive up into the Chisos Basin. Follow signs for the Window Trail. If you are staying in the campground or can snag one of the few open parking spots there, you can shave some distance, time, and elevation.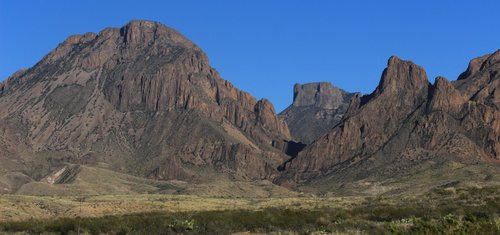 Route Information
As the Window Trail descends, about two miles from the campground and after an elevation loss of about 400', it gets close to an obvious talus slope just west of the trail and across what almost always will be a dry drainage. Leave the trail and ascend the talus slope. At first, the path of easiest resistance seems to be on the right, but there actually is a climber's trail through the scree on the left. It helps.
After reaching a saddle, follow the undulating ridge to the summit. For extra fun and spice, follow the ridge, though that will sometimes force you to downclimb or re-track. There is usually an easy way to bypass by staying lower, but those like me who like Class 4 on questionable rock, sometimes with serious exposure, will work the ridge as much as possible.
The final "pitch" to the summit can be Class 2-4 depending on how you do it.
Distance from the trail to the summit is maybe a mile, with 1000' of elevation gain.

Red Tape
Pay the park entry fee. As the years go by, the fees creep up, so please use the link in the last section. In 2017, it was $20 per vehicle, for a week.

Camping
Camp in the Chisos Basin Campground. You can reserve sites for certain times of the year; please use the link in the last section.

When To Climb
Late fall through early spring. Big Bend is one of the hottest places in the country, and although temps in the Chisos can be well below those down at the Rio Grande, summer temps in the 90s are still to be expected.

External Links