Overview
A stunning desert beauty, El Capitan, the eight highest peak in Texas, juts out of the desert like the prow of a mighty steamer. Standing on the summit of El Capitan, with the wind roaring up the escarpment from the desert floor below, is an exhilarating experience. The vastness of the Texas desert expands before the eyes of the visitor to this summit. To stand on the top of this mountain is to feel the sensation of standing at the end of the earth.
This dramatic limestone mountain rises boldly from its surroundings, sheer walls thrusting to the sky, gentle incline studded with desert scrub. In a large state not necessarily known for its mountains, El Capitan has won the hearts of many a peak hunter. Graceful yet rugged, this peak is a fitting companion to the nearby Texas highpoint, Guadalupe Mountain.
For those who love desert peaks, El Capitan will be a treat. For those who think Texas has nothing to offer but beef cattle, dreadfully hot summers and two stepping, well...you are in for a very pleasant surprise.
Texas Rank:
8
th
highest peak in Texas
Prominence:
305 feet
USGS Quad:
Guadalupe Peak
Planning Map:
Trails Illustrated #203 | Guadalupe Mountains National Park
Rank & Prominence:
Lists of John
Profile photo by Bob Sihler
Getting There
The vast majority of visitors to Guadalupe Mountains National Park will arrive by vehicle. El Capitan is accessible via the primary park entrance. The park is located in far west Texas, about 110 miles east of El Paso, Texas. To reach the main entrance, put of El Paso, follow U.S. Highway 62/180 to the park entrance.
El Paso has the nearest major commercial airport, though Albuquerque, New Mexico, would be an option for air travelers, as well.
The summit of El Capitan is most frequently accessed by dropping down from the trail to Guadalupe Mountain and bushwhacking across the scrub to the saddle between the two, then ascending rippling terrain to the summit of El Capitan. This
trip report
, while lacking illustrations, describes the route. There is no trail to the summit of El Capitan.
Red Tape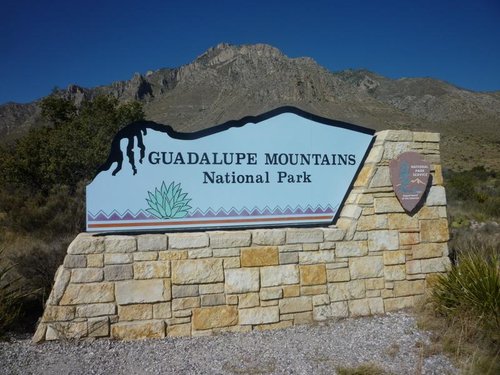 The entrance fee to this national park is $5.00 per person for adults 16 years of age and older, and is good for 7 days.
Many use restrictions apply in national parks, most notably that dogs are not allowed on most trails and are restricted only to parking lots, campgrounds and interpretive trails or other trails designated as dog-friendly.
Camping & Lodging
Front Country Camping
Per the National Park Website:
Pine Springs (Elevation 5,822')
Located just off U.S. Highway 62/180 near the Headquarters Visitor Center, Pine Springs Campground is a simple, desert camping area situated at the base of the mountain.
•Campground conveniences include: potable water, accessible flush-toilet restrooms , utility sink, pay telephones, and a drink machine. There are no showers available in the campground.
•Tent campers have a choice of 20 leveled, gravel sites. Small junipers and oaks partially shade most of the sites and each site has a picnic table. Numbers are limited to 6 people or 2 tents per site.
•The RV camping area is a paved parking lot with 19 sites to choose from. RV sites are defined by painted lines and numbers on the pavement. There are no hook-ups and there is no dump station. RV water tanks can be filled from an outside water faucet near the registration board. RV campsite #21 is wheelchair accessible.
When you arrive, select a campsite, then pay at the self-registration board near the restrooms, or fees may be paid by credit card at the Headquarters Visitor Center. All sites are on a first come, first served basis. The fee is $8.00 per night per site, $4.00 for Golden Age (Senior) and Golden Access Passport holders.
Per SP Member Bark Eater:
The Pine Springs tent camping area is small and can typically fill by Thursday evening for popular weekends. The good news is that the NPS folks are pretty cool and will let "tenters" sleep in their cars or pickups in the RV area if spaces are available and the tent area is full. This was the case for my group. Still nice picnic tables available around the RV space. You just cannot pitch a tent there. The park enforces quiet time after 8 PM so you don't have to worry about generators going all night long. The flexibility to stay in the RV lot is good because other drive-up camping options are a LONG drive away.
Backcountry Camping


Permits, available at the visitors center, are required for the limited backcountry camping in Guadalupe Mountains National Park and stays are limited to 3 nights. All water must be carried into the backcountry. Even if you manage to find potable water on top of this well-drained limestone escarpment, park rules dictate that the water be left for wildlife. It is recommended to bring one gallon of water per person, per day. The nearest backcountry campsite to El Capitan is Guadalupe Peak Campground. It is popular and the permits used rapidly in high season.







Weather & Seasons
•Summers are hot, though the desert nights cool down nicely at this elevation. Keep an eye out for afternoon monsoon storms in late summer.

•Autumn is generally cool and calm with pleasant fall colors.

•Winter can bring warm sunny days but bitter cold nights and even fog, snow and freezing rain.

•In a park notorious for high winds, spring brings some of the gustiest conditions. The park frequently posts high winds warnings in springtime.
External Links and Additional Information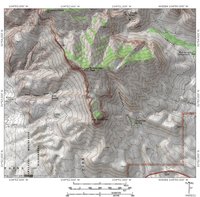 •Guadalupe Mountains National Park
Official Website
•
Park Map
(PDF)