Overview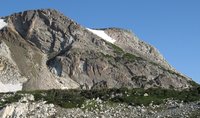 From the divide between North and South Gap Lakes, one ridge goes directly to the summit plateau above and another, harder one is visible just to the north, and reaching it is a matter of just a few minutes. These ridges offer ways to reach the summit of Medicine Bow Peak that are longer and tougher and, hence, more sporting and fun than the trail routes, or they can be objectives in and of themselves.
The shortest and easiest way to reach the summit is via a trail from Lewis Lake, and there are other trails departing directly from WY 130 nearby. The vast majority of people who summit Medicine Bow Peak use these trails, and few people bother to check out the sheer cliffs, snow-filled couloirs, and ridges elsewhere on this large mountain. In fact, I did snow climbs in two different couloirs on successive days (see the routes "North Klondike Couloir" and "Island Couloir" attached to the main Medicine Bow Peak page), and in neither one did I see any signs of recent usage by climbers. These alternate routes provide solitude and challenge in a very popular area and have short approaches.
Getting There
About 8 miles south of Saratoga, WY 130 intersects WY 230, which goes south. Drive WY 130 to the turnoff for the Sugarloaf Recreation Area, which is 29 miles east of the WY 230 intersection. The other end of WY 130 is in Laramie, and those approaching from Laramie will find the Sugarloaf turnoff 12 miles west of Centennial. Drive one mile to the end of the road at Lewis Lake, which sits at about 10,700'. There is a fee of $5 per vehicle. The main road may not open until June, and snow may block the road to Lewis Lake into late July or even August.
Route Description
RT from Lewis Lake via ridge, summit plateau, and Medicine Bow Peak Trail: app. 5 miles, 1300' elevation gain, Class 3
I climbed the harder ridge, the one just north of the saddle, but I did get to study the other one from above and below, and it can easily be kept at Class 3. In fact, it would be very hard to make it any tougher than that. The slopes in between the ridges are Class 2 and make a good descent route.
To climb the tougher (northern) ridge, hike from 10,700' Lewis Lake to the 11,000' saddle between North and South Gap Lakes, an undertaking of about a mile. The northern ridge (both ridges are actually on the eastern face of the mountain massif) has been visible almost the whole way, and now the way to it is apparent. So hike over and just start going. Since this is a scramble, you do not have to worry about sticking to an exact route. If you find yourself facing rock harder than you want to take on unroped, just look around for another way. Something will appear. There is rarely any serious exposure, so pulling some Class 4 and low 5 moves is a lot of fun without the fear. In most places, the rock is very solid and provides outstanding handholds.
The sustained scrambling ends at about 11,600', giving you almost half a mile of fun rock.
Once up top, you can hike to 12,013' Medicine Bow Peak (recommended), which is about 1.5 miles away; scramble or clamber up nearby Point 11,761, which sees few visitors; or head back down to the divide via either the easier ridge that leads directly to the divide or the Class 2 scree slopes between the ridges.
Essential Gear
Nothing special-- have good hiking boots.