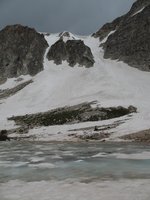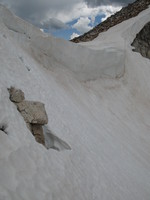 Overview
To be exact, there really aren't any couloirs directly above Lookout Lake in Wyoming's Snowy Range. West of the lake is the rock face known as
Old Main
.
But just south of the lake is an unnamed lake, and there are three couloirs directly west of it. (Maps do not show a stream connecting the lakes, and I have seen water levels high enough that the lakes are effectively one lake, but since topo maps do show them as separate bodies, I am treating them as such here.) Actually, there are more than three couloirs, but the three that are the focus of this page are the longest ones and will hold their snow well into July, if not later, most years, and they make excellent snow climbs with short approaches. The others are shorter and melt out faster, leaving them a mix of snow, dirt, scree, and exposed slabs and outcrops.
Despite the easy access and fine climbing opportunities, I have seen few other climbers on these and other routes in the area (I am not talking about the hiking routes). I don't know why there aren't a lot of other climbers here. The area is popular (mostly with hikers and fishers, it seems), easy to access, and not far from major population centers such as Laramie (Wyoming) and Fort Collins and Denver (Colorado). I have seen skiers on the couloirs out here (and yes, I know the skiers climb up there, but I'm talking about people who are out just to climb). I know from Web searches that people climb the couloirs here just for the sake of climbing and that they climb the rock faces as well. But I have done summer climbs of eight couloirs out here now and some of the faces and have never once seen another person on the routes; once, I saw someone heading out from his car with an ice axe and crampons. I have seen a few ski tracks, but I have not even seen signs of kick-steps, crampons, and ice axes. Maybe the busiest climbing time is in the spring. Maybe the bigger peaks close by in Colorado draw all the attention. Maybe, although people do climb here, there just aren't many of them.
But it's nothing to complain about.
Getting There
On WY 130, park at the Lake Marie East parking area. This is about 27 miles east from the intersection of WY 130 and 230 south of Saratoga, and it is about 14 miles west of Centennial.
Alternatively, park a very short distance east at Mirror Lake. This actually makes the hiking approach shorter, but I have seen this spot closed several times.
Route Description
For purposes of this page, I have, in a bold stroke of imagination, called the three couloirs
North
,
Middle
, and
South Lookout Couloirs
. But it is my understanding that these three couloirs are actually called, from south to north, First Street, Second Street, and Airline.
Basic Details:
One-way distance is around 1.5 miles, depending on exactly where you start and which couloir you climb. Elevation gain is around 1000'; up to 800-900' of it can be on snow-- that is
climbing
snow, not hiking across snow. Your approach is about a mile; the climb itself is about half a mile.
From either parking area, pick up the Lakes Trail, which climbs to a saddle between Medicine Bow Peak and Sugarloaf Mountain and is one of the three primary routes hikers use to climb Medicine Bow Peak.
As you approach Lookout Lake and the unnamed lake just south of it, begin looking for a way across to the couloir(s) you want to climb. Ideally, you should leave the trail and cross over to the western side of the lakes
before
you reach Lookout Lake's southern neighbor.
Just west of the unnamed lake are two small tarns, and South and Middle Lookout Couloirs are directly west of them. The other couloir is a short distance north.
I only climbed Middle Lookout Couloir. Therefore, I can only provide firsthand detail for that climb; the details I give for the other two are based on visual observation and on speculation stemming from my experiences with the one I did climb.
North Lookout Couloir
We could also refer to this is "South Old Main Couloir" since it is the first major couloir south of Old Main and is very close to the rock face itself.
Narrow and steep, this couloir at first may look a little shorter than the other two, but a closer look will show that it is about as long; the base is a bit higher than the bases of the other two, but it finishes higher up on Medicine Bow Peak's summit ridge. On both June 28 and July 6 in 2009, the top looked dangerously corniced, and alternate finishes looked difficult from the road and from below. In July 2010, the snow out here was packed so hard that climbing was difficult even with crampons, and I decided once again not to try this one without other protective gear.
Middle Lookout Couloir
Probably the easiest of the three, but that doesn't make it easy. Like most other couloirs in this range, this one begins on a moderate, even easy, slope, but it becomes steep somewhere around halfway up and continues to steepen the rest of the way. I found the top guarded by cornices and headwalls that were too high, steep, or dangerous to climb. Fortunately, not far from the top and on the left side of the couloir, I found a Class 4 gully that required some stemming to climb, and it led not to the top but to a snow ridge that was still steep but nonetheless climbable.
There is no guarantee that this gully will be accessible or even visible; it all depends on the current conditions. It is easy to study the route from the road; please do so before you expend any time and energy approaching this climb.
South Lookout Couloir
Steeper and much narrower than its twin-- at its narrowest point, it is less than half the width of Middle Lookout Couloir at its narrowest point. Heavy cornices across the top on both June 28 and July 6 in 2009 made finishing look difficult due to the lack of apparently good options. That last observation was based on looks from above, below, and beside the couloir.
Essential Gear
Ice axe, crampons, and helmet-- should go without saying for steep snow and narrow, rock-bound couloirs, but I'm saying it anyway.
Topo Map