Overview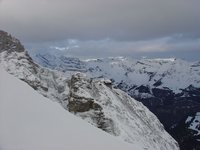 The small Guggi Hut is situated on the north-west ridge of the famous Bernese Oberland mountain Mönch. Knowing where to look the hut is possible to be seen from the railway station Kleine Scheidegg at 2061m.
The first hut, replacing an older one 400 meter below, was built for 14 people in 1911. It was enlarged to accommodate 30 people in 1975.
The hut is open the year around. During the weekends from mid June to end of September the hut is normally served by a warden. Drinks but no food can be bought.
Getting there
Information on how to travel to Gridelwald and Kleine Scheidegg can be found on the SP Mönch page
Start from Kleine Scheidegg towards the Eigergletscher station. Turn right to the Eigergletscher moraine. Descend the slope and cross (jump) the torrent before following the tracks leading up to the hut. The path goes to the left. Reaching the level of the hut traverse to the right. There are slings to help to overcome a few exposed steps. To ascend the hut during the winter season requires mountain experience.
This is an interesting tour in a spectacular mountain environment. The hut is an isolated place and the same time close to the tourists 700 meter down at the Kleine Scheidegg.
Allow 3½ hours from Kleine Scheidegg and 3 hours from the Eigergletscher station.
Routes
The obvious mountains to climb from the Guggi hut are the Mönch (4107m) and the Jungfrau (4158m). Consult the guidebook for details.
Mönch by the
Nollen route
follows the rock to the left of the hut up to the steep snow and ice called Nollen. Depending on the conditions the route takes 6-10 hours. (D, ice 65 degrees or more)
SP trip report:
Winter/Spring Ascent of the Nollen Route up the Mönch
Trip report and pictures from climbing the Nollen
Mönch by the north face,
Lauper route
. A long mixed large scale climb first done in 1921 by H Lauper and M Liniger. (10-12 hours, D+/TD, rock to V and snow and ice to 60 degrees)
Jungfrau by the Guggiroute. This route was climbed more often in the early days (first ascent in 1865 by Christian Almer and others). The glacier conditions have changed and today the route is by no means straight forward. The Silberhorn (3685m) can also be climbed by this route.
Maps and Books
1:25.000 Nr. 1249, Finsteraarhorn
1:50.000 Nr. 264, Jungfrau
Swindin, Les: Bernese Oberland, Selected Climbs, Alpine Club Guide Books, 1993
Munter, Werner und Margrit: Berner Alpen, Rother, München, 1984
Les Cabanes, Du Club Alpine Suisse, 1928
Google Maps
Show larger map
External links
Hut information
Photo gallery