Topographic isolation: 1.5 km
Nearest higher peak: Windmantel (1535 m)
Prominence: approximately 50 m
Overview
If Kampalpe was a man, he would be a bit unhappy. With such popular neighbours like Raxalpe and Stuhleck he gets less attention than what he should get. Both
Raxalpe
(2007 m) on the north and
Stuhleck
(1782 m) on the south are higher. Raxalpe is very popular with its many via ferrata and climbing routes, while Stuhleck has many visitors during the skiing season.
Between Raxalpe and Stuhleck there is a small mountain range. This mountain range is 20 km long in western-eastern direction, and it is 6 km wide in north-south direction. The highest summit of this range is Drahte Kogel (1565 m). This peak is called Tratenkogel, too. The second highest summit is the uncharacteristic Windmantel (1535 m). The third highest summit of the mountain range is Kampalpe – just a meter lower than Windmantel. Kampalpe is a hidden gem of this mountain range. It is made from limestone similarly to its mighty neighbour on its north – Raxalpe. Limestone mountains generally provide some attractions. This is the case with Kampalpe, too:
- two caves in the southern hillside, near Spittal am Semmering: Räuberhöhle and Zederhaushöhle
- several smaller caves in the western and northern hillsides: Baumkögeleishöhle, Saurückenkluft, Großes Windloch, Kleines Windloch, Prosecluckerl
- Bärenwand – a limestone cliff with excellent lookout point
- a high rock wall along Probststeig
- and finally the best is the huge cliff with the summit cross.
The summit cross is not on the highest point of the mountain. The cliff with the summit cross is 1516 m high, while the real highpoint – in 150 meter distance in northwestern direction – is 1534 m high.
Most of the mountain has steep hillsides with dense spruce forests. The forest is less dense near the summit. The view to the south and to the west is excellent from the natural outlook point of Kampalpe. But the rest of the view is closed by the forest. Luckily near the summit there is a small plateau. It is utilized as a pasture land, it opens the view to north, too, and so we can see the nearby Schneeberg here. With this opportunity the views from the mountain are the following:
- NE:
Schneeberg
(2076 m)
- SE:
Stuhleck
(1782 m)
- S: Amundsenhöhe (1666 m)
- SW: Gleinalpe with
Lenzmoarkogel
(1991 m) and Rosseck (1664 m)
- W:
Niedere Tauern
with
Hochreichart
(2416 m)
The border between Styria and Lower Austria just crosses the Kampalpe summit.
Routes
Kampalpe can be accessed on 4 marked trails.
Two routes have their trailheads in Spital am Semmering. The eastern trail is called Probststeig. It is short and quite steep. It is 3.4 km long with elevation gain of 758 m. Bärenwand outlook point is an excellent resting place while ascending the mountain on this route. There is avalanche danger on this route!
The other route starting from Spital am Semmering approaches Kampalpe from southwestern direction, via Saurücken. Two caves - Räuberhöhle and Zederhaushöhle – are near the trailhead of this route. This route is a bit longer than Probststeig: 4.8 km.
Kampalpe can be reached also from eastern direction, from Semmering Pass. This is a long route, 10 km long.
The route from north starts from the saddle called Preiner Gscheid (1070 m). This route goes across Tratenkogel and Drahte Kogel.
These latter two routes are part of a long distance trail: WWW 01A. It is the Austrian Long Distance Trail 01 – also called Nordalpenweg: a 1200 km long trekking trail connecting the eastern border of Austria (Rust) with its western border (Bregenz). Our trail is actually WWW 01A and not WWW01. WWW 01A is a variant of the original trail. WWW 01 misses Kampalpe – but it crosses Raxalpe, too. Ohh, again that dominating neighbour!
Potential Danger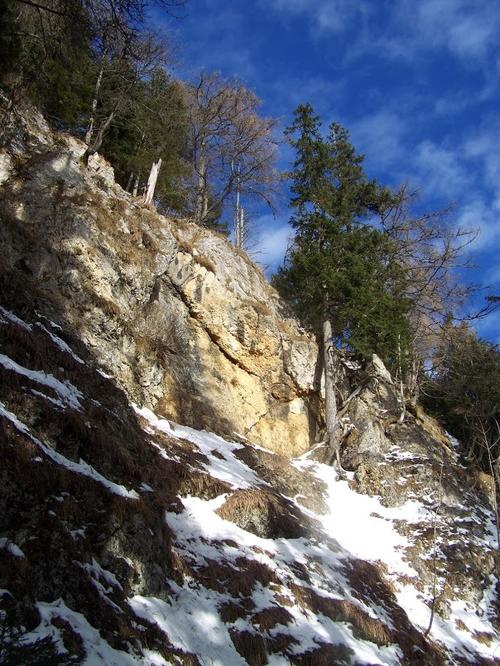 There is avalanche danger on Route Probststeig! It is mentioned in some internet sources. I personally experienced it on a January day, too. There were traces of an avalanche that happened a few days earlier. It is in altitude 1250 m.
Tourist Huts and Camping
There are two tourist huts near Kampalpe:
- Pinkenkogel Schutzhaus (1280 m a.s.l.)
- Scheibenhütte (1473 m a.s.l.)

The nearest camping site is Europa Camping in Langenwang (740 m a.s.l.)

Map
For an excellent online map of the area please
click here!