Overview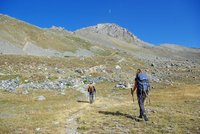 This nice peak is one of the favourites of the people for a short day in the area of Briançon thanks to its panorama. If you are on holidays in Briançon not every day you are going to climb big mountains and this peak is ideal for a walk-up through shorter in a more relaxed day.
Getting There
The trailhead of normal route is Bergerie St Joseph in the road D234 to col du Granon. The access to the road is in the village of St Chafrrey, very near of Chantemerle.
See bigger map
Red Tape
Nothing special.
Camping
Campings around Briançon:
-
Cinque Vallées
, Saint Blaise.
-
Champ de Blanc
, Pramorel
-
Iscle de Prelles
, Saint Martin de Queyrières.
External Links
Briançon
, web page of office of tourism of Briançon.
some images and information in French