Long Mountain, at 8,621 feet, is the highest point in Cascade County, Montana. This mountain sees relatively few ascents compared to neighboring Big Baldy. During my ascent I did not see anyone else. With the growing interest in County Highpointing use may increase eventually. Views from the summit on a clear day offer spectacular views of the Little Belt, Big Belt, and Highwood mountain ranges.
Although there is no trail to the summit, Long Mountain is not a difficult mountain to climb. The route I used never exceeds class 2 with easy bushwhacking, although a more difficult route up is probably possible.
Getting There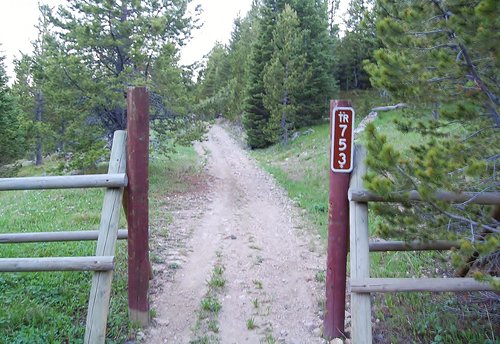 From Great Falls head east on U.S. 87 for 20 miles to Armington.
Turn south on U.S. 89 at Armington junction. You will see a rest area and truck weigh station on the north side of the highway. Drive 34 Miles south until you reach the town of Neihart.
Continue driving south through Neihart for 3 miles and watch closely for Jefferson Creek Rd/Forest Rd 267 on the left/east side. Finding this road can be difficult if you do not watch closely because the sign is hard to see from the highway. As you round a curve you will see a large vehicle pull-off on the left/east side of the highway. Jefferson Creek Rd/Forest Rd 267 is immediately on the left/east side of the highway after this pull-off. Jefferson Creek Rd/Forest Rd 267 is a little rough in spots, but if you watch where you are going and take it slow a passenger car can make it.
This is the area where you will see most people and vehicles because of the many campsites. After approximately 3.6 miles you will reach a T intersection. Turn left/north onto Chamberlain Rd/Forest Rd 3328. As of 6/12/2015 Chamberlain Rd was in very good condition. Follow Chamberlain Rd for approximately 6 miles until you turn back southwest and reach a Y intersection, park here. At the Y intersection the now gated Chamberlain Rd/Forest Rd 3328 continues to the left and Trail 753 continues to the right. You want to take Trail 753 to the right. This is the start of the route.
Route
From the start of the route follow trail 753 at 7,500 ft until you reach a lush meadow after approximately 1.5 miles. There are several ups and downs adding to overall elevation gain and loss. Once in the meadow you will see the ridge you will take leading to Long Mountain. Follow trail 753 in a northwesterly direction until reaching a trail junction at 46.95716N, 110.66386W. Go left (southwest) on this trail. Follow it as it zig zags through the forest. At some point you will need to leave the trail and bushwhack your way up the ridge leading to Long Mountain. The possibilities are endless, but I chose a spot at 46.95716N, 110.66386W, which worked for me.
Once you leave the trail continue in a southwesterly direction as you gain the ridge through mostly open forest. Eventually you will reach the first boulder field at 46.94769N, 110.67689W. Boulder hopping is completely avoidable if you look for a group of trees and shrubs extending from the top of the boulder field and go up there. Once past the boulder field follow the obvious west southwest route to the false summit. I decided to go up and over the false summit to take in all the views. The false summit is completely avoidable, but not hard at all. Once you reach this point you will travel over a decent sized boulder field made of large stable rock and learn why Long Mountain earned its name. Continue west until you reach the base of the summit and boulder hop to the top at 46.94361N, 110.69222W. Overall trip is approximately 6.5 miles RT with maybe 1,500 feet of gain if you count all the ups and downs on trail 753.
Red Tape
Long Mountain lies entirely within the boundaries of Lewis & Clark National Forest, so normal restrictions of public lands apply. This is a recovering ecosystem from years of logging so practice good wilderness policies.
When to Climb
Normally late spring through early fall are the best times because the forest roads are not plowed or well maintained during the winter. But, with the use of a snowmobile (on the road) or a long snowshoe approach, anytime of the year is possible.
Camping
Several campsites are available on Jefferson Creek road. Backcountry camping is also possible, just adhere to Forest Service guidelines.
External Links
Lewis & Clark National Forest:
http://www.fs.usda.gov/lcnf/