Overview
The North Face of Mt Breitenbach rises some 3000' above the headwaters of the East Fork of the Pahsimeroi River. Due to its remoteness and difficulty this seldom visited north face has had few ascents. Surprisingly, we found the face and ridge to be for the most part free of rockfall even during the summer warm spell that we experienced throughout our climb. The high angle rock on this face is quite compact and climbable where the lower angle rock is like compressed dirt. Snow cover is essential for getting over the "grungy" parts of this face so late spring or early summer would most likely be the best time to attempt this climb. If approached from the north (Doublespring Pass, East Fork of the Pahsimeroi River) you get a great view of the North Face of Mt Borah and near the summit of Doublespring Pass you can stop and take a short hike to see the epicenture of the
1983 earthquake
that lifted Mt Borah nearly 7 vertical feet. The lower Pahsimeroi River still supports a small population of wild, Chinook Salmon that are among some of the longest ranging anadromous fish in North America. Some have proposed that this area be turned into a wilderness area while others are vying for more motorized access. Take a trip into this magnificent area and you can decide for yourself.
Geology
Idaho's Lost River Range is an actively uplifting fault-block at the northern end of the Basin and Range province. Extensional faulting has lifted the range relative to the down-dropped Big Lost River basin on its west side, producing steep ridges and slopes essentially devoid of foothills. Interior and eastern regions of the range are deeply incised by the Pahsimeroi and Little Lost Rivers. Most of the range, particularly in the central and southern regions, consists of thick layers of Paleozoic limestone and dolomite. Multiple episodes of tectonic deformation have resulted in dramatic open to isoclinal folding at a scale of meters to kilometers. Glaciation has carved numerous cirques throughout the range and alpine lake basins are scattered in the central and eastern portions. These combined activities have created an impressive assortment of large, high angled faces with western, northern, and eastern aspects.
Getting There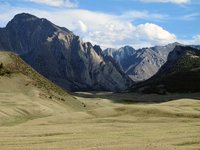 From Mackay, Idaho take Highway 93 north for approximately 22 miles (2 miles north of the Mt Borah access road) and turn right on the Doublespring Pass road (Forest Service Road 116). Follow the "improved" dirt road for about 7 miles to the summit of Doublespring Pass and then drive another 3 miles to the junction of Forest Service Road 117 on the right. The road takes off up a hard switchback and here the real adventure begins. There used to be a sign that indicated Horse Heaven Pass but I don't know if it's still there. Signs have a way of attracting bullets (just like cow pies and flies) in this country. Follow this road for about 1.25 miles to the first junction and take the right hand fork to Horse Heaven Pass. From Horse Heaven Pass drive another 2 miles to the next junction where again you turn right. Continue on Forest Service Road 116 for another 7 miles to the junction of the West Fork and East Fork of the Pahsimeroi River. Follow the East Fork junction for as far as you are comfortable driving. There are two creek crossings on this road which may not be passable during high water flow and this road is not recommended for passenger cars. A breakdown in this country would certainly ruin your trip. Hike 5 miles up the East Fork of the Pahsimeroi River to its source and you'll be in the basin that sits under the massive North Face of Mt Breitenbach. We stayed on the right side of the river to where we bived just above the treeline.
NOTE:
Come well prepared and plan for self-sufficient travel in this remote country. Cell phones and satellite phones may not be reliable in some locations and there can be long distances between good water sources in the late season. 2-ply sidewalls and tubeless tires might not survive this trip so make sure your spare is full-sized, inflated and you know where your jack is and how to use it. Don't forget your lug wrench. If you have a breakdown or get snowed in you may have to walk out. Search and rescue in this range can be very difficult, expensive and a real burden on the local law enforcement and Forest Service staffs who are the first to be called for emergencies in this area.
Route Description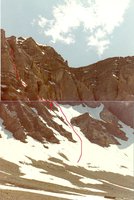 From the 1983 American Alpine Journal (Idaho)
Mount Breitenbach, North Face, Lost River Range. From July 13 to 16, Bob Boyles, Mike Weber and I made the first ascent of the north face of Mount Breitenbach. Bill March had told me that some years ago his party was turned back by very severe rock climbing at the top of a large couloir. We easily identified the couloir and rock band. We also discovered a possible route to the west of that couloir but still east of the summit. We pieced our climb together. It consisted of small, steep snowfields intermixed with steep limestone. The crux was a short aid pitch next to a waterfall which led us into a 900-foot-long, 10 to 15 foot wide hairline couloir that we followed to a bivouac on the skyline just east of the summit. In the dawn we descended the east-northeast ridge in two hours of fourth-class climbing. (Grade III, 5.8, A2.)
Curtis Olson, Mountain Guides Inc., Boise, Idaho
On the second ascent of this route Duane Monte and Kevin Sweigert bypassed the aid on the overhanging waterfall (A2) by using a free variation to the east (5.8).
Essential Gear
Crampons, ice axe, and a good selection of small wired stoppers, cams, nuts, runners (double length), pickets, flukes, or ice screws depending upon the conditions. Snow is essential for getting on this route so late May through June would most likely be the best time of year to attempt this climb. A high snow year and/or late cool spell would make for the best conditions. Helmets are highly recommended in this range.
References
American Alpine Journal 1983, page 165
Idaho - A Climbing Guide
(Tom Lopez)