Overview
Mount Breitenbach
-The 5th highest peak in Idaho, and 4th highest in the Lost River Range. Named after Jake Breitenbach who died during the 1963 American Everest Expedition.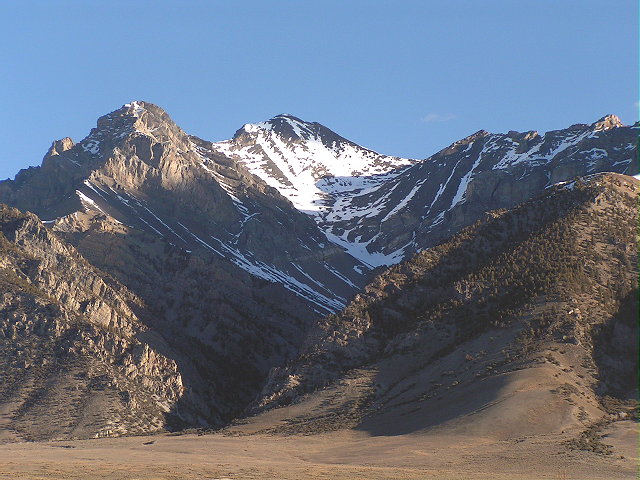 Mount Breitenbach is a massive summit that belongs to the coveted Idaho 12ers group. Located in the Lost River Mountains, it is the 5th highest in Idaho while the 4th highest the its range. it sits squarely on the main Lost River crest and, unlike most other 12ers, is well hidden from the highways.
Mount Breitenbach is a complex mountain with many different characteristics. The southwestern slopes tower 6,200 vertical feet above the Big Lost River Valley and are guarded on either side by fellow 12ers
Donaldson Peak
and
Lost River Peak.
Breitenbach's north face is among the most impressive in the state yet rarely is viewed because of its remoteness. The face rises 3,000 feet above the headwaters of the East Fork Pasimeroi River and is hidden by other ridges and mountains.
Most likely the first ascent up Breitenbach was accomplished by W. Boyer sometime in the early 1960s.
Getting There
The peak typically accessed from Pete Creek.
Directions to Pete Creek
Take US 93 8.4 Miles north of Mackay
Take a right and follow the road till you cross a canal
Be looking for a road to your left that will head you back towards
Pete Creek
Avoid the drainage directly below Lost River Peak
Idaho 12ers
Listed here are the infamous Idaho 12ers, each unique in their own sense.
Red Tape
There are no permits required to climb, park, drive, breathe, nothing but a sense of adventure and some common sense.
When To Climb
This mountain is typically climbed from mid-June to mid September. The earlier in the season you can climb the less scree you will face.
Camping
There is camping allowed at the trailhead. Aside from Borah Peak there are no formal facilities at any of the Lost River (or 12 er) peaks
Possible to camp at the saddle, but the going is rough up there.
Mountain Conditions
Contact Info:
Lost River Ranger District
P.O. Box 507
716 W Custer
Mackay, Idaho 83251
(208) 588-3400
email: rerickson@fs.fed.us
Office Hours: Monday - Friday 8:00 am - 4:30 pm
External Links