Overview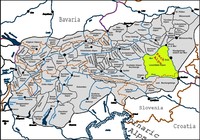 Pack Alps

(Packalpe) Mountains are 30 km (19 miles) long and just over 10 km wide mountain range in the Lavanttal Alps.
The highest peak is Ameringkogel (2187 m).

Together with the adjacent Stubalpe, The Pack Alps form the only part of the Lavanttal Alps
which spans in the direction north-south rather then west to east.

This small ridge of the Eastern Alps has moderately steep slopes with grassy tops,
a cross and a register coffer on all main summits.
It is also the frontier ridge between two Austrian provinces, Styria and Carinthia.

All paths are clearly marked with white-red dabs of paint,
and common yellow waymarks.
It is chiefly hiking area,
with the exception of Rappoldkogel southern ridge,
which offers short 15 minutes easy scramble over the rocks.

Austrian long distance trail #05 (Weitwanderweg 05)
runs through the Pack Alps from north to the south
(Lärchkogel - Speikkogel - Gleinalpenhaus - Gaberl - Hirschegger Alpe - Pack portion).

Whole range is highly esteemed as winter ski tour area
- main ski tour paths are marked with long iron poles.

Pack Alps boundaries:
- Packalpe valley bordering the Lavant river valley (Lavanttal)
and Obdacher passes in the west
- the Mura River in the north
- Gleinalpe on the north-east
and the the Packsattel pass in the south.

Main trailheads:
Pack (saddle)
Located at 1169 m above sea level, The Pack or Pack Saddle Pass
is a transition from Lavanttal valley in Carinthia into southern Styria.

Hirschegger saddle - an old mountain pass, that once upon a time
served as stage during the transport of saltfrom the Salzkammergut region.
These days, this is is where Salzstieglhaus hut is located.
From here, Speikkogel and Rappoldkogel summits are reached with short hikes.
Remaining main summits of Pack Alps are, basically,
ridge continuation from Speikkogel to Großenberg.


Main Summits
Pack Alps main summits, following the range span (NW to SE)
| | | |
| --- | --- | --- |
| Peak name | Elevation (metres / feets) | Latitude / Longitude |
| Großenberg | (2152 m / 7060 ft) | |
| Ameringkogel | (2187 m / 7175 ft) | |
| Weißenstein | (2160 m / 7087 ft) | |
| Hofalmkogel | (2040 m / 6693 ft) | |
| Speikkogel | (1993 m 6539 ft) | |
| Rappoldkogel | (1928 m / 6325 ft) | |
| Peterer Riegel | (1967 m / 6453 ft) | |
| Hirschegger Alpe | (1933 m / 6342 ft) | |
Panorama
Getting There
Most convinient and exercised trailheads are Hirschegg and Pack.
The Southern Motorway (A2), is one of the largest infrastructures in Austria (Klagenfurt - Graz - Vienna).
In snowy winters or in peak summer one may expect traffic jams and congestion.
getting there by car:
From Vienna, Graz or Klagenfurt, motorway A2 exit Modriach,
follow the roadsigns for Hirschegg and Salzstiegl. (Hirschegger saddle).
Last portion of the road to Salzstiegl is dirt road, about to be paved in near future.
Coming down the Semmering highway S36 From Vienna, Graz or Klagenfurt,
drive via Zeltweg and Möbersdorf.
For Pack, from Vienna, Graz or Klagenfurt A2 motorway exit Pack.




by coach/bus:
Linie 12 Koflach-(Hirschegg)-(Modriach)-Pack-Koflach - Verbund linie 722



by train:
With ÖBB one can get as far as Zeltweg,
Austrian Railways query



by plain:
Nearest airport is Graz international.
Serving low-cost carriers as well.

Huts
Main huts in the area:
Bernsteinhütte

1559 m


warden: Kurt Ziry
phone: +43 (0) 0676/6739497


Knödelhütte

1416 m


warden: Adolf Schratter
phone: +43 (0)3142/22532



Petererhütte

1.590 m


warden: Peter Fehberger
phone: +43 (0)664/2386438




Alpengasthof Salzstiegel

1543 m




warden:

Waltraud Köckf
fax: 03141/20037
eMail: salzstiegel.haus@onemail.at




Most of the huts are open from early June to September 20th,
with the notable exception of Salzstieglhaus,
which is open year round.

Hut distance short overview:
Segment / Walking time / Distance)
Pack > Knödelhütte 90 min/ 4.4 km
Knödelhütte > Bernsteinhütte 40 min/ 2.4 km
Bernsteinhütte > Hirschegger Alm 45 min/ 2.4 km
Hirschegger Alm > Peterer Sattel 90 min/ 6.3 km
Peterer Sattel > Salzstiegelhaus 60 min 3.6 km

Weather