Approach
1. When coming from
St Jean de Sixt
, drive up to
Col des Annes
(indicated on the right, before arriving in Le Grand Bornand)
2. From car park (Col des Annes) to
Gramusset hut
:
400m walk of easy hiking. Very well indicated.
3. From Gramusset hut to
Col des Verts
:
400m walk - steep part in scree, at the end.
4. From Col des Verts to the route start :
Follow yellow marks indicating
"P.P"
(standing for Pointe Percée).
NB : it is possible to access this route from Sallanche / Doran hut, however it is a longer approch.
Route Description
The route starts with a 5 meter climb with a level III difficulty. That's the "hardest" bit of the ascent.
A bit exposed as the slope underneath is very steep, and there's no way to stop if you slip. But the rock is excellent.
Then follow marks on the rock, very easy to find your way through.
There are 2 or 3 other proper climbing parts (a few meters each), with a level II difficulty.
50 meters from the top you reach the normal route and end up on a nice thin ridge.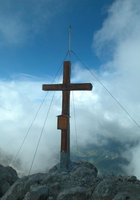 The summit has a large platform with a beautiful massive wooden cross carried there by men.
Descent
1. You can either follow the normal route, well marked on the ground.
Tiring climbed down with successive stairs.
From the summit to the hut, count 1h30 to 2h
depending on the people in front of you.
Then another hour from the hut to the car park
.
2. A good alternative is to climbed down the way up, through "Cheminées de Sallanche".
There are a few rings sealed in the rock for abseiling.
It's not the way we chose, but if you are familiar with climbing down and abseiling I would recommend this path.
Essential Gear
If you have a good level in climbing, I'd say a
helmet
is enough.
If you climb with a beginner, it's better to wear
harnesses
and a
10m rope
to link the two of you, just to make the person feel comfortable.
A longer rope (50m at least) would be useful if you choose to abseil (see above).
General information
For information about the hut and stuff, check the parent page :
http://www.summitpost.org/mountain/rock/151473/perc-e-pointe.html