What's New On This Page?
August 12th, 2004 - Initial setup of the page.
Overview
Puez group is highest on its north-western part, where it connects to the far more known Geisler chain. The three highest mountains in this part are Piz Duleda (Duledes), 2909m, Western Puezspitze / Punta del Puez Occidentale, 2918m and Eastern Puezspitze / Punta del Puez Oridentale, 2913m. While the first and the last are accessible by a marked path, Western Puezspitze is not (I am not familliar how hard the easyest approach would be, but it would almost certainly go over SE screes and to the notch between the both Puez peaks).
Although offering a very nice and broad panorama, the summit of the Eastern Puezspitze is not very often ascended. The majority of hikers travel from hut to hut, although the ascent requires no climbing (just a steep walk-up), and the Puez hut is not far away, you will very likely be on the summit alone. Even if the ascent is not hard, Eastern Puezspitze falls on all three other sides with steep, rocky walls. Especially wild is its northern side.
Eastern Puezspitze provides also a very impressive ski tour in late winter and spring with starting point at the village of Campill.
Being so high, the summit panorama is highly rewardable.
For more information about mountain neighbourhood (the whole group, the Gherdenacia plateau etc.) see the
Puez-Geisler (Odle) Subgroup
page!
Summit Views (Pictures)
Getting There
For the overall orientation see the
Puez-Geisler (Odle) Subgroup
page.
All three hiking approaches to Eastern Puezspitze are quite long. They all join at the Puez hut, 2475m.
1. From Wolkenstein in Val Gardena you hike through the long Vallunga / Langental till its end, ascend the Puez hut and from there the summit.
2. From Passo Gardena you hike over Passo Cir, Passo Crespeina and over both Crespeina and Gherdenacia plateau to Puez hut and from there to the summit.
3. From Val Badia you hike by one of many routes to Puez hut and from there to the summit. These approaches to Puez hut are over Forcella de Ciampac, from Campill over Puez Joch, or over Rif. Gardenazza and towards west either over Passo d'Gherdenacia or below Col d'Muntejela.
Red Tape
Eastern Puezspitze stands in the
Puez-Geisler nature parc
. On this official page you can also read (in English) some interesting facts about the geology of these mountains. They really are like an open book of the Earth distant past.
When To Climb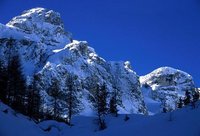 The summit can be best climbed in summer and autumn, from June to October.
Camping
[img:216870:alignleft:small:Rif. Puez / Puezhuette]
The base for all ascents is Rif. Puez. Tel.: +39 0471 795365, 0471 795365.