Overview
Mount Tuscarora is located near the top of Big Cottonwood Canyon and Little Cottonwood Canyon. To most this peak is too hard to ski let alone say the name correctly. To the select few who venture out to ski Tuscarora, this mountain is well worth the effort. With some really steep chutes, an amazing couloir and a moderately steep bowl, Tuscarora has something for everyone.
Getting Up There
There are 2 common routes that reach the summit Mount Tuscarora.
1. Alta-
If you already know what your getting yourself into skiing wise this is the route for you. Start at Alta's Grizzly lot (located at the top of Little Cottonwood Canyon) and start skinning across the summer road. Keep skinning along until you reach a section where the large west facing avalanche paths come to an end. Make a left, continue past the meadow until you reach Catherines Pass. You will be able to see the peak from here so make a left and start the boot packin all the way to the summit.
2 Brighton Ski Resort-
If you do not know what your getting into and you would like "see it before you ski it" this is the route for you. Start at brighton and while working your way up to catherins pass you should be able catch a glimps or two of the peak along the way. Make a right once you hit Catherines Pass and start the boot packin.
Decent Route Descriptions
Mount Tuscarora has many runs to choose from.....
1 The East Couloir-
By far this is the line of choice off of Mount Tuscarora. Starting right at the summit this couloir (known by some as the Seagull Couloir) starts out steep and stays that way. If this is on your "to ski list" the best time of year is somewhere between late Feb through early May. By mid May the couloir tends to develope a runnel that can make this great couloir your worst nightmare. Also it should be noted that a large cornice can block you from entering the couloir some years, especailly after storms that had very strong winds. All in all this couloir is a true "wasatch classic" worthy of any big mountain skiers to do list.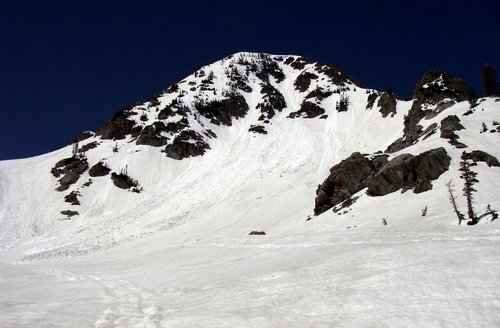 2. The Southeast Face-
This face is a great backup in case the avalanche conditions or a cornice is blocking you from attempting the Seagull Couloir. Powder lovers will have to get up early due to the southeast aspect of the run....but it can make your season if you capture it on just the right day.
3. The Southwest Bowl-
Sometimes used as skinning route but more often than not it's usually loaded with tracks due to it's realitively short and gentle slope angle.
Essential Gear
Avalanche skills, beacon, shovel, probe, partner and common sense. Skis are highly recommended.
style="display:block"
data-ad-format="autorelaxed"
data-ad-client="ca-pub-6523272176520096"
data-ad-slot="7132222476">