Overview
There is something about a mountain with no name that draws some of us to it. Typically the obscurity of a no-name peak keeps visitors at bay, and the resulting solitude brings peace, calming loneliness and quiet. Surprisingly, UN 3380 has no name, but it has not only one but two trails reaching its summit! While these trails are unmarked and appear on no map I have looked at, the summit register (an old ammo box) was brimming with signatures of visitors from all over the United States and some from around the globe.
Hiking to the summit of UN 3380 carries the visitors through a bold statement in Sonoran Desert beauty. The desert flora astounds. A hawk soars on overhead thermals. The sun blazes through a clear azure sky. Yet all this desert peace and beauty are within sight of the Tucson metro area!
Come enjoy this summit, but relish in the journey to the apex of this un-named mountain. Take in the crisp desert air, the warm sun on your skin, the Cholla bristling against reddened rock, the Saguaro reaching for the blue sky.
AZ Rank:
4,717
th
highest peak in Arizona
Prominence:
470 feet
USGS Quad:
Cat Mountain
Trails Illustrated Map:
#237 Saguaro National Park
Getting There
UN 3380 sits within the boundaries of Tucson Mountain Park, which resides 13 miles to the west of Tucson, Arizona in Pima County. The park can be reached via Gates Pass Road or by taking Ajo Road to Kinney Way.
Red Tape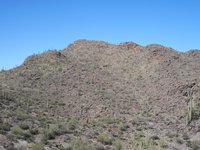 There is no entry fee for Tucson Mountain Park. The park is open daily 7:00 AM to 10:00 PM. Click
here
for full rules governing use of Pima County Parks.
Camping & Lodging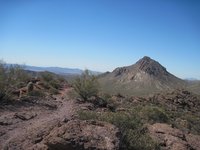 The only nearby campground is the 130-site
Gilbert Ray Campground
, located in Tucson Mountain Park.
The proximity of UN 3380 to the Tucson Metro area means lodging options are virtually unlimited. Visit the
Trip Advisor
site covering Tucson, AZ, for more information about area accommodations.
Weather & Seasons
As with most lower elevation hikes in the Tucson area, hiking UN 3380 would be most comfortable in the fall, winter or spring. March and April are primo wildflower viewing months.
Summer temperatures in this part of the Sonoran desert can be worse than uncomfortable; they can be downright
dangerous!
According to the United States National Weather Service, the record high temperature for Tucson, Arizona, set on 26
th
June 1990, was
117 degrees Farenheit / 47 degrees Celsius
.
| Month | Avg High | Avg Low | Rain |
| --- | --- | --- | --- |
| January | 64.5 F | 38.9 F | 0.99 in. |
| February | 68.4 F | 41.6 F | 0.88 in. |
| March | 73.3 F | 45.1 F | 0.81 in. |
| April | 81.5 F | 50.5 F | 0.28 in. |
| May | 90.4 F | 58.6 F | 0.24 in. |
| June | 100.2 F | 68.0 F | 0.24 in. |
| July | 99.6 F | 73.4 F | 2.07 in. |
| August | 97.4 F | 72.4 F | 2.30 in. |
| September | 94.0 F | 67.7 F | 1.45 in. |
| October | 84.0 F | 57.0 F | 1.21 in. |
| November | 72.3 F | 45.1 F | 0.67 in. |
| December | 64.6 F | 39.2 F | 1.03 in. |
External Links
Tucson Mountain Park
PDF Map of Tucson Mountain Park