Overview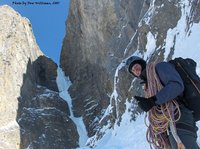 The Weeping Wall area on the Columbia Icefield Parkway is home to two of the most sought after waterfall ice climbing objectives anywhere,
Polar Circus, 1600' of V, WI 5
and Weeping Wall (tons of grades and lengths). The name of Polar Circus was derived from the original ascentor, Charlie Porter, who while complaining of suspect gear on the crux of the route, exclaimed the event was nothing more than a "Polish Circus". Lower Weeping Wall itself is a curtain as wide as it is tall offering just about every grade level.
Weeping Wall is located on the east side of the Columbia Icefield Parkway just north of the
Mount Wilson
ice climbing area in
Banff National Park
, one of four connecting national parks making up the central Canadian Rockies.
Three critical factors make Weeping Wall popular:
1. Access-
many routes are accessed just 15 minutes from your car
2. Southern Exposure-
although you will lose the sun fairly early during the short winter afternoons
3.
Rampart Creek Hostel
- manned and open in the winter almost exclusively for ice climbers/skiers.
Weeping Wall is comprised of a minimum of 22 published waterfall ice and mixed climbing routes. Joe Josephson's "Waterfall Ice, Climbs in the Canadian Rockies" is an excellent guide book featuring photos and topos relative to these 22 routes.
Routes
Lower Weeping Wall
(all kinds of lengths and grade-see photos)
Snivelling Gully 180m II, WI 3-
This is less than a 1000' ascent day. The ice climb itself is approximately 180 meters. Your approach to the left corner of Weeping Wall will last all of 10-15 minutes. Leave the parking area and cross the road to ascend to the base of the broad Weeping Wall. Snivelling Gully will come into view to your left as it creeps up between the rock and ice to the top left hand corner of the lower Weeping Wall. It is four pitches in total. The first and last pitch are sustained for their grade, but the 2nd and 3rd pitches are more ice scrambling than climbing. Snivelling Gully's four rap descent off of bolted chains and a tree is used by most parties climbing on Weeping Wall's other routes, so look for traffic on weekends. We went on a Tuesday in late December and had the entire place to ourselves. You are more likely to have it to yourself if the road is in bad winter condition which can be a good strategy to avoid crowds as long as it is not closed or they close it while you are climbing.
Dow
Dead-Eye Dick 155m, III, WI 5+
Left Hand 180m, II, WI 4
Central Pillar 180m III, WI 5+
Right Hand 180m III, WI 5
Upper Weeping Wall
Teardrop 170m IV, WI 5+ to 6
Weeping Pillar 170m V, WI 6
Mare in Winter 200m IV, WI 4+
Nasty Habits 200m IV, WI 6
Ice T 180m IV, WI 6
Tales of Ordinary Madness 180m IV, WI 5+
Weeping Wall Area
Polar Circus 700m V, WI 5
This is a 2300'+ ascent day. Polar Circus is called the "showpiece of the Canadian Rockies and a must for all climbers" by Joe Josephson in his reknowned guide book "Waterfall Ice, Climbs in the Canadian Rockies". It is one of the most sought after routes anywhere in the world. Featuring 2300'+/- gain with over 1600' of waterfall ice spread out over 9+/- pitches, Polar Circus is a classic to say the least. Charlie Porter is credited for naming the route while on first ascent when complaining about setting up a station on one of the steep pitches, referring to his situation as nothing more than a "Polish Circus". Polish became Polar in the translation. Within Polar Circus is a feature named the Pencil which rarely forms to the ground, but when it does it is one of the finer WI 6 pillars anywhere.
Dow
Bald, Bespectacled Ones 80m III, WI 4
Bob Sized 40m II, WI 2-4
Cold Shower With a View 45m III, WI 4
Whimper Wall 110m III, WI 4
Aerial Boundries 170m III, WI 5+
Mini Master 40m II, 5.6, WI 3
Mixed Master 300m IV, 5.8, WI 5- Considered one of the finer mixed routes in the Rockies.
Tears of a Clown 30m II, WI 3
Team Effort 40m III, WI 4
Getting There
The Trans-Canada Highway runs from Calgary through Banff and Yoho National Parks on its way to Vancouver. As you pass through Lake Louise heading westbound, you want to exit onto the Icefields Parkway (Highway 93) towards Jasper National Park. Pull off at a small parking area with a maintained winter outhouse on the left hand side 10 miles north of the
Rampart Creek Hostel
. Weeping Wall is directly across the parkway. This is a several hour drive from Canmore.
Red Tape
You will be required to purchase a national park pass as you enter Banff National Park coming from the east on the Trans-Canada. This pass is good for all four national parks. If you plan many visits to Canadian National Parks within one year, you should purchase an annual pass. There are no permit requirements to climb in Banff or Yoho National Parks, but all camping is regulated. There is also a backcountry permit required if you plan on spending a night in the backcountry versus the conventional campsites. This can be obtained via the parks website which is included in the camping section below. The huts are managed by the
Alpine Club of Canada
versus the Parks. The Alpine Club of Canada headquarters is located in Canmore, AB, the Banff National Park headquarters is located in Banff, AB and Yoho National Park headquarters is located in Field, BC. You will drive through the manned national park kiosks as you enter Banff National Park on the Trans-Canada. You will drive through a kiosk area again as you gain the Icefield Parkway. However, it is normally not manned in the winter.
When to Climb
I climbed on Weeping Wall in December. You can obviously climb all winter and the avalanche danger is comparatively low above these routes compared to most ice objectives in the Canadian Rockies. There are four published
accident reports
related to Weeping Wall, none of which involved avalanches.
Camping/Lodging
There used to be a cook hut nearby Weeping Wall, but that has been removed by the Parks. The
Rampart Creek Hostel
is 10 miles south on the Icefield Parkway and serves as a good base for these climbs. Rates for dorm style were $23-$27 in 2006. It has 24 beds and reservations are recommended. I saw a satellite dish there in 2006, hell they might have internet! (866) 762-4122
Mountain Conditions
The
Yoho National Park
and
Banff National Park
websites have weather, wildlife reports, trail closures, etc. Outside of the parks websites,
Canadian Avalanche Association
is also useful, particularly for winter travel.
Canadian Alpine Accident Reports
is also extremely relevant.