Add Heading Here
[Updated: 06/18/2011] SummitPosters, if you like this report, please vote for it, thanks! Check my profile for all my state highpoint reports.

The purpose for this trip report is to help fellow state highpointers to plan your trip to this state highpoint in AZ.
Thanks to the Humphreys Peak Page creater and highpointers for your hard work!!!

Humphreys Peak is my very first western state hp and I have read numeours posts stating that 'Humphreys is the easiest state hp in the west', so I chose to start my 10,000+ feet climb at this moutain... coming from NYC, I have completed 23 hps east of the Mississippi river but never hiked a moutain over 7,000 feet.

Logistics:
I woke up at Phoenix at 4 am and started to drive up I-17, about 2.5 hours later I arrived at Flagstaff, ate at McDonalds and started to drive up the snowbowl road (FR-156), note when I put the location in my Garmin 255w, it led me to another road which is about 7 miles further down rd-180 but does not exist. Just pay attention to the obvious snowbowl turning sign and it's a sharp right turn to snowbowl road.

Parking: the parking lot is to the left of the road, BEFORE you see the ski lift of Agassiz mtn, which is to the right of the road. When you pull to the left keep driving to the end of the parking lot, the trailhead is there. See my map below.

The plan is to hike for about 6 hours (from what I learned here) and drive back to PHX to catch my 7 pm flight...

Time:
Total time: 5.5 hours
4 hours up, including a wasteful 20 minutes hike on the ski slope... I missed the turn into the woods. Please see below for map and directions!
1.5 hours down, including bushwhacking for 40 minutes... see below instructions, don't get lost on your way down.

I haven't been active for 6 months but am moderately fit. I can definitely feel the altitude - stop at every 6-10 steps, but that's about it.

Gears:
light REI 35L pack
microspikes
1 hiking pole
1.5L water
2 bars, 2 apples
Garmont winter boots - not platcis boots
Casio Pathfinder watch
REI Switchback gloves
Black Diamond medium weight gloves

Gears I should have brought:
crampons
snowshoes
the other hiking pole
facemask (can't believe I forgot this)

Microspikes are actully ok for this winter trip and it gave me a hard time for the 3 hours non-stop head wall climb (mix of snow, ice and rocks). It also wasted my energy when I bushwhacked my way back - postholing in knee steep snow...

Map:

The best free map is here: http://www.trailbehind.com/Humphreys%20Peak/

Look at my directions below, yellow dot line is what you should follow in winter, red dot line is the deceding route I took. red hard line is for explanations.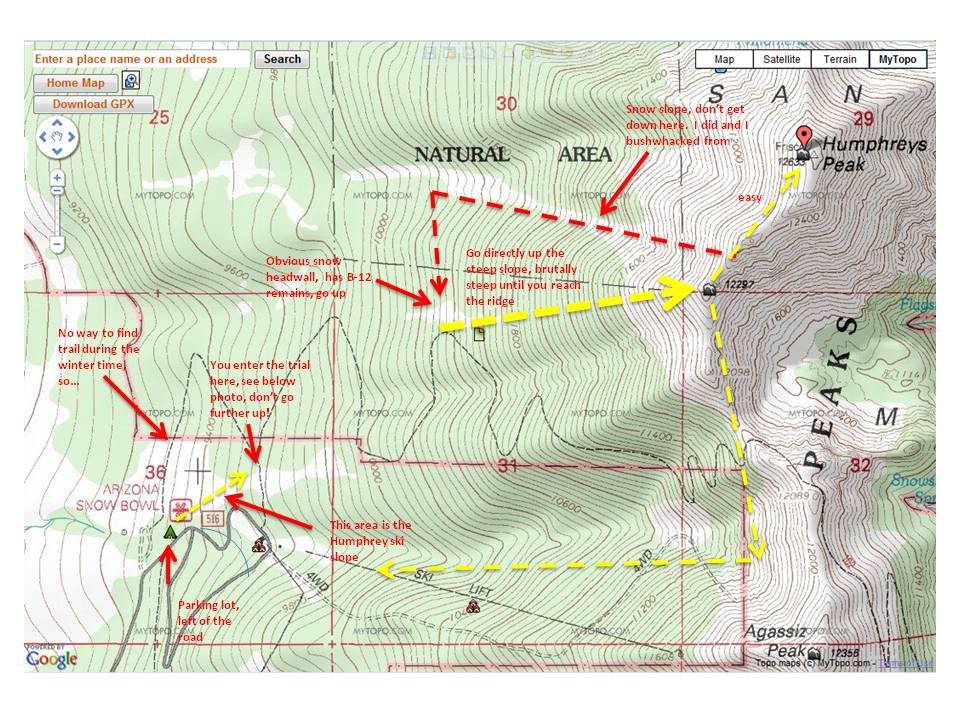 This trailhead sign you will see at the boarder of the ski slope where you enter the trail, DO NOT miss this. I missed it and wasted another 20 minutes climb up.




This hike is the toughest hike I have ever done. As you can see from the map, there is a straight climb starts from the very first snow/ice mix slope where you see the B-12 wreckage, after that, it's another 2 hours steep climb directly up to the ridge line.

When you go down, it is best that you follow the Humphreys - Aggasiz saddle and start to hike down directly into the Aggasiz ski slope, you will bushwhack but this way you will not get lost in the woods. I took the wrong turn and ended up bushwhacking for 40 minutes without snowshoes, you don't want to do that.

Essential Gears:
Compass, Map.
Windproof gears.
Plenty of rest, don't push yourself too hard, you'll get to the summit. It's frustrating when you get to the first false summit, but it's a LOT easier to get to the real summit from there, you did the hard part already!
Plenty of water.

If you have any questions feel free to email me, I hope this report helped you to plan your trip!


This is the snow headwall which is easily recognizable, just hike up directly, you will see this fairly quickly after you entered the woods, climb up and exit at the northwest corner.


B12 remains on the snow slope.





The view from the snow slope.




The view when you exited the snow slope, you are looking at the false summit.




The view when you GET to the false summit, true summit in the view now. Sorry for the crappy photo quality, my DSLR camera was broken...just in time for the best view...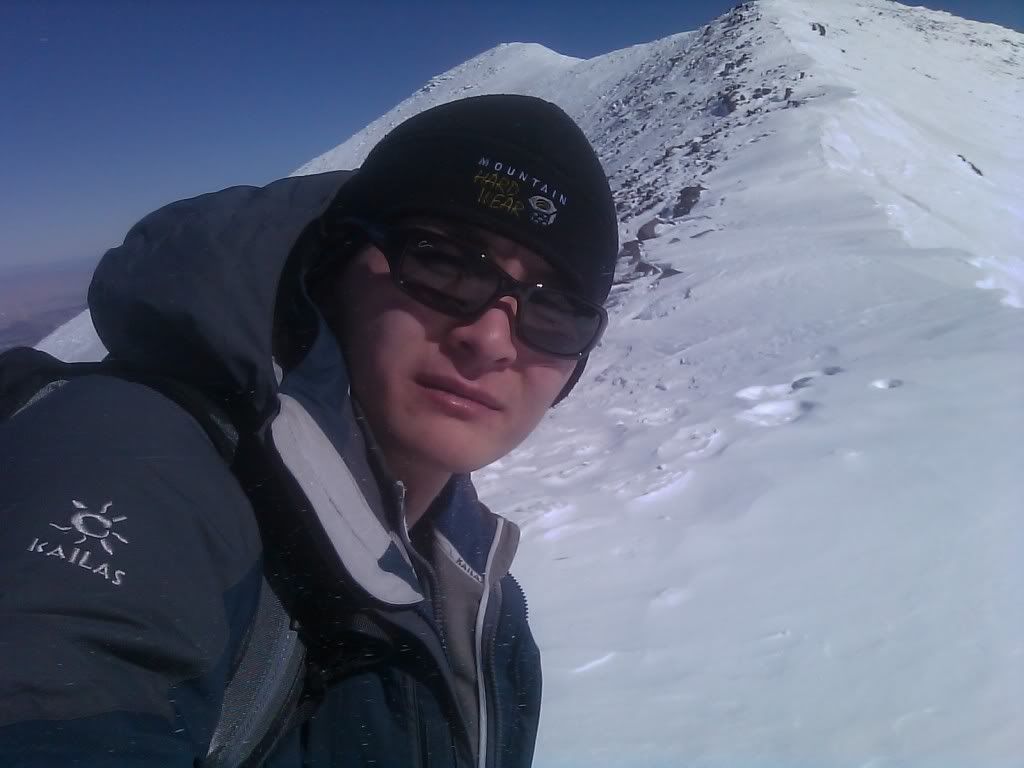 At that time I was debating if I should keep pushing on go on, it was very windy and I was exhausted. The view was unbelivable on the summit ridge.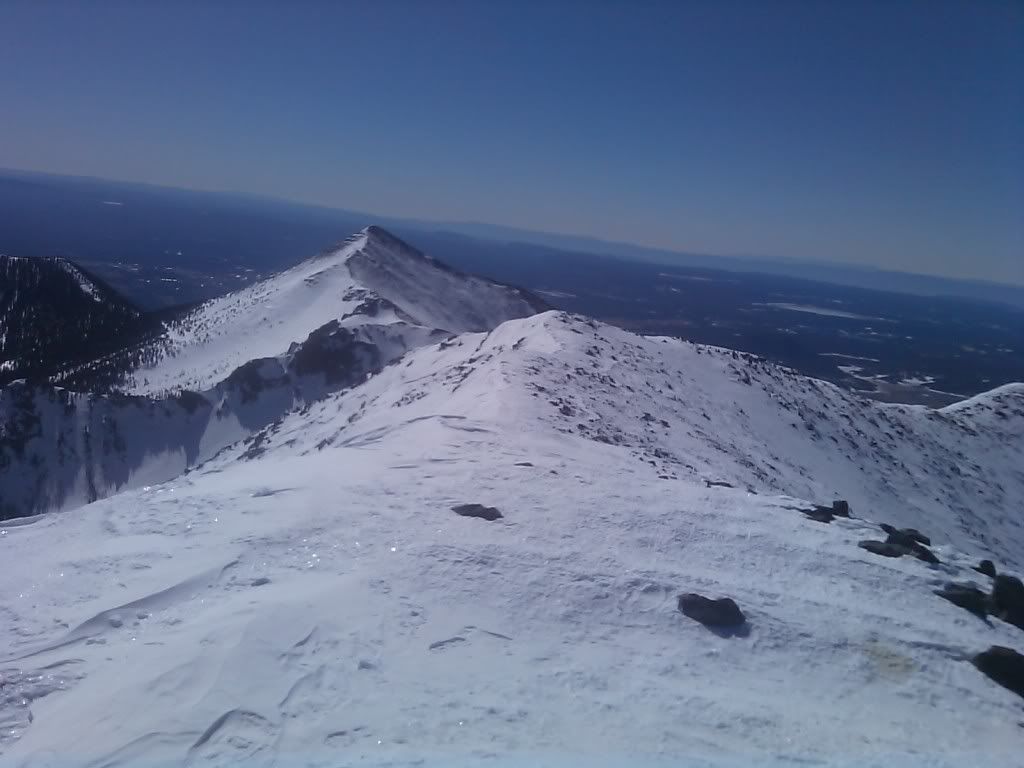 Suprisingly, it took only about 30 minutes to hike to the summit on the ridge. This photo is taken from the summit, looking back to Agassiz Peak.




Me on the top.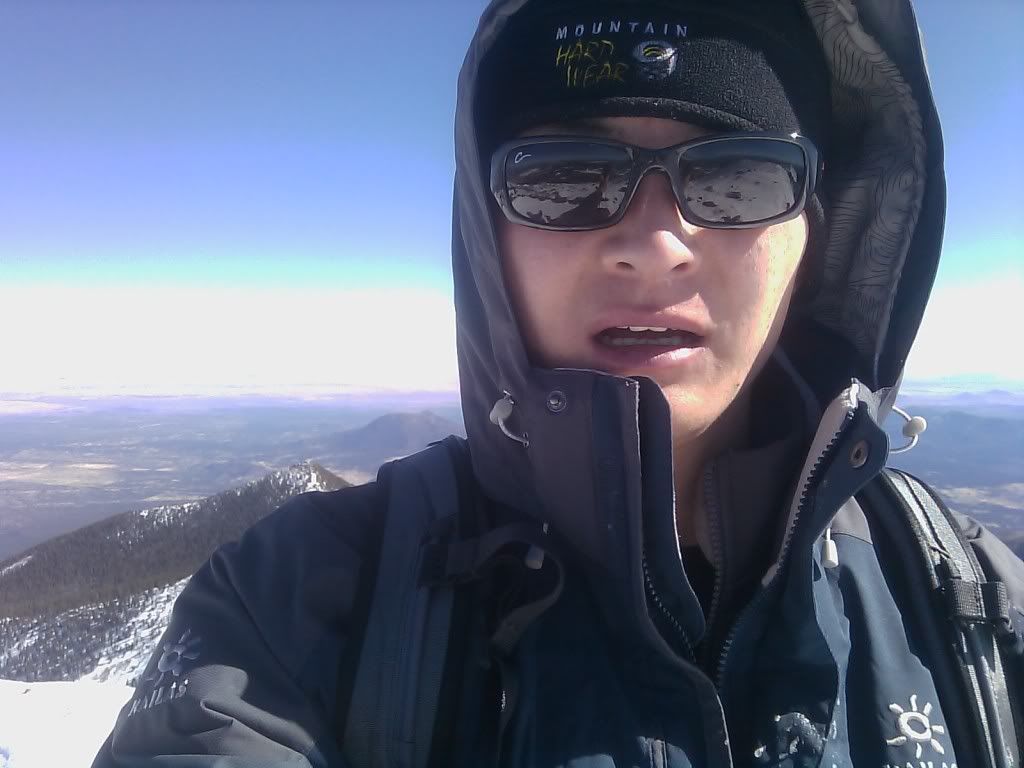 Another shot, bring your face mask!




The summit sign appears to be burried under the snow, I was too tired to dig it out plus it was very windy.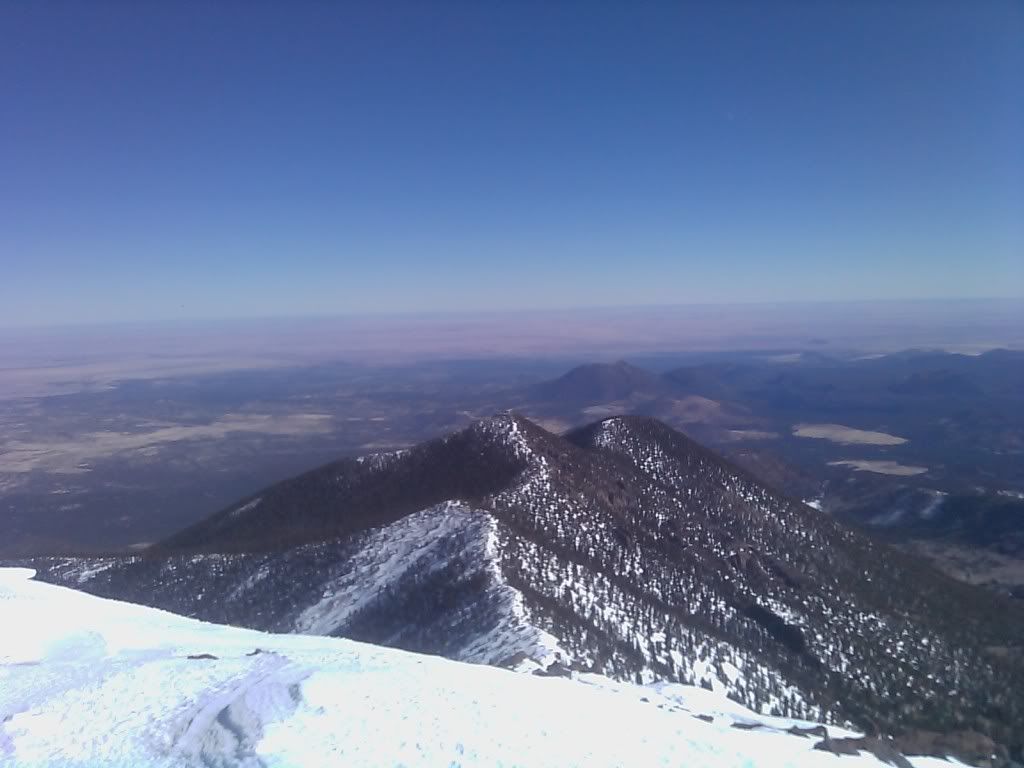 Shot to another direction.

Just follow the summit ridge and descend into the snowbowl ski slope.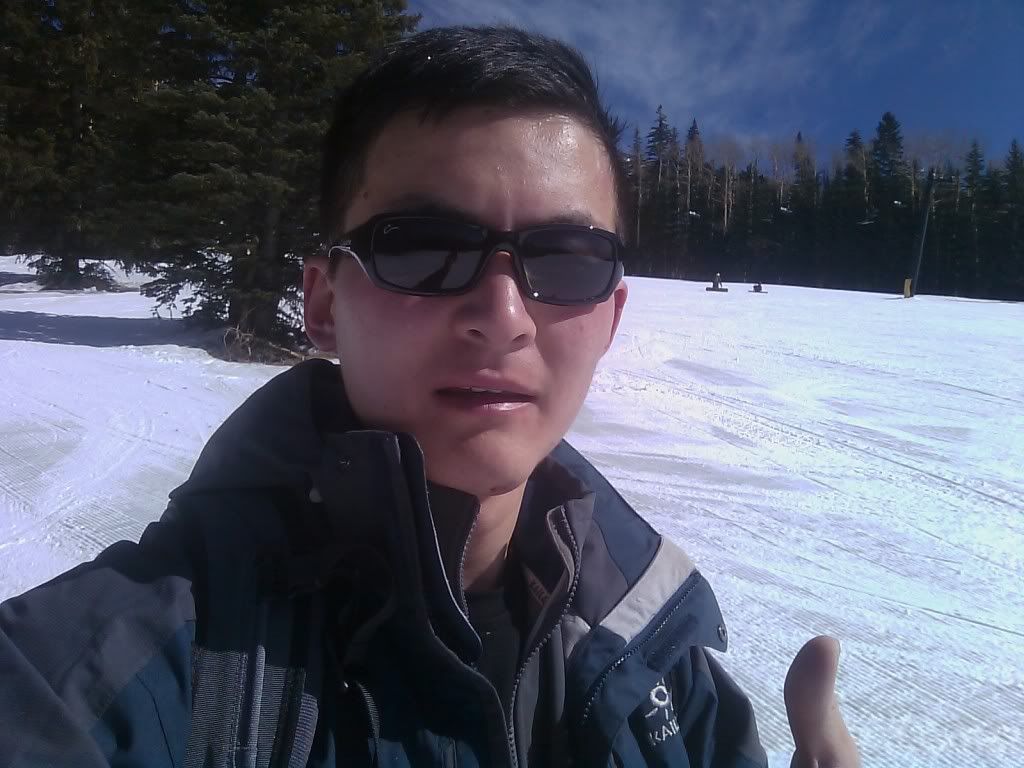 Victory post down the mountain.




Skiiers enjoying the day with Humphreys Peak in the back, I was the only one registered that day.

Thanks,
Alex






Images