Let Loose on Craig Llong
The account that follows is a brief description of my first experience of climbing on Pembroke's north-eastern coast.
Last week I'd arranged to take Matt climbing, he had only been once before and was eager to give it another try. So Monday evening I met him in Newport and headed for Craig Llong near Trefin. Craig Llong is reputed to be the best crag in northern Pembroke, and a quick glance over the guidebook revealed that it was home to a considerable number of three star routes, all for which were in the mid to high E grades. Now given the fact that Matt's still pretty inexperienced and the fact that I've never even followed anything harder than E2, let alone lead it, we wouldn't be going anywhere near these. However, there were still a good number of easier routes to keep us busy.
A very pleasant approach along the coastal path bought us in view of our goal, and the steeply overhanging buttresses of Craig Llong beckoned. On reaching the crag I immediately regretted my choice of footwear, sandals are no good if the approach is a blanket of thick gorse and stinging nettles. We descended to the bottom of the crag with the aim of warming up on Trainer Slab (Severe) before the tide came in and covered the starts of the seaward routes. Now I'm unsure if I perhaps picked the wrong slab to climb, but the rock soon started to disintegrate into a flaky mess, which required every hold to be checked repeatedly and every move to be carefully executed lest I drop a shower of broken rock onto Matt below. Shortly I found myself some 10 metres up, with the only piece of protection placed uselessly some 9 metres below me. This was not my idea of fun, and so spotting a weakness I decided to bail, making my way to a grassy ledge to my left. Although I was able to place another piece of grear before making my move, this course proved to be little better and I found myself desperately scrambling to reach some exposed bedrock above me. After a precarious struggle up the vegetated slope I found myself in a better position, the rock above me had proved more solid. However, I didn't want to belay Matt up behind me as I had only placed one piece of gear on my traverse left (and I wasn't overly confident that the rock would hold), and in the event of a fall he would have been swung violently over some scary looking sharp rocks. Instead I decided to abandon my second piece of gear and made my way to the top.
Although a little discouraged we thought we'd give another route a go, deciding on Corkscrew (Hard Severe 4a) as a good option. The first pitch was a breeze, rising gently to a grassy recess from where a belay was possible. This was followed by awkward moves to a weakness above where I was greeted by a large volume of loose rock. A boulder the size of a television teetered precariously where I needed to place my feet, and so with great care I made my way to easier ground above. Matt followed easily, knocking off big piles of rock as he climbed, and we ended the day there in the glow of the setting sun.
I have to say my brief experience of Craig Llong was not good, but since I didn't go anywhere near the harder climbs I'll not challenge the Climbers Club's assertion that this is the best crag in this area. I imagine the overhanging nature of those harder routes means that there is very little loose rock on them, and the rock that remains should be pretty solid. Perhaps when I'm leading in those high grades I'll return, which given my slow progress and cowardly nature won't be anytime soon.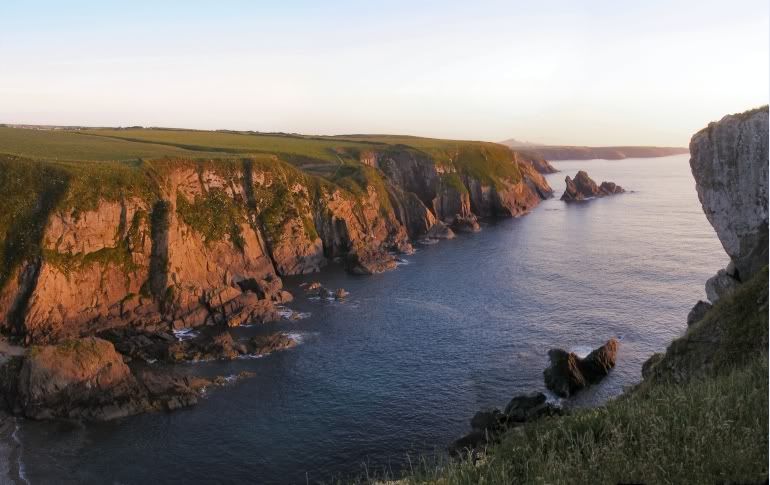 Images