Overview
With its rough and wild position, and battered by the relentless waves of the Irish Sea, there are few crags in Wales that can match Craig Llong (Ship's Rock) for raw atmosphere. Reputed to be the finest crag in northern Pembroke, it's home to a series of gravity defying overhanging buttresses of hard igneous rock, which sport one of the highest concentrations of three star routes anywhere in these parts. The routes are generally in the higher grades, however, easier breaks can be found in-between, providing something for the less experienced climber too. To it's south is a second promontory known as Trwyn Llong (Ship's Nose), or Fisherman's Ridge, which offers further routes, mostly in the mid grades. Be aware though, the easier routes are prone to friable and loose rock, adding an element of danger to what should be relatively straightforward climbs. The gem of the area is almost certainly the Asteroid Wall, a massive 50 metre high celestial beast of pillowed rock, which gives the some of the most sustained, committing and technical climbing anywhere in Britain. This quality, coupled with its largely non-tidal nature and sheltered southerly aspect, make it an ideal winter venue, especially for the discerning expert.
Rock Climbing
The climbing in this area can be split into two areas, Craig Llong itself, and Trwyn Llong, a peninsula to the south. For Craig Llong, only the slabs left of the Asteroid are affected by the tide, while Trwyn Llong is entirety affected by it, the degree of which can depend on the time of year and weather.
Routes are listed from right to left, and are graded and rated with the aid of the old Climbers' Club Guide to Pembroke and old Pembroke Supplement. Since then, the Climbers' Club have published a new comprehensive guide for this area, Pembroke Volume 1: Pembroke North, which adds a significant number of new crags and routes to the area, though the changes to this pages' crags are few. Nevertheless it is recommended that you refer to this book for up-to-date information and route descriptions.
Routes are rated using the British Adjectival Grading System. A conversion table of international climbing grades by SP member Corax is available: download it here. With the exception of Tenby South Beach Quarry, bolting is strictly prohibited everywhere in Pembroke, so don't even think about it here.
Route Symbols:

| | |
| --- | --- |
| | A so-so route, neither good nor bad. Not unpleasant unless otherwise stated. |
| | A good route which is definitely worth a climb. |
| | A very good route, one of the best on the crag and well worthy of attention. |
| | An excellent route, one of the best in the area, and probably in Britain too. |

No Restrictions

Used to indicate that there are currently no restrictions, either seasonal, temporary or permanent, affecting a route.

Restrictions

Used to indicate that there are restrictions, either seasonal, temporary or permanent, affecting a route. See the Red Tape and Access Section for more details.
Craig Llong
Descend from the coastal path along the grassy ramp that runs down the southern side of the crag. The first feature encountered is the smooth looking overhanging wall of Walk on By which is terminated on the left by the broken corner of Chimney Route. The next feature is the huge overhanging wall overlooking the almost horizontal flake of Classic Walks. Set below this is the easy angled slab that gives Corkscrew, then to the left again is the amazing Asteroid Wall, an overhanging behemoth of bubbling dolerite which is bounded on the right by The Cambrian, while to its left is the Seaward Cliff.
No.
Name
Length
Pitches
Adjectival
Grade
Technical
Grade
Quality
Restrictions
1.
Walk on By
18m
1
E2
5c
2.
Wait on the Corner
18m
1
E4
6a/b
3.
Strangers
18m
1
E6
6b/c
4.
Impetus Now
18m
1
E6
6b
5.
Chimney Route
24m
1
HS
4a
6.
Classic Walks
40m
1
S
7.
Extreme Walks
43m
2
E4
6a
8.
Go Take a Running Jump
21m
1
E6
6b
9.
Can You Walk Like You Talk?
21m
1
E4
6a
10.
Corkscrew
55m
2
HS
4a
11.
The Count
43m
2
E1
5a, 4a
12.
Grand Duke
37m
1
E2
5b
13.
Souls of the Departed
43m
1
E4
6a
14.
The Cambrian
46m
1
E5
6a
15.
Moonstruck
46m
1
E6
6b
16.
Moonie
40m
1
E6
6b
Seaward Cliff
The following routes are located on the tidal seaward slabs to the left of the Asteroid Wall. Routes are of poor quality.
No.
Name
Length
Pitches
Adjectival
Grade
Technical
Grade
Quality
Restrictions
17.
Trainer Slab
37m
1
S
18.
Flake Slab
26m
1
VD
19.
Cold Climb
24m
1
VD
Trwyn Llong
Descent to the base of Trwyn Llong can be made by scrambling down the crest of the ridge so a stake in the first gap. Abseil from this stake either down the north side to a rock platform or via the south side. At low tide its base can be reached by traversing in eastwards from the foot of the abseil.
No.
Name
Length
Pitches
Adjectival
Grade
Technical
Grade
Quality
Restrictions
20.
Pocket Slab
60m
2
S
21.
Heather Slab
34m
1
S
22.
Den's Dyke
34m
1
HS
4a
23.
Acapulco
30m
2
HVS
5a
24.
Garibaldi
27m
1
VS
4b
45.
Roland Rat
27m
1
HS
26.
Recess Slab
27m
1
S
27.
Thrift Slab
40m
2
HS
4a
28.
Not Worth Abseiling For
40m
2
HS
29.
Velcro
46m
2
VS
Weather Conditions and Tides
Weather Forecast
This section displays the weather forecast for Trefin, which is located just to the east of Craig Llong. This gives a pretty good indication of what the weather will be like on the crag, as both Trefin and Craig Llong area sit at around sea level.
This weather forecast is generated by the Met Office Weather Widget
Tide Times
Tide times can have a significant impact on where and when one climbs. It is therefore extremely important to check the timetables before embarking on trip to the area. UK tides information for all standard and secondary ports is provided by the UK Hydrographic Office (UKHO), and displayed on the BBC's website. The link below provides a link to the nearest monitoring station to Craig Llong:
When to Climb and Essential Gear
The most reliable conditions are in the summer, but the low altitude of the crag may make it a viable option in winter. The gear needed depends entirely on the routes you plan to do. Easier routes will only require a moderate rack, while harder routes will require a something more comprehensive; a good compliment of friends or other camming devices will certainly help. A single 50 metre rope should serve well on most easy routes, however, double ropes would be a wise choice for the harder stuff. In addition to your usual gear, you might want to bring along an abseil rope to speed up access to the base of the crag.
Getting There
When approaching from Carmarthen (SN 405 196) take the A40 Truck Road signposted for Saint Clears (SN 274 160). At the Saint Clears roundabout, take the A40 Trunk Road towards Haverfordwest (SM 961 159). At Haverfordwest, continue on the A40 north. Just after Scleddau (SM 942 346) turn left and take the A4219, and then left again once you reach the T-junction for with the A487 (SM 933 358). Continue towards St. David's and turn off right at Square and Compass (SM 844 310) for Trefin (SM 839 325). Park at Trefin and take a footpath north to join the coastal path (SM 834 329). Walk east along the coastal path to Trwyn Llong and Craig Llong.
Camping and Accommodation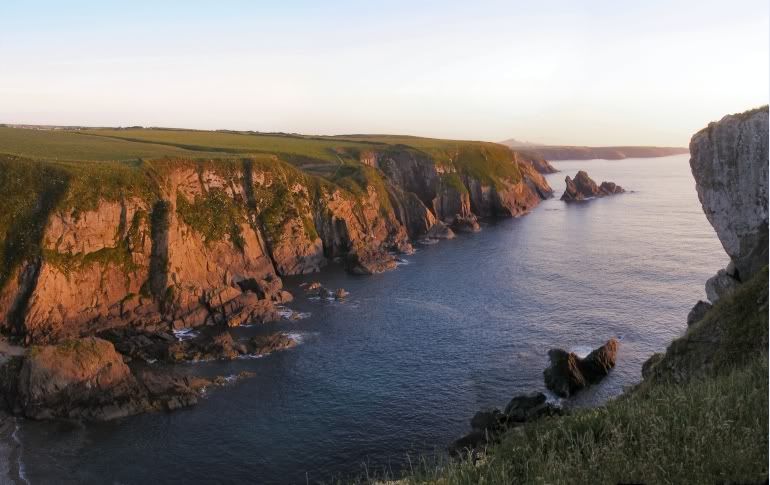 Red Tape and Access
No red tape or access issues here!
For climbers, hill walkers and mountaineers, the British Mountaineering Council (BMC) runs a Regional Access Database, which holds mountain/crag specific information on matters of conservation and access, including issues such as nesting restrictions, nature designations and preferred parking:
If you are in any doubt about any particular access arrangement, or need to report an incident, you should contact your local BMC Access Representative or the BMC Access Officers for Wales: Elfyn Jones.
Maps
Guidebooks
External Links
Images