After a solo recon mission the previous weekend, I convinced a small flock of friends to come back and have a serious try at the cool rock formation on the WA side of the Columbia River Gorge known as the Rabbit Ears (aka Pappoose & Sacajawea Rocks).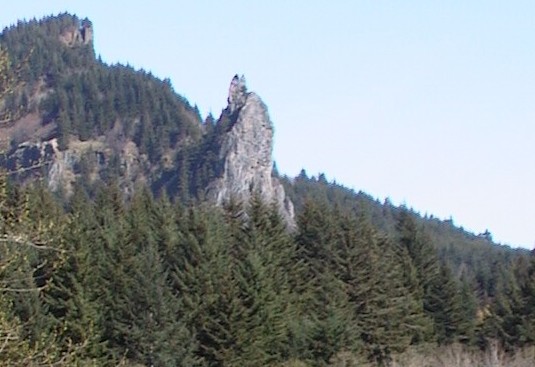 Left the car at 9:45 and began the approach - hiker's trail to junction with PCT, then bushwhack to the steep gully leading to a saddle on the north side of the Bunny. A miserable effort was required to claw our way up this muddy runnel. By 11:00 we were roping up at the saddle.

The first pitch was simple 3rd-4th class scrambling up moss, dirt, and horrific rock to a bolted belay station on the north ridge. Placed no pro.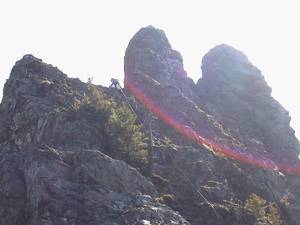 From there, we traversed right below a gendarme and under the northeast ear to the notch between the ears. Pro for this pitch consisted of a slung rock outcropping, a manky piton, and a cam placed behind a suspect flake. I didn't think it possible, but the rock on this pitch was actually worse than on the previous one. Not sure if any of the protection would have held a fall but they made us feel better. Fortunately, the bunny's head was outfitted with a belay bolt.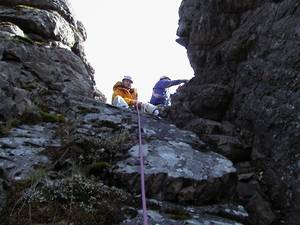 Pitch three was straight up the northeast ear (left side in above photo). As usual, no pro was available but it was only about 20 feet of easy climbing to the top.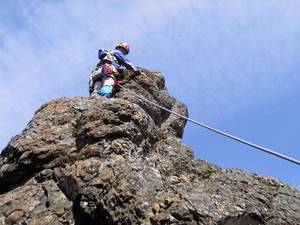 At about 1:30, we reached the cramped summit and were met by Cluck, our stuffed mascot climbing chicken, who had left us at the saddle to freesolo the overhanging Northwest Face of the Rabbit. "It's about time you wussies got here" spouted Cluck. This was followed by a string of insults, directed mostly at the speed (or lack thereof) of our ascent and our choice of the easiest route we could find.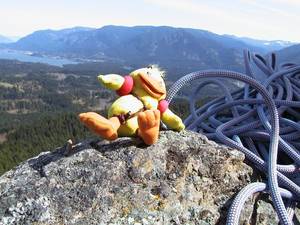 We fashioned a rap anchor from the various pins that adorned the tip of the ear and, despite the verbal abuse I endured, I clipped the vulgar climbing chicken to my harness for the awkward, traversing, double-rope rappel. We packed up at the saddle, rappelled down the miserable gully and trotted back to the car, arriving at about 3:45 – 6 hours car to car.

Since there was still some useable light left, we decided to round out the day by jaunting up Rooster Rock on our way back to town, thus rounding out a Barnyard Traverse of Gorge rock.










Images