Overview Photos
This photo is hyperlinked from Dave Jensen's page (with permission; all copyrights belong to him) and shows the west face of the Dome. Thank you Dave! Our chosen line climbs essentially the right hand side profile through the lower two bands: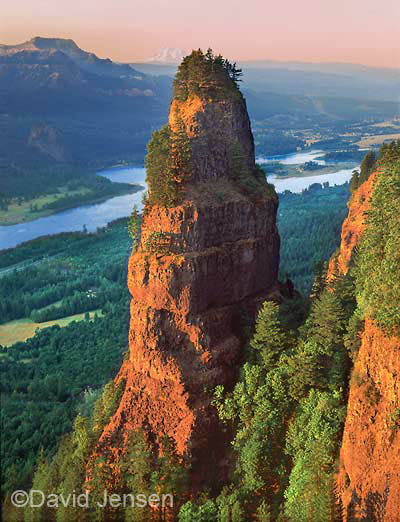 This photo was taken by Tim Olson (all copyrights belong to him) and shows the east face of The Dome. Thank you very much Tim!
Also note that somewhere in the photo is the killer Northeast Face route (which incidentally had its second ascent by Dave Jensen :).

Summary













St. Peters Dome is a large basalt pinnacle on the Oregon side of the Columbia River Gorge. On the shorter uphill side, it is 350 feet of severely exfoliating and decomposing basalt between the saddle and the summit. The Dome is located 35 miles from downtown Portland and is plainly visible to all who drive by on Interstate 84. The approach hike though tedious is short and mostly straightforward. Despite these facts, the Dome is known to have been climbed by only 20 different parties prior to our ascent. (Ref. Mazama Annual 2007; other parties may have reached the summit but chose not to leave any record). The first ascent was done by Everett Darr et al in 1940 (Ref. Mazama Annual 1940) and the bulk of the subsequent ascents occurred during the early 50s to early 70s with no recorded ascents in the 1980s. The 90s saw a resurgence in Dome's popularity with Wayne's (Wallace) first solo ascent (!!) of the Dome – #20 and the last known ascent prior to ours. The Dome has at least 3 routes established on its south face and one line on the east/northeast face - all require thin expando nailing of disintegrating basalt "cobblestones":

Darr Route a.k.a. South Face (FA 1940 by Glen Asher, Everett Darr, Ida Darr, Joe Leuthold, Eldon Metzger, and Jim Mount)
Alpenjaeger Route (FA 1947 by Don Baars, Floyd Richardson, and John Morris)
South Saddle Direct a.k.a. Kirkpatrick Route (FA 1968 by Glen and Don Kirkpatrick....maybe??) details are uncertain.
Pearly Gates Route (in honor of the two guys who first attempted it and died trying) a.k.a. Northeast Face Route (FA 1958 by Dave Bohn, Dave Nelson, and Art Maki)

The first attempt on the Northeast Face Route ended in the deaths of both climbers (A6-ed). An unhealthy kill ratio considering there were only 2 more parties up it ever. The 2007 Mazama Annual (article by Don Baars & Jeff Thomas) provides the most comprehensive account of the climbing history on The Dome (FA summary above is based on that article), including Don's TR from the second ascent in 1947.

After more than three years of obsessing about it my wife Shirley & I climbed St. Peters Dome via a somewhat direct line from the south saddle. Following a scouting hike up in the winter of early 2005 and a half-hearted attempt a month later, we did not return until April 12th of '08. We started up the 1947 line (Alpenjaeger Route) but we then most likely veered onto what was first climbed (perhaps?) by Glen and Don Kirkpatrick in 1968 – though many options exist for this upper pitch of the line and having found no fixed pieces on the 52-foot upper band we're not sure what we were on. Two pitches of aid and one pitch of easy but very loose free climbing were required to reach the summit. Pitch 1 aid was done almost exclusively on thin, short knifeblades. The crux pitch 2 was about 2/3rds clean aid and the rest consisted of nailing of a mix of things. We climbed the route over the course of two Saturdays two weeks apart (a pace limited more by lack of courage than time). Two additional trips were required, one to replace our rope on pitch 1 and one to take down our ropes. I found the experience scary and generally life-threatening for all involved. On day 1 we had help from our friend Pat Clinton (who had climbed the Turkey Monster with us last summer) in carrying the junk up to the saddle – thanks man (esp. for encouragement)! On day 3, we had the privilege of meeting Jeff Thomas and John Leary. Jeff summitted along with us while John shot some wonderful photos from the Mystery Trail all day long. I've indicated those that belong to him (all copyrights belong to John on these indicated shots). On the final day, Jeff Thomas and George Cummings hiked up with Shirley and me. Jeff & I then cleaned the ropes and gear and rapped down the Darr Route. Having done the climb, I stand in awe of the people who went up before us: those who went up it first; those who climbed it with home-made gear; those who put up additional terrifying routes (esp. Northeast Face!!); those who climbed it multiple times; those who've done it in a day; and Wayne who's done it alone! Many thanks are owed to John Leary for great photos. I also wish to thank Don Baars for sharing his Dome experiences with us freely during our many email exchanges and generally encouraging us to try this climb. The account below is long winded. Sorry.

Day 1, Saturday April 12th


Though it's never been fun, the approach to the backside saddle has worsened as a young forest sprouted over the landslide area above Dodson in '06-'07. Now more bushwhacking is required although the shrubbery is not very dense. On Saturday morning, Shirley, Pat, our two dogs and I hiked up to the saddle. I've had knots in my stomach since the night before and got little sleep. Seeing the choss of the lower bands again did not ease my mind. The plan was to start at the highpoint of the saddle instead of scrambling the vertical boulder field to Furrer's Cave on the Darr Route. From the looks of things, calling (as Dodge does) the standard route A2 and our variation A3 seems meaningless as you cross the same deteriorating bands of choss. The first 20 feet were educational for me. I've learned to test the cobblestones with the hammer for relative looseness (ALL are loose). I've also learned that I'd have the best success by forcing short, thin KB's into incipient seams in individual cobbles versus forcing longer KB's or LA's in-between cobblestones. I led on double ropes placing two pieces at roughly the same level – slower but felt safer. In retrospect it was a good call as we later discovered severe damage to one rope probably from rock-fall. The first 15 feet is where I had all my bounce test failures too. A spark would fly every time a KB zinged out. I either got better at nailing KB's or rock improved higher. About 30 feet up I found an old "bolt" with a rusted-shut biner ("Ace Hardware special" per older Steins Pillar TR). Below, Shirley was ducking the loose rock I was knocking down continuously. Higher, I found 2 or 3 old pins driven behind loose blocks of basalt. These indicated that the last party veered east at about 35 feet up. I followed. The rock got really loose as I was within sight of what looked like an old belay (another Ace Hardware bolt). I could find no further placements to support my weight. Shirley sent my rock shoes up and I reluctantly did about 10 feet of easy but loose free to a mossy 6 inch wide stance next to a solid slab. Someone probably used this as a belay and I was guessing that the route veered back west from here. I clipped my fifi to the "bolt" and tried desperately not to weight it while tip-toeing the mossy, deteriorating stance. I drove a large angle in – OK but not great. I hand-drilled a belay bolt into the solid basalt. This stance is about 15 feet below 96-foot band though I like Jeff Thomas' term of "96-foot nightmare" much better. The pitch took me four hours to lead. We fixed ropes and called it a day. We left the pin rack at the base thinking we'd come back next day. As a bonus, I bruised my ribs on the "hike" down as a large, moss-covered boulder shifted under me and I went tumbling into it.

Next morning neither one of us (dog included) had the least inclination to go back up. We knew however that we did not secure the stuff for long term keeping and needed our good rope for a trip to Moab during the coming weekend.

Day 2, Thursday April 17th

On Monday, a weather front moved in and soaked the Northwest. Forecast called for improvement starting on Thursday and so I figured I'd wake up early, get our stuff back and be at work before anyone noticed. Our dog Blondie & I got to the trailhead at 4am to find not only darkness but a steady drizzle also. We got out of the car and looked at each other and a miracle happened. Our dog spoke to me in a human voice, saying "Fuck this shit!" I concurred and we drove home without another word. Instead, I got out of work early in the afternoon and Blondie and I hiked up to the saddle in drizzle but at least in daylight and retrieved our stuff.

Knowing that Don Baars and Jeff Thomas were working on an article on the climbs of St. Peter's Dome, I called Jeff to ask if he had any knowledge as to where our route went above. Jeff did not know but was very interested in joining us on the return to The Dome.

Day 3, Saturday April 26th













Two weeks later we were back at it again this time we were joined by Jeff Thomas and John Leary whom Jeff asked to take some photos. Not sure if John knew what kind of screwed up hike he was getting himself into but he generously shot photos all day long. Shirley and I jugged up pitch 1 and Shirley made herself comfy with a belay seat – a good call as pitch 2 would take me 3 hours to lead. I started by traversing west to an adjacent trough on good rock. This would keep any shit falling from above (& there was much) away from my belayer. After mostly clean aid I was soon at the top of the 96 foot band. I traversed the intermittent ledge west 20 feet to the base of what I guessed would offer best passage through the upper band. What looked like a decent splitter from below now had some warning signs of an expando flake. I would bounce extra gently on the small cams for the next 20 feet as I thought I might peel off the whole 20 foot column of basalt off of the face. Above the column the rock deteriorated drastically to its worst so far. I did a leftward run-around a loose façade above me – a 10-foot "wall" of rock separated from the dome by an inch of airspace. The rock around this was crap too: body-weight KB placements in deteriorating shit. Each subsequent placement took longer to find and would not take bounce tests. I kept thinking that the rock façade to my right was gonna go and sever my rope should I hit a KB too hard. I finally got a mid-size angle in shit rock that held a gentle bounce. I could top-step in my aiders. Nothing looked good until I started digging out carpets of moss. I found what looked like a yellow Alien slot. I placed it – two lobes engaged, two not so much. I wondered what would stop my fall. I eased onto the Alien and it held. Above, more mud and moss digging produced a solid-looking crack. Only now did I notice the horrendous rope drag that my run-around was causing. I could hardly move. I knew that the mantle would require free climbing on moss and loose boulders. It took me half an hour to pull up 15 feet of slack 2 inches at a time. When I finally had enough, I went for the free top-out – pulling on moss, blocks, branches and crawling through mud and moss of the lip. The approach gully below was getting carpet-bombed with hundred-pound rocks. And then my feet were over the edge on the 25-degree mossy boulder field atop the upper band. There was a large block at the edge of my reach. It seemed fixed in place. I hand drilled a belay bolt, clipped it, dug my feet into the moss and boulders and yelled off belay. The suffering continued as Shirley had to jug on the rope hanging from my harness. Even the belayer takes on risks on this nightmare. Shirley dislodged some rocks which grazed her helmet and cut her earlobe while jugging. Once she topped out, she further cleaned the edge of big blocks. We hiked up and left to a huge tree 40 feet further and fixed the rope for Jeff, with our lone bolt keeping the rope off of the worst of the boulder field. The last pitch is lower angle on giant boulders securely held in place by moss. I led it, Shirley followed and Jeff free-soloed. Soon all three of us were on the summit flipping through the pages of the summit register. The partial register starts with a 1962 ascent and ends with Wayne's 1994 solo ascent. We took photos of some of the entries and posed for summit shots for John on the Mystery Trail. We rapped down to the top of the upper band but then decided to leave ropes fixed in place for the following weekend as we wanted to rap down the Darr Route to scope things out.

Day 4, Sunday May 4th



And so the same routine went down again though this time we were joined by Jeff Thomas and George Cummings. George had tried the Dome in the 1960's twice but did not go above the 96-foot band. George climbed with Dave Jensen on the FA's of some of our favorite routes at Smith including Sky Ridge and Sky Chimney (rest of our Smith favorites it seems were put up by either Jeff or Jim Anglin, rest in peace) and so Shirley had a good time hanging out with him at the saddle while Jeff & I cleaned off our fixed shit. I left about 2 or 3 of our pins fixed high on pitch 2 mainly because I thought that messing with those might bring half the Dome on top of me (and to mark our passage). We rapped down the Darr Route in one shot maxing out our double 70 meter lines. Once both ropes were on the ground, I felt as though a weight had been lifted off my shoulders – The Dome had allowed us to climb her and to live through the ordeal. We hiked out happily knowing that we'll never have to do that approach again!
On The Summit
For more photos of the climb by John Leary, see here.


Images