Background:
Nadios, "S", "L" and I take off to South America.
I know Nadios very well, S quite well and L only a little bit.
Already from the start I feel some sort of a competition in between S and L. They are both extremely competative as S is one of Europe's best marathon runners and L is a top notch multi-sporter and national champion in a sport I don't wanna give out (in order not to give out her identity). I start to worry a bit when I see them going "Tour De France" on every little hill (we're biking in between the mountains). How will it be in the mountains?

In the mountains:
L and S are going full on also on the approaches. Both are feeling very good and say they don't need much acclimatization. I worry a bit about how L can know about that as she has never been higher than 3800m once.
We camp two nights on 3200m and one on 4200m. Everyone is feeling good. We walk up to 4700m and intend to go up to 5000m before returning to camp at 4700m to spend the night.

Incident # 1:
We walk up to an altitude of roughly 5000m as planned. When we stop to have a look at the scenery we realize L is not with us and can see her walking off along a ridge towards higher reaches.
She comes back two hours later and starts with:
"I climbed Cerro Vallecitos! Ha!!! I was so scared that I cried the last 10 meters (UIAA grade 2 rock, but an airy 1000m drop on one side), but I could not turn back". I could see S's face was full of envy. Beaten by L that day. L has never been that high before and has almost no experience of rock climbing.

Incident # 2:
S is full of "go" and declare he feels ready for the 6300m high peak Cerro Plata. I ask him if he think it's a smart decision after only one night on 4700m.
"Yes, I felt great on 5000m yesterday".
"I think it's really stupid and I would not like you to do that today, I told them. Wait for a day".
"No".
What could I say?
I was not the official leader, just the guy with the most experience.
Nadios and I packed our gear for a lower target and saw L and S almost running towards Cerro Plata.
To my shock I saw L had no backpack and only wearing thermals. Storm and snow clouds started to appear everywhere. I was content that S would judge the weather too bad to make an attempt on Cerro Plata, but no. They continued.

Nadios and I made it to the summit of a lesser peak together with a group of Argentinian climbers, who also were a bit worried about the weather, but as we all carefully took waypoints with our GPS's and were fully equipped for bivauqing we felt we were doing ok.
We rushed down to camp as the weather started to look really nasty and wondered where the hell L and S were.
Half an hour before a blizzard arrived they made it back to camp, declaring they had made a speed ascent.
I blasted them for being stupid about how they had dressed, about the approaching weather, about the risks of going that high without sufficient acclimatization and so on. L defended the climb. S realized it had been a stupid thing to do and backed off.

During the night the mild blizzard raged a bit and brought 40cm of snow. I thought about the situation and decided to give L and S an ultimatum. They both had to listen a bit more to what I had to say, or they could take off and take their chances by themselves. I just didn't want to take responsibility for their potentially dangerous actions all the time. "Ok, said S". L looked defiant, but kept quiet.

We travelled to the Aconcagua area. Walked to Confluencia and headed for Plaza Francia. Our plan was to make our way over the ridge which separates Plaza Francia from Plaza Argentina. A guide had told us the ridge was an easy 30 degree scree walk. We watched the ridge in the late afternoon and could see there were constant rockfalls all over the place and it looked steeper than 30 degrees in places. We decided to have an early start the day after.

Incident # 3:
Nadios and I started early. L was ready, but S had some trouble with his backpack. L and I agreed on the best would be if we went up the ridge in two pairs. Nadios and I took off. L seemed to be very restless and was basically running around in circles. After a couple of hundred meters up the ridge, Nadios and I realized she was just behind us, even if she had told us all that she should go together with S. As it was now, the communication in between S and L was very difficult. When L was going to warn S for a rockfall, he usually said: "What"? I told L to stick to the plan we had agreed on in camp. She gave me a "why-does-everything-have-to-be-so-difficult-look", but stayed to wait for S.
In order to avoid the most dangerous places of rockfalls, we walked up a ridge and it worked pretty good for a long time. It got steeper though and when we had put 80% of the climb behind us, the gradient was about 45 degrees. I realized we must be in the wrong place. The guide had said 30. I was looking around for alternatives. I could not see any places with less steepness. It started to get icy and snowy on the slope. I thought about going back down, but decided to put on crampons instead. After all, we were very close to the pass. I looked down. Nadios was making slow progress and wasn't so keen on continuing. 30kg plus in the bakpack, steeper and steeper and no ropes. The situation started to get dangerous. The progress was of course a lot easier on crampons, but the slope was getting steeper yet.
S had trouble with his chaotically loaded backpack. L was stil making progress upwards, without crampons and had passed Nadios. I told them both to put on crampons and then we would have to talk about what to do. Back down or continue?

I went towards my left in order to look for a better way up the slope. A lot of things happened quickly and almost at the same time. Nadios had slipped on a steep section and was almost stuck.
The strap on my left crampon broke! I threw myself to the side not to fall without control, but gravity had already started to work and I felt sharp pain in my left calf. I could see blood gushing through my stretch pants. I had no clue how deep the cut from my right crampon was, but the muscle seemed to work.


Close up of the broken strap and part of the crampon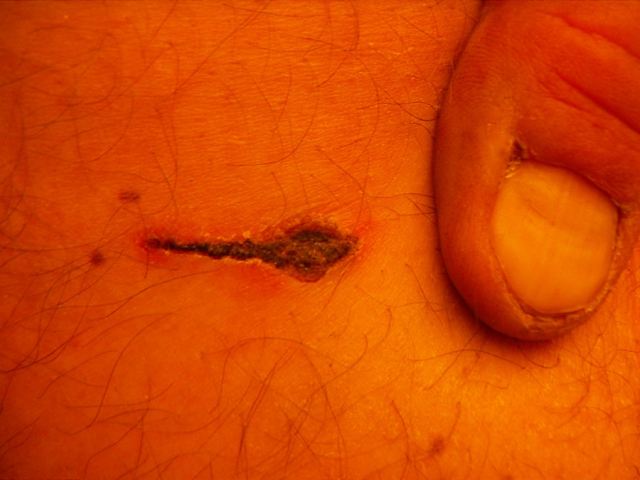 The cut after a couple of days. Very deep actually. I must've been extremely lucky. First of all not to fall and also that my calf didn't got damaged in any way.

I dumped my backpack on a small rocky ledge and looked down. Nadios had ended up in an akward situation and couldn't move. L was going uphill, still without crampons. I told her to put on crampons or stop. On one crampon I went down to Nadios. She put her crampons on. S was still fiddling with his backpack. I asked him what he wanted to do.
"Is there an alternative? I guess we have to go down. This is getting bad".
I agreed.
So did Nadios.
L was further up, sitting down doing something with her crampons.
She called out and asked me how you adjusted them to fit her boots.
I was flabbergasted.
So that was why she had been walking without crampons for so long. She had never used crampons and had tried to avoid the embarresment of letting us know it by climbing on without.
"Come down"!
"No! Why should we give up now"?
"Ok, I tell you why. I'm injured, bleeding from a cut from my crampons. S just jugded it's too dangerous to continue and I for sure stand behind that statement. Nadios is not up to continuing either. Not without ropes and these heavy loads. On top of that you have lied to me and have never used crampons".
She ignored my last sentence.
"But we are so close. I want to continue"!
"I will not"!
L stood her ground.
"I think this is the coolest thing we have done so far on this journey and I want us to continue"!
"For fuck's sake...do that then! Just go on! Why don't you go straight up the south face of Aconcagua solo, without crampons. Continue alone, I don't care anymore. We are going down now".

We did and managed to avoid the constantly more frequent rockfalls. S measured the gradient before we went down and concluded we had been on just over 50 degrees. After some heated discussions we decided to split the group in two. We all managed to reach the summit of Aconcagua, but at different times, using different tactics. Nadios and I waited for good weather, L and S rushed up a.s.a.p. on a windy and cold day.

What's the bottom line of this story?
I'm interested in getting some feedback.
Should I have told L to leave the group early?
Would you have continued as a group?
After which of the three incidents would you have felt: "This is enough"!
Would you have accepted the situation?
Should I have played out the "strong authority card" early?

Any thoughts and feed-back appreciated.

Images