Overview
Bluff Mountain is a prominent but relatively low peak along the Blue Ridge Parkway not far south of the NC/VA border. There are many higher peaks nearby, and far higher ranges are visible all around on the horizon.

What sets Bluff Mountain apart is that it is a prime example of a geological feature known as the "Alligator Back" formation that crops up in a number of areas along the NC high country. Composed principally of schists and gneiss, it is highly resistant to the erosionary forces that have softened the Appalachians. Bluff Mountain is covered in outcrops of this formation, showing through the meadows and the second growth forests on its slopes and along its ridges.

If one approaches Bluff Mountain from the north, one will see a spectacular series of cliffs that stretch from near the base of the peak to the very top of the north-facing summit. While there seems to be an endless possibility of scrambling routes, I didn't see anything of a technical nature. Still, this is one of the best scrambling spots I've seen south of Old Rag in Shenandoah National Park.

Access to Bluff Mountain is very easy via the Blue Ridge Parkway, which runs just west and below the summit. The top of the mountain is accessible by road, or you can hike to the summit along a trail, or by scrambling from the valley floor via the Alligator Back Cliffs.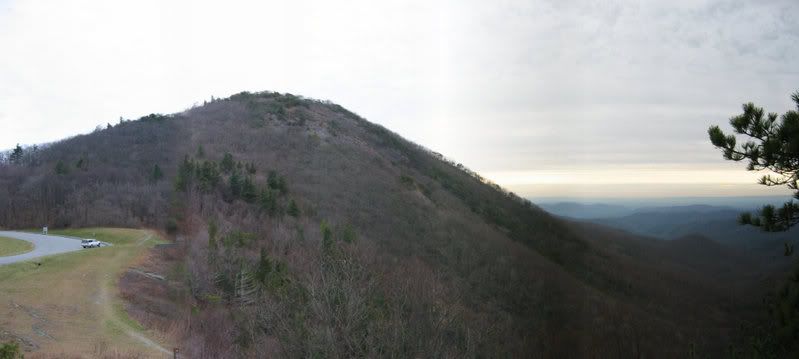 Getting There
Bluff Mountain lies within the Doughton Park area of the Blue Ridge Parkway. The main trail to the summit is accessible via a parking area at milepost 242.3.
Red Tape
None.

Keep in mind that the Parkway is often closed due to snow and ice during winter months.
Camping
There is a semi-developed campground nearby at Doughton Park on the Blue Ridge Parkway. There is also dispersed camping available on the Mountains to Sea Trail which runs along the Parkway along this stretch.
For camping information on the Parkway, go here.
External Links
Online view of Alligator Back Overlook
Geology report on Alligator Back formations
Lodging at Doughton Park
style="display:block"
data-ad-format="autorelaxed"
data-ad-client="ca-pub-6523272176520096"
data-ad-slot="7132222476">