Overview
If you like solitude and spectacular views, chances are you will like the Mount Zirkel Wilderness, located in the northern Park Range and Sierra Madre of Colorado. Only a few of the peaks get much attention (namely Mount Zirkel, Mount Ethel, Lost Ranger Peak, and Big Agnes), but even then the popular peaks are much less crowded than many of the other places in Colorado.
The highpoint of the Buffalo Ridge is not climb very often. When my daughter and I climbed it in June 2015, ours was only the 4th signature in the register in 21 years. Two out of four ascents were from people working on climbing all the 10,000+ foot mountains in Colorado. If it weren't for that fact, the peak would be even less visited.
Although the peaks in the Mount Zirkel Wilderness are lower than they are in some other parts of Colorado, the Mount Zirkel Wilderness receives more snow on average than any other part of Colorado (nearly 500 inches of snow a year according to SNOTEL data), thus lower mountains have a much more alpine appearance than they would for similar elevation mountains in other parts of Colorado.
Buffalo Ridge is one of the northernmost peaks in the Park Range and isn't far from the Wyoming border. The peak itself is unassuming and not very rugged, the views of the surrounding rugged and jagged peaks are spectacular.
Getting There
There are two main trailheads that can be used to access Buffalo Ridge.
Buffalo Ridge Trailhead
From Walden, drive 9.3 miles north on SH14/125 to Cowdery. Turn west on County Road 6W and drive 20.3 miles to CR6B. Turn left on CR 6B and drive 8.1 to FR 682. Turn left on FR 682 and drive 2.6 miles to the trailhead. The trailhead roads should be good for most vehicles.
Beaver Creek Trailhead
From Walden, drive 9.3 miles north on SH14/125 to Cowdery. Turn west on County Road 6W and drive 18.6 miles to Cr 6A. Turn south onto CR 6A (signs will point to Big Creek Lakes) and drive 4.9 miles to FR 698. Turn right onto CR 3/FR 689 and drive 2.7 miles to CR 3A/FR 681. Turn left on CR 3A/FR681 and follow it 1.7 miles to the trailhead. The roads to the trailhead should be good for all vehicles.
Routes Overview
Via Buffalo Ridge Trail
This is the shortest and easiest route to the Buffalo Ridge Highpoint. The trail isn't used much, but shouldn't be too difficult to follow if you pay close attention to the topo map. There will be deadfall to cross along the way. The Buffalo Ridge trail follows a minor ridge before crossing the east end of the Buffalo Ridge proper. Once on the ridge, you can follow it west to the highpoint. The route is not difficult.
This is half day hike.
Via Beaver Creek
This is a longer route than the one above, but it works out nice if you want to climb
Davis Peak
on the same trip.
From the trailhead, the trail follows the north side of Beaver Creek to the saddle near Stump Park. From there, the indistinct Buffalo Ridge Trail is followed north before crossing Davis Creek and climbing up to the east side of the Buffalo Ridge. Once on the ridge, the route follows the ridge west to the highpoint.
This is a fairly easy day hike, at least in the proper season.
Red Tape
No permits are required. Standard wilderness regulations apply.
Additional Regulations for the Mount Zirkel Wilderness area as follows:
Camping is prohibited within 100 feet of any trail, wilderness lake or stream. Camping is prohibited within 1/4 mile (1320 feet) of Gilpin Lake, Gold Creek Lake and Three Island Lake. Camping, leaving camping equipment or personal property or otherwise occupying national forest system lands for a period longer than 14 days within a 30-day period on a ranger district is prohibited. Camping within 200 feet of a posted sign reserving a site for a commercial outfitter is prohibited.
Storing equipment, personal property or supplies is prohibited within the wilderness for more than 14 days within a 30-day period, including time the area was used for camping.
Building, maintaining, attending or using campfires is prohibited within 100 feet of any trail, wilderness lake or stream. Building, maintaining, attending or using campfires is prohibited within 1/4 mile (1320 feet) of Gilpin Lake, Gold Creek Lake and Three Island Lake.
Dogs must be leashed or under control.
Possessing, discharging or using any kind of firework or pyrotechnic device is prohibited.
The maximum group size is a combination of 25 persons and/or pack/saddle animals, with the maximum number of persons being 15.
Shortcutting switchbacks is prohibited.
When to Climb
Mid July to early September is the most popular time to climb here. July is fine, but this area gets more snowfall than anywhere else in Colorado, so winter snows tend to stay late and through most of July. Stream crossings can be problematic (on some routes) in June and July and it should be expected that the meadows will be really wet.
Late Spring and summer can be miserable with mud, swamps, soft snow, deadfall, and mosquitoes. This is probably the worst time to climb the mountain, but that's when we did it. Waiting until August is recommended.
Fall is a fine season as well, but wear blaze orange during the hunting season. Big snowfalls usually don't come until late September or early October.
Winter ascents of Davis Peak are certainly possible, though it's a long trek in when the road is closed. Because of heavy snowfall, trail breaking will not be easy, but most parts of Davis Peak will have avalanche danger. For the well prepared climber, a winter ascent would prove a worthy challenge, but plan to have a few days at your disposal.
A snowmobile would cut down the distance to the trailhead significantly in winter and spring.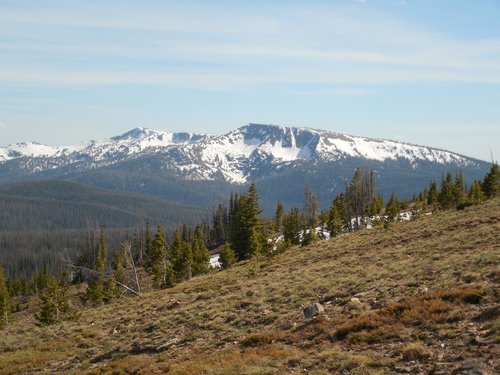 Camping
Vehicle Campsites
There are some good campsites enroute to the Beaver Creek Trailhead. Just don't camp on private land. The trailhead itself has some excellent campsites as well.
There are also campsites enroute to the Buffalo Ridge Trailhead.
Backcountry Campsites
The saddle near Stump Park along the Beaver Creek and Buffalo Ridge Routes has several campsites.
Mountain Conditions
For current information, contact:
ROUTT NATIONAL FOREST
CLICK HERE FOR THE WEATHER FORECAST FOR MOUNT ZIRKEL WILDERNESS
Below is the National Weather Service Climate Summary of Walden. The data is from 1897-2012. This is the closest long term weather station, but be aware that higher elevations will be much wetter and colder. Walden is at 8110 feet elevation, so expect the temperatures on the higher elevations of the Mount Zirkel Wilderness to be 10-15 degrees colder than in Walden (except for cold winter nights).
| | | | | | |
| --- | --- | --- | --- | --- | --- |
| MONTH | AVE HIGH | AVE LOW | REC HIGH | REC LOW | AVE PREC (in) |
| JAN | 29 | 4 | 56 | -48 | 2.47 |
| FEB | 32 | 6 | 53 | -49 | 2.24 |
| MAR | 39 | 13 | 70 | -34 | 2.11 |
| APR | 50 | 21 | 74 | -22 | 2.28 |
| MAY | 61 | 29 | 84 | 5 | 2.08 |
| JUN | 71 | 36 | 92 | 17 | 1.49 |
| JUL | 78 | 40 | 94 | 21 | 1.54 |
| AUG | 76 | 38 | 93 | 19 | 1.60 |
| SEP | 68 | 30 | 89 | 0 | 1.81 |
| OCT | 56 | 22 | 78 | -12 | 1.89 |
| NOV | 40 | 13 | 66 | -32 | 1.97 |
| DEC | 31 | 6 | 58 | -39 | 2.38 |