Overview
Cruz de Caña is a hiking mountain in the Aconcagua Group.
For an aspirant of climbing Aconcagua it is a perfect mountain for the first acclimatization climb before entering the Aconcagua National Park. If you start your holiday from sea level or so, it is a reasonable tactic to stay two nights at the still moderate height of the Horocones valley – for example at Penitentes ski station.
For this full day there you may climb as high as you feel comfortable without getting a headache or becoming too exhausted. Therefore Cruz de Caña with its 1100m ascent is reasonable goal – and a nice one in beautiful landscape. It is nearby the Penitentes ski facilities but does not touch them.
Getting There
Penitentes is at the main road from Mendoza to Santiago de Chile, 7 km east of Puente del Inca.
Normal route
From Penitentes (2580m) first walk some meters along the main road in direction to Mendoza until you have passed the creek. After some meters leave the dirt road and gain the grassy ridge to your left. A track of footprints shows that you have found the right route. Follow this ridge – sometimes steep - until it ends at a plateau at app. 3120m. Nice and easy hiking from here. Follow the grassy slopes further on (one steeper section) and head for the ridge that connects Cruz de Caña to Cerro Mario Ardito on the right. Actually there is no ridge but a broad slope. There you see footprints again on the slopes that lead to the summit interrupted by a short rocky section where you may need your hands for some meters.
3 to 4 h for the ascent, depending on fitness and acclimatization status.
Descent on the same route. Some nice short cuts possible in soft scree at the upper parts where there is no vegatation.
map sketch
Gear
normal hiking gear is sufficient. Walking poles are recommended for those who are used to it. If it is hot in the Horocones valley be aware that it might become cold and very windy in the upper parts. We started our climb at fine weather but witnessed a short snow shower. That was not so fine for those that walked with short trousers.
Red Tape
No Red Tape as I know because the mountain is outside of the Aconcagua National Park.
When to climb
In the times of the year when you can climb Aconcagua you can also climb Cruz de Caña.
The slopes of the mountain would make it an interesting ski tour. As the ski lifts of Penitentes are just nearby, snow amount and climate in winter time should also fit. Probably you can do a "ski plus" with using the lifts for shortening the ascent.
Accomodation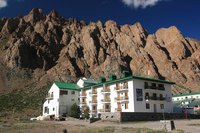 We stayed at
Hotel Ayelen
in Penitentes that I can recommend.
Camping
A campyard is at Puente del Inca, 7 km from Penitentes
some normal route pictures