Overview
Curley Peak is a mountain with a bit of an identity issue. Indeed, the USGS recognizes a point on the east end of this mountain as Curley Peak and has placed a metal marker there. Perhaps this rocky prominence is the most striking feature from below in the valley and therefore, historically became what locals knew as Curley Peak…and what the USGS marked as such. Curley Peak is also the namesake feature of its home quad.
To the west end of this mountain is a USGS measured point 9510 and all agree this is…nothing. But in the middle is a spot with an elevation of 9660. This is west of the spot marked as Curley Peak by the USGS. If not for this mountain's respectable prominence of 1,800 feet, all of this may be a non-issue. But given the peak's prominence, the question is begged: Is this mountain UN 9660 with an officially named sub-peak called Curley Peak? Of did the USGS make a mistake in where they marked Curley Peak, heading too far east? And, in fact, the given USGS elevation for Curley Peak of 9,622 feet an error, with the real summit lying less than ½ mile west and 38 feet higher?
The consensus in the Colorado climbing community is that Curley Peak has an elevation of 9,660 feet and that the true summit sits west of the USGS summit. Most folks summiting the peak seem to hedge their bets and top out on both the "true" summit at 9,660 (with a summit register) as well as the historic / USGS summit with the metal disk marking the summit.
Either way, both summits serve up commanding views of the Sangre de Cristo Mountains to the west and southwest. Both summits are quite places, off-trail and removed from the foot, equestrian and ATV traffic on the nearby paths. Both feature bald, rocky tops suitable for enjoying lunch and taking in views.
Rank: 2507th highest peak in Colorado
Prominence: 1,800 feet
USGS Quad: Curley Peak

Rank & Prominence: Lists of John
Getting There
Curley Peak sits in far southern Fremont County, about 10 miles south of Cañon City, Colorado and 35 miles east as the crow flies from Pueblo, Colorado. Most visitors to Curley Peak will access the mountain via Oak Creek Road (CR 143) running south out of Cañon City. The peak can be accessed via Bear Gulch from the East Bear Trailhead.
Red Tape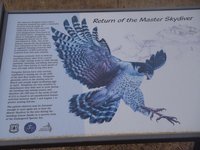 There are no use or parking fees in the vicinity of Curley Peak. Note that the trails in this area see heavy ATV use, particularly in the summer months.
No rock climbing
is permitted between 1 April and 1 August each year. Please respect this National Forest Service closure designed to protect nesting Peregrine Falcons.
Per the Forest Service:
Peregrines are very sensitive to disturbances near their nest of eyrie during the breeding and nesting season, and therefore the cliff area north of Trail #1333 is closed to all unauthorized human activity between April 1 and August 1 to protect the nesting falcons.
Please do not set a poor example and endanger these creatures by climbing in this area during the designated closure. During my visit in early April 2011, at least two rock climbing parties were shaming all of us by walking brazenly past the seasonal closure sign and climbing the restricted cliffs. The southern Pikes Peak region and area around Cañon City abounds with rock climbing opportunities. Please do not be a selfish pig and climb during the closure period. In addition causing harm to the birds, you harm the reputation of your fellow climbers in the eyes of other recreationalists.
Camping
The Oak Creek Campground, operated by the National Forest Service, is less than 1 mile southwest on CR 143 from the East Bear Trailhead. The campground sits at 7,600 feet above sea level features 16 camp sites and a vault toilet. Presently, there is no fee for staying at this campground.
Weather & Seasons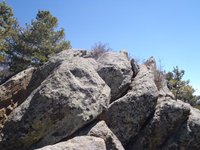 The Wet Mountains generally tend to be warmer and drier than most mountain ranges in Colorado. (They are considered "wet" compared to the arid Pueblo and Cañon City areas, however.)
Summer:
Expect summers to be relatively hot compared to other mountainous areas of Colorado. ATV and trailbike crowds are thick in this area in the summer.
Fall:
The autumn leaf display in the Wet Mountains is simply spectacular. In addition the ubiquitous golden-hued Aspen, these mountains also boast thick stands of orange-to-crimson Gambel Oak.
Winter:
Nowhere near as high or steep as the Sangre de Cristo Mountains to their west, many of the Wet Mountain summits sit below timberline. Combined with a generally smaller snow-pack, much (though not all!) of the Wet Mountains can be enjoyed in snow season without that tingling fear of avalanche experienced in much of the Colorado high country.
Spring:
The Wet Mountains generally tend to be warmer and drier than most mountain ranges in Colorado and, as a result, may melt out earlier in the Spring than higher ranges.