Overview
The island
Madeira
is located in the Atlantic Ocean about 450 km northwest of the
Canary Islands
. It has been created by volcanic eruptions but in contrast to the Canarias erosion has formed the island by creating bizzare rock formation as well as deep gorges.
Madeira
is a somewhat vertical island - very steep right down to the coasts and outright vertical in the central mountain range.
Weather conditions are pretty similar to the Canarias, perhaps a little more humid. Since there are almost no sandy beaches most of the tourists that come to
Madeira
are hikers. The island is famous for its network of
levadas
, irrigation channels that collect the water in the northern, humid part of the island and lead it through tunnels towards the southern half, somtimes covering distances of up to 50 km. Since the levadas are level their maintenance paths are natural hiking trails. Therefore most of the hikes are pretty easy with almost no altitude differences. Still, they can be very exposed.
The hikes to
Pico Grande
, however, are an exception. At 1654m
Pico Grande
is by far NOT the highest mountain of
Madeira
(this honour goes to
Pico Ruivo
(1861m)) but it stands in the center of the island on a ridge, which forms a small subrange between
Madeira's central range
and the high plateau
Paúl da Serra
. Thus,
Pico Grande
is most likely the best lookout mountain of the island offering great views across the cauldron of
Curral das Freiras
to the east and the
Ribeira Brava Basin
to the west.
The central location, however, also has its drawbacks. Ascent trails, though easy up to the summit block, tend to be very long. With the exception of the hike from
Boca da Corrida
you will be hard pressed to return to your trailhead, even though it is possible to hike a loop from
Curral
to
Boca da Corrida
to
Pico Grande
to
Curral
in a long day.
360° Summit Panorama
Getting there
Madeira can be reached from any of the major European airports. There are almost no regular flights (with the exception of some portugese airports) but quite a lot of charter flights.
The trails described on this page start from Bocca da Encumeada, Boca da Corida or from Curral das Freiras. You'll reach the trailheads as follows:
Boca da Curida
Follow the motorway ER101 from the airport to the west. At the exit Estreito de Câmara de Lobos get off an start climbing the road towards the village. Drive through but remain in the western part of the village (always going up) until you get to Achado. Drive through there as well. The road gets steeper and steeper and ends at Boca da Curida.

Boca da Encumeada
Easier to get to: again take ER101 until its end at Ribeira Brava. After the long last tunnel don't turn to Ribeira Brava but to Serra de Água (ER104). Just at the start of the village turn left and go up to the pass.

Curral das Freiras
Again ER101, direction west. Just before the motorway leaves Funchal take the exit towards Curral. Follow the road towards Curral get on through and park near the Bus stop in the hamlet of Faja Escura.
Routes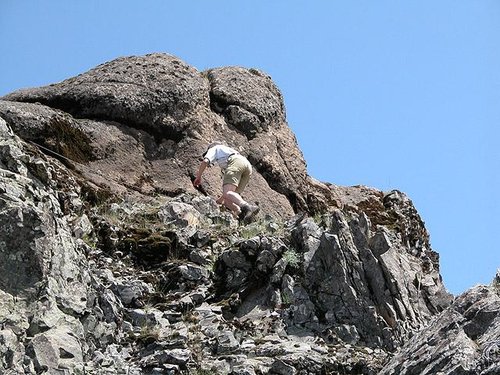 There are four reasonable routes to Pico Grande and neighbouring Pico do Cerco even though one of them seems to have been closed recently.
The shortest route starts at Boca da Corrida and follows the ridge which connects the saddle with Pico Grande and Pico do Cerco. It is straightforward and marked up to Pico Grande.

From Boca da Encumeada there is an old Camino to Boca do Cerro and on to Boca da Corrida. It is a longish but you can reach Pico Grande from Boca do Cerro in about two hours. Rewarding, but strenuous.

You can also hike the weather divide towards Pico do Jorge and Pico Casado, from where a path heads for Pico Grande. However, a sign "dead end" seems to indicate that part of this route fell victim to landslides.

Last but not least (in terms of elevation gain) you can start at Curral das Freiras and hike another old camino towards Boca do Cerro, from where you'll reach Pico Grande in about two hours. This route is straightforward but scales more than 1500m elevation!
Red Tape
No permits or parking fees needed. Park your car at one of the trailheads and just start climbing. Be careful with fire, though. Most of the southern slopes of the central range have been devastated by the blaze of 1012. The gorse bushes, which covered the trails to the south and west of Pico Grande have all but vanished.
Accomodation
You can find a lot of hotel rooms and apartments on Madeira. Either visit the next travel office or do an internet search. The island is small, all trailheads can be reached by car in an hour from almost anywhere on the island. Most accomodation can be found in the south of the island near
Funchal
and
Camara de Lobos
.
As for campgrounds, there are only a few. Visit the following site for more information:
Weather conditions
[img:599683:aligncenter:medium:Pico Grande seen from Pico Ruivo]
Weather conditions cannot be predicted accurately. Madeira is located in the trade wind zone. You almost always encounter northeastern winds which carry a lot of humid air. Being forced to climb to higher altitudes this moisture condenses into clouds. This in return means that most of the time the northern part of the island is covered in clouds from altitudes of 1000m through 2000m.
The mountains themselves - being of the same altitude -finally stop the clouds so that on their southeastern slopes the clouds "run out". Look at the pictures - it looks like the clouds creeping over the weather divide. Boca da Encumeada - being some 500m lower than the surrounding summits - is a gateway for the clouds from north to south. Thus it very often is covered in mist. Unfortunately all of the major peaks of Madeira lie around the weather divide, sometimes within, sometimes just out of the clouds.
The following table shows weather data for Funchal on the southern coast. Be careful with these data if you want to climb the summits...
| | | | | | | | | | | | | |
| --- | --- | --- | --- | --- | --- | --- | --- | --- | --- | --- | --- | --- |
| Month | Jan | Feb | Mar | Apr | May | Jun | Jul | Aug | Sep | Oct | Nov | Dec |
| Avg. day temp.[°C / °F] | 16 / 61 | 16 / 61 | 17 / 63 | 20 / 68 | 24 / 75 | 27 / 81 | 29 / 84 | 29 / 84 | 27 / 81 | 23 / 73 | 21 / 70 | 17 / 63 |
| Avg. night temp.[°C / °F] | 9 / 48 | 9 / 48 | 10 / 50 | 12 / 54 | 15 / 59 | 19 / 66 | 21 / 70 | 22 / 72 | 19 / 66 | 16 / 61 | 13 / 55 | 11 / 52 |
| Water temp.[°C / °F] | 16 / 61 | 15 / 59 | 16 / 61 | 16 / 61 | 19 / 66 | 22 / 72 | 24 / 75 | 25 / 77 | 24 / 75 | 23 / 73 | 20 / 68 | 17 / 63 |
| Rainy days | 12 | 7 | 8 | 4 | 2 | 1 | 0 | 0 | 2 | 6 | 6 | 10 |
Maps & Books
Maps
Madeira
Tour & Trail Map
Discovery Walking Guides
1:40000
ISBN: 190494678X
Books
My recommendation is a guidebook by Rother Verlag, available in several languages. The book is an excellent hiking guide covering all the interesting areas of the island. Since it comes with small maps for each excursion it might even be used without a map to support them.
Madeira
Rolf Götz
Rother Verlag
ISBN 978-3-7633-4811-4 (English)
ISBN 978-3-7633-4274-7 (German)
ISBN 978-3-7633-4910-4 (French)
ISBN 978-3-7633-4297-6 (Portugese)
ISBN 978-3-7633-4708-7 (Spanish)
style="display:block"
data-ad-format="autorelaxed"
data-ad-client="ca-pub-6523272176520096"
data-ad-slot="7132222476">