Overview
Pilot Knob is not one of those peaks that you climb as a noteworthy mountaineering objective; rather it is an isolated rise at the edge of a large plateau in the heart of the Sierra Nevada, a short distance north of Kings Canyon National Park. It is both the journey and Pilot Knob's open location that make a visit here worthwhile. The views throughout your trip will be superb, regardless of the conditions, and the scene from the summit is just as fantastic. From the highpoint you are literally surrounded by imposing peaks in every direction.
The nature of the peak lends it often to be an add-on stop for visitors on trips covering some of the visible nearby mountains. Summits climbed with Pilot Knob during itineraries to the area include
Mount Humphreys
,
Four Gables
,
Merriam Peak
and
Royce Peak
. Several other notable summits are visible as well including Seven Gables, Gemini, Mount Tom, Mount Emerson, and the Glacier Divide.
Humphreys Basin and the shelf over French Canyon are both very scenic and full of lakes, streams, and rises that create opportunities for accessible but remote backcountry camping locations that nearly anyone can enjoy. If your schedule allows, an overnight trip is definitely recommended.

Getting There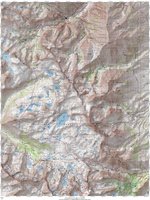 The two best options for a trip to Pilot Knob are from either the North Lake Trailhead, which approaches via Piute Pass and Humphreys Basin, or the Pine Creek Trailhead via Pine Creek Pass and French Canyon. Both trailheads are in Inyo National Forest.
North Lake Trailhead
(37.23054° N, 118.61893° W)
Turn west off Highway 395 in Bishop onto Highway 168 (W Line Street) towards Lake Sabrina. Follow Highway 168 for 18 miles to the well marked intersection with North Lake Road. After 1.6 miles on North Lake Road, turn right into the trailhead parking area near the pack station (signs here state that continuing straight is for North Lake Campground traffic only).
Pine Creek Trailhead
(37.36110° N, 118.69184° W)
Turn west onto Pine Creek Road (signed for Rovana) off Highway 395 approximately 10 miles northwest of Bishop (28 miles south of the Highway 203 intersection to Mammoth Lakes). Follow Pine Creek Road 10 miles west to the trailhead parking area.
Routes
Pilot Knob is almost always ascended from the saddle east of the summit via either Humphreys Basin or the lakes north of the peak above French Canyon. The routes are both straightforward with mostly trail or very easy cross-country terrain, and offer outstanding scenery for the modest effort required in getting there.
Route
Distance
Gain
Description
North Lake Trailhead
10.5 miles one-way
3,800 feet
+900 feet on return
The route from North Lake trailhead begins at the parking area near the pack station off North Lake Road (the end of the road is for campground use only). Walk one half mile down the road to the campground where the Piute Pass trail begins. The trail offers quick access to scenery at Loch Leven and Piute Lake before reaching the pass. After 5 miles, cross Piute Pass for outstanding views of Humphreys Basin, Piute Canyon, and the Glacier Divide and continue into Piute Canyon. Below Summit Lake bear right at an intersection towards Desolation Lake. As Lower Desolation Lake comes into view, head cross-country 3 miles over rolling terrain to the saddle east of Pilot Knob (travel across the basin is a bit easier if you avoid getting too high). From the saddle it is an easy class 2 route up 600 feet up the boulders to the summit, though some class 3 moves can be done on the large blocks if you work at it.
Pine Creek Trailhead
10.7 miles one-way
5,400 feet
+600 feet on return
From the Pine Creek trailhead follow the trail to Pine Creek Pass as it switchbacks towards Pine Lakes and eventually the pass after 7 miles. The trail then descends 500 feet into French Canyon to an intersection near French Creek. Bear left at the intersection towards Elba and Moon Lakes, eventually reaching Elba Lake 9 miles from the trailhead. From Elba Lake, head cross-country 1.6 miles to the saddle east of Pilot Knob. The route from the saddle joins the route from Piute Pass, rising 600 feet up via the class 2 boulder route to the summit.
Red Tape
Wilderness Permits:
From either trailhead mentioned the route to Pilot Knob begins on Inyo National Forest land (although the peak itself is in Sierra National Forest). No permits are required for day trips but overnight trips require one throughout the year. Permits for Piute Pass or Pine Creek Pass can be picked up at the White Mountain Ranger Station in Bishop or the Mammoth Ranger Station in Mammoth Lakes. Quotas are in place May 1 through November 1. Check the
Inyo National Forest wilderness permit website
for the most current information and reservation availability.
Food Storage:
Bear canisters are not required for either the Piute Pass or Pine Creek Pass trails, but proper food storage is important.
Campfires:
Fires are prohibited above 10,000 feet and in the Pine Creek drainage north of Pine Creek Pass.
Inyo National Forest Wilderness Permit Office
351 Pacu Lane, Suite 200
Bishop, CA 93514
Wilderness Information Line: (760) 873-2485
Permit Reservation Line: (760) 873-2483
Current Conditions
Current NOAA / National Weather Service Forecast
When to Climb
The roads to the trailheads are not plowed in winter, consequently spring through fall are the most realistic times for a visit. In early season snow is present at higher elevations, but those familiar with snow conditions should not have any difficulties.
Camping
Highlights of an overnight trip to Pilot Knob include the abundant camping opportunities available throughout most of each route. Excellent locations exist at lakes before both Piute and Pine Creek Pass, but in my view the wilderness camping throughout Humphreys Basin and its many lakes and streams, or at the lakes hanging above French Canyon, cannot be beat.
If completing a daytrip, dispersed camping is allowed in Inyo National Forest, including a handful of areas along or just off Highway 168 from Bishop to North Lake. Even better, there are literally hundreds of roadside camping options in Buttermilk Country, located off Buttermilk Road (north of Highway 168). There are outstanding views of Mount Humphreys, Basin Mountain, Mount Tom, and White Mountain Peak from throughout the area.
The closest established campground is
North Lake Campground
at the Piute Pass trailhead, with 11 sites available on a first-come, first-served basis. There are also nearly a dozen other campground options along the roads to Lake Sabrina and South Lake. See the
Inyo National Forest Campground Camping
page for details.
Etymology
"Probably named by the USGS during the 1907-09 survey for the
Mt. Goddard
30' map. It is on the first edition, 1912, but is not in J. N. LeConte's 'Elevations.' "
– Peter Browning, Place Names of the Sierra Nevada (2004)