Overview
Roundtop Mountain is the prominent butte that dominates the view looking north from Thermopolis, Wyoming. Rising up a total of 600 feet above the town's elevation of about 4400 feet, this small mountain offers some great views of Thermopolis and the surrounding area, most notably Wind River Canyon to the south and the Washakie Needles to the west. This is a short but steep walk-up, and is a fun hike to take if you have an extra hour on your way through this area.
A sign at the mountain's base names the area as
Lewis Freudenthal Park
and reads:
Roundtop Mountain was donated in 1986 to the people of Hot Springs County by the family of Lewis Freudenthal, to be preserved in its natural state in his memory.

Getting There/Climbing Information
Once in Thermopolis take Highway 789/20 heading north from the intersection in the middle of town where Highway 120 comes to an end. After 5 blocks, turn left on Park Street and follow the signs to the airport and golf course. After turning right on Airport Road, turn left on Roundtop Drive. Follow this road to the small parking area on the right in front of the sign. You will have gained some elevation driving to this point, and the mountain itself is about 300 feet high.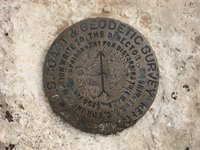 There is an obvious trail leading up the steep south side of Roundtop; the distance to the top of the butte is about 250 yards, so it gets you up fast and takes at most about ten minutes. There are several places that I found it necessary to use my hands on the rocks for balance, especially near the top and on the descent. There is small break in the steep rocks at the top that allows access to the summit plateau, which includes a summit marker and four rock cairns that support a PVC pipe.
It would be possible to hike around the base of the mountain and scramble up the north side, as the rock
band around the top is not as severe from that side. There are probably some possibilities for a little climbing on the rock band, but as that is not something I know much about, I cannot speak knowledgeably about the state of the rock, etc.
There were plenty of sage grouse on the summit area, and I was startled twice when ten or more of them suddenly flew up in a loudly squawking group barely ten feet from where I was standing.
Red Tape
There are no access restrictions to this area. It would be possible to encounter rattlesnakes in this area, given the abundance of sagebrush and rocks.
Note: There is another Round Top Mountain in Hot Springs County about 13 miles WSW of Thermopolis that is 6155 feet high.
External Links
There is a GPS Cache located on Roundtop Mountain:
http://www.geocaching.com/mark/details.aspx?PID=OW0244