Overview
Smith Mountain lies in the San Gabriel Mountain Range, just west of the North Fork of the San Gabriel River, and just south of Mount Islip.
Bring extra water, as the area is pretty dry and can get to be pretty hot in the summer. in winter, snowfall on this peak is typically minor. No special equipment is required.
Smith Mountain's Sierra Club HPS list number is 15B.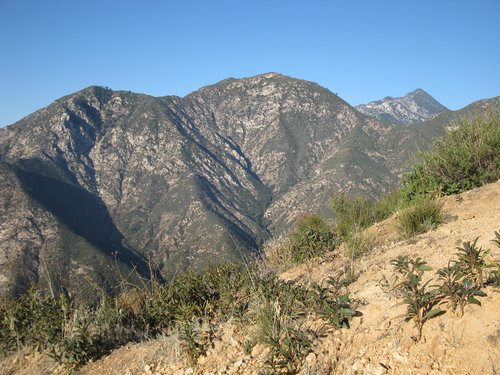 Getting There
From the 210 freeway:
Exit AZUSA AVENUE (Route 39), head north towards the mountains. Azusa Avenue becomes San Gabriel Canyon Road. Take this north through the mountains, past the off highway vehicle (OHV) area. After you cross a bridge over the river, there will be a parking area to the left with lights and a restroom. This is the safest place to park.
One can access the mountain via the Upper Bear Creek trail. Unfortunately, since route 39 is often closed in this area, you have to walk from the gate up the road towards Coldbrook campsite. The trail starts in the parking lot at Valley of the Moon, at 3,290ft.
Other methods of access involve moving up the southern ridge to the summit, basically bushwhacking your way to the top. The southern false summit of Smith Mountain is impressive looking, but loose.
Red Tape
Parking in this area requires National Forest Adventure passes, available in most Big 5 sporting store locations, and Ranger stations. There is a Ranger station at the entrance to the mountains on Azusa/R39, right as you enter the mountains, on the right side.
Passes are $5 per day.
Vandalism is very common in this area, so be careful where you park.
External Links
SGMDF