Rating of the Tour (By Hiking Standards)
0. General:
725 m to 2132 m, exposition S and W, marked, protected route (ferrata sections). By the Swiss Scale for hikes the difficulty would be T4.
1. Effort:
1500 m, 4 h 30 min.
2. Power:
2 - easy.
3. Psyche:
3 - medium.
4. Orientation:
2 - easy (Aug. 15th, 2007 - it seems a few key points are newly marked).
Approach
Western ridge of Storžič starts on Velika Poljana pasture, 1410 m. This can be reached in 2 h from the south (above Povlje village, 725 m) or in 1 h from the north (Dom pod Storžičem, 1123 m).
Route Description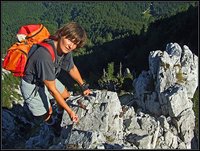 From above Velika poljana pasture, 1410 m, just from the saddle, the marked path follows the western ridge of Storžič. We ascend through the woods, after some 100 m the path crosses southern slopes, but still ascends. Soon we reach a crossroads. Proceeding by the south slopes would bring us above Javornik pasture, but our path turns sharp left, up again towards the western ridge. The inscription also warns us that this path, although marked, is very demanding.
From the crossroads on, we reach the main ridge and follow it all the time to the summit. The western ridge of Storžič is also known under the name of Psica. It consists of some half a dozen of rocky 'towers', which our path crosses. On most steep and exposed places it is protected by steel ropes. Following the western ridge we all the time enjoy a broad panorama. After 1 h 30 min the Psica ridge ends below the summit rocks of Storžič. Here the marked path from the north comes (from Dom pod Storžičem, through Žrelo). We are on the altitude of some 1850 m.
The final rock structure of the western ridge is steep, so the path first avoids it by south slopes, then it climbs directly (steel ropes) upwards and over a few rocky steps to the fore-summit and in a few next minutes to the main summit.
This is the longest of all approaches to the summit of Storžič.
Essential Gear
Good shoes, poles.
PDF download
- Click to download a suitable A5 printout of this route description in Slovenian language!
- Click to download a suitable A5 printout of this route description in English language!