Il Velan ha incominciato ad essere esplorato sin dal 1700 e forse ancor prima: i Pionieri sono i Canonici del Colle Gran San Bernardo, Cacciatori e Christalliers. Quando il 31 Agosto 1779 il Monaco-Naturalista Laurent-Joseph Murith, grande amico di Horace de Saussure, col Cacciatore Genoud raggiungono per la prima volta la Vetta confermano questa tesi. L'ascensione viene infatti parzialmente effettuata, partendo dall'Ospizio del Gran san Bernardo, per il Versante Nordovest e conclusa con la Cresta Ovest detta
. Qui era già passato nel 218 avanti Cristo Annibale con l'Armata Cartaginese con 26.000 soldati e 37 elefanti per andare a combattere Roma Imperiale durante la Seconda Guerra Punica. Aggirando le Alpi. Lo dimostra una punta di lancia di 22 cm. trovata infissa nella roccia e perfettamente conservata da Guido Cibrario nel 1901 proprio nei pressi del passo. Inoltre sullo stesso esistono dei trinceramenti o più semplicemente delle rudimentali postazioni di caccia. Ma chi può avere dato al grande Generale di Cartagine le giuste contrarie per questo passaggio se non gli abitanti locali. Quali? I Cacciatori di Cervi e Stambecchi ed i Cercatori di Cristalli, poichè a quel tempo i Monaci non esistevano ancora e neppur l'Ospizio. Prima, dopo che la popolazione locale dei Salassi conosceva già bene la zona, arrivarono le Legioni Romane nel 105 e nel 55 avanti Cristo e nel 69 dopo Cristo a presidiare la Via per l'Elvezia, poi i Longobardi nel 547 e molti altri quando già esisteva l'Ospizio, ormai dal 500. Ricovero per i Pellegrini costruito sotto la protezione di San Sigismondo. Quindi i Monaci conoscevano il Mont Velan, e non Vélan, e lo guardavano dal colle per poi sempre più avvicinarsi al medesimo dal vicino
, dove spesso si recavan a soccorrerli. Quando Murith e Genoud scalarono il Velan avevano ben presente la via da seguire raggiungendo dal San Bernardo il Colle di Annibale, ma senza seguire la successiva Cresta Ovest; questa sarà salita integralmente solo nel 1826 da parte di altri due monaci: D'Allèves e Marquis, dopo che il Velan era stato salito una seconda volta nel 1824 sempre dai monaci e sempre con la stessa Via 1779. Questa prevede il percorrimento della lunga cresta di Barasson fino al Colle d'Annibale e successiva discesina sul Ghiacciaio di Proz. Oppure da Bourg Saint Bernard
il percorso dell'omonimo vallone lungo il Torrent de Perche e sotto les Dents de Proz, l'Aiguille du Velan e la Parete Ovest coi suoi orridi canaloni. Il primo di sinistra all'Aiguille du Velan (Nord) venne percorso in discesa il 25 Agosto 1887 da parte di Charles Bioche con le Guide François Biselx e Jean-Michel Genoud ed in salita solo il 3 Luglio 1966 da J. Sanseverino (79 anni dopo!), mentre il secondo alla Quota
da cordata svizzera alla fine degli Anni Settanta.
Dopo la Cresta Nord-nordovest (percorsi del 1887 e 1897) si trova la glaciale Parete Nord entrambe interamente in Isvizzera, dove troviamo tutti percorsi degli Anni Trenta (Georges de Rham-Rodolphe Tissières Luglio 1935, Joseph Cheseaux-Etienne Max Agosto 1936 e Pierre Bonnant-Loulou Boulaz Luglio 1939) mentre la Cresta Nordest, che separa in due il Versante Settentrionale anch'essa completamente svizzera, viene salita il 3 Settembre 1872 da H.J. e Walter Leaf con le Guida Svizzera Hans Baumann e Daniele Bich di Valtournanche. Oltre, ma più a Nordest sale lungo il Glacier de Valsorey la vecchia
(ad opera di D'Allèves e Marquis prima della discesa per la Cresta Ovest) oggi soppiantata da una variante più diretta con partenza dalla Cabane du Velan
. Ed i versanti italiani? Dopo la Cresta Nordest di frontiera (da non confondere con la parallela precedente e con prima salita, almeno nella parte più elevata, sempre dai soliti due monaci del 1826 dal Col de Valsorey
, mentre il percorso integrale é stato realizzato da O.G. Jones e C.G. Monro con le Guide Svizzere Antoine Bovier e Pierre Gaspoz il 8 Settembre 1891) si distende la grande
Parete Sud-sudest, della quale già abbiamo detto ampiamente in Overview. Sul versante opposto o Sudovest sopra i Valloni di Molline, Menouve ed il Comune di Etroubles scende invece una larga parete spezzata in due dal Glacier du Mont Velan, sospeso sopra a grandi speroni rocciosi che ne formano la base. Affrontata per la prima volta in discesa tramite il Canalone Sudovest dalla cordata del 3 Settembre 1872 durante la prima traversata del Velan, inoltre é stata percorsa in salita verso la Quota
, al termine della Cresta Ovest, da Guido Cibrario e F. viale con le Guide Svizzere Daniel e figlio Omer Balley il 4 Settembre 1901. Il 15 Luglio 1902, con itinerario appena più a Sud, in salita da Agostino Ferrari ed Edoardo Garrone con la Guida di Valtournanche Cesare Meynet partendo dalla Montagna Molline. In mezzo a queste due vie troviamo una discesa diretta e completamente glaciale da parte di Gino Buscaini con la moglie Silvia Metzeltin, percorso ripreso in salita da Osvaldo Cardellina e Renzo Botti con linea ancora più diretta a sinistra il 6 Settembre 1973; la discesa avvenne tramite la Parete Sudovest, ancora più a Sud della Via 1902, con gran frana quasi al termine. Il primo ha realizzato da solo il 27 Luglio 1997 una via sulla Parete Nordovest della Quota
con discesa per la Cresta Sud-sudovest alla Sella/Colle di Faceballa. Infine é stato salito per la prima volta con gli sci da R. Helbling il 27 Ottobre 1902, mentre il Doigt du Velan (circa
) sulla Cresta Nordest é stato raggiunto per la prima volta dall'Abbé Joseph Maria Henry l'11 Agosto 1922 ed una seconda da Osvaldo Cardellina in discesa integrale su questa cresta il 15 Luglio 1976, entrambi in solitaria.
Approaches with relative Routes
From Bivouac Rosazza Savoie at Col du Boégno Bà
(2674m)
: from the bivouac, accessible from Glacier or Glassier
(1562m)
with path
n° 3
passing through the Alps of Cheval Blanc
(1962m)
, Porchère, Tsa Porchère
(2290m)
and Dos de Boégno Bà (
E; 2h'45/3h'15
), navigate, after fording the small stream, to the West and remained almost constantly at the same altitude of
2600 metres
from the Alp Faceballa
(2385m)
, located at the base of two large rocky spurs that descend from the Jags and Horns Velan.
Variante:
not wanting to reach the bivouac and then make the climb in the day, you can start from Dos du Boègno Bà the first crossing to the West-northwest with path
unnumbered
reaching Plan Bago
(2436m)
and from there via a small
track
to the base of the moraines of South-southeast Wall towards the Southwest reach Alpe di Faceballa (
E; in less than half an hour
). Drive through the next
"Comba Berruard"
and start climbing to the debris cone that descends between the Hill (to the South
about 200 metres
) and the Saddle Faceballa reaching an altitude of
2803 metres
at the beginning of the steep couloirs of East-sudest (
EE; 0h'45
from Alpe;
4h'00/4h'30
from Glacier).
Directly by Glacier through Berruard Vallon and Chesal Pasture (2039m):
from the parking lot just before the bridge on the Glacier de Torrent By Northwest to take the route
n° 3
towards the waterfall Barliard
(1548m)
and the overlying Alpage of Berruard
(1947m)
; avoiding the same on the left (West) continues along the Torrent de Boègno Bà until you reach the Alp of Chesal
(2039m)
, leaving to the East those Seytives and Porchère and across those of Vieille and Econdu or L'Econdzò. From this, abandoning the bottom of the valley leading to Dos du Boégno Bà and to previous tours, we proceed on the farms private dirt road concomitant with the trail
TdC or Tour du Combin
coming in succession to Pleytau Alps
(2096m)
and Praz du Champ before that of Vieille
(2064m)
as well as at the beginning of the
"Comba Berruard"
. Discarded right (North) of the Alp Faceballa by boring moraine you connect to the previous approach (
E; 1h'45/2h'00
from Alps Praz du Champ;
2h'20/2h'40
by Alp Berruard ;
3h'15/3h'45
Glacier).
Variant with departure from Doues Common:
reached by Doues-Lusey
(1251m)
on the road in asphalt parking Champillon (
(2050m
; wooden fountain) continue towards the North with the trail
n° 2/TdC
reaching Torrent Terra Rossa (Red Earth) at an altitude of
2086 metres
and the subsequent Alps Néan, Plan Courtou and Ansermin
(2095m)
. Since this can also be reached with the farms dirt road that passes below the East to the Alps Togne and Crêtes along the Ru (Brook) de By is reached Alp of Econdu
(2137m)
. In this respect two possibilities:
a)-
North and continue to reach Praz du Champ Pasture, whence as before;
b)-
go just a little further West
track unnumbered
to the Alp Faceballa, but did not achieve the same. But the small creek below the altitude
(2291m)
, next to the Torrent de Faudery, about half way and abandon, turning left (Northwest), enter on the boring and annoying moraines of the
"Comba Berruard"
, whence continue with the previous approaches. This route is more scenic and saves nearly
500 metres in level
than from Glacier Hamlet, but then requires a long approach march (
E; 2h'00/2h'15
by Econdu or L'Econzò Alpage;
3h'00/3h'30
from the parking of Champillon).
Via Eastern towards the saddle Fabeballa and Wall South-southeast
From the mouth of mini gullies, gullies, channels and couloirs at the confluence of the South Grand Couloir that falls between the Quota
3650/80 metres
(actually in modern Maps
3680 metres
) and the East-southeast Gully, which comes from the saddle, go up to the orographic right side of the first, but then cross toward the pronounced rib rocky second reaching out to altitude
2800 metres about
. From this point there are three possibilities of ascent (
see the photo in B & W C1, C1/2 and C1/C1 3-ter
):
1)-
up directly in the center channel with very dangerous ascent and exposed to numerous falling stones.
2)-
along the South side of the same orographic through rocks unstable and dangerous (
C1 / 3 and then C1 ter
; Via 1976); first on rocks with soil up to a notch, which recommends to cross to the left momentarily abandoning the thread; when possible and convenient to return to the junction
100 metres
from the poor, that rises to the Colle di Faceballa
(3239m)
and instead turning to the right to reach the nearby Saddle Faceballa (3280 m).
3)-
Take the other side (North,
see C1
; Routes 1904, 1927 and 1928) remaining on its inner edge; remain more or less on the ridge reaching through a cleft in the rock of a plaque that exceeds from left to right, arriving on the hill (better one pass almost a carving-"intaglio")
(3239m
) and instead reach out to the right of the Faceballa Saddle
A/PD-/PD+; 1h'45/2h'15
from the base;
5h'30/6h'30
for all departures. Very variable depending on the conditions and in the presence of snow).
From left or West: Western Height, "Minihorn", "Brokenhorn", West & East Horns,

by emilius
Ways to variations from Sella di Faceballa through South-Southwest Ridge or by the Southern Couloir
From the Saddle of Faceballa (3280m) exist various possibilities in ascent or in descent, as this route has been used as an alternative to the dangerous Southern great Channel, or to return to the Basin By (August 1890, June 1904 and July 1997), or to the Vallon of Molline / Menouve (July 1997). We see these routes maintaining a scan
"historical"
in the same time and attaching some technical notes on the itinerary, as well as some observations and remarks about the objective conditions of the trail:
1)- Via 1890 downhill for Crest South-southwest and South Channel:
is the first path in the absolute slope Faceballa (Basin By, Ollomont and Doues). It is produced by the British Ellis Carr, William Martin Conway and F.M. Devies with Swiss Guides Ulrich Kaufmann and Joseph Marie Lochmatter August 16th in Traverse of Mont Velan. The same after starting down the Crest South-southwest for
"about a quarter of Time" (a hundred metres)
, meeting the first crags and difficulties entering Southern Gully, coming down through many vicissitudes resting several times alternatively on two sides of the same. By relationship rather uncertain and confusing, it is clear that they have sought shelter from the falling rocks
"refuge"
with zig zag on the sides protected especially in the middle-bottom part of the couloir, ie below the corresponding Saddle Faceballa
(3280m)
to the base
2803 metres
. (
"AJ XV"
, p. 301;
"CAI Bulletin 1909"
with notes of Agostino Ferrari, p. 145/6;
"Monthly Magazine C.A.I. 1891"
, p. 62;
"SACJ XXVI"
, p. 389.
2)- Route 1904 via uphill to the right orographic bank of the East-southeast Channel of the Sella Faceballa and the Southern Couloir:
it is like the first climb of the slope Faceballa and has been realized by Abbots Pantaléon Bovet and Giuseppe Marie Henry on June 14th. It follows the rocky ridge that forms the Northern shore of the couloir (
see C1 in the photos in B&W
) reaching the saddle and then continue in the near and above Southern Couloir Velan out diagonally to the right (North-northeast) between the Quote
3650 metres
and a less noticeable Quote
3630/5 metres around
, almost at the confluence between the Ridges Northeast (Valsorey) and South-southwest (Faceballa). The same route is traveled during the first winter ascent to the Mont Velan by the same Bovet with Evanzio Blanc and Valérien Jaccod December 28th, 1904; on this occasion the descent will be made wholly from the South Couloir. The subsequent ascents of 1927 (Amoretti) and in August 1928 (Aldrovandi-Enrico) will take place via this route, which is then repeated downhill 27th September 1998 (
"Bull. CAI XL 1909"
, p. 145 with a note by Agostino Ferrari,
"Monthly Magazine C.A.I. 1904 & 1927"
, pages 460, 312;
"R.A.V.A. Guide 1964"
, by Mario Aldrovandi, p. 241). Surely this is the most direct route through the Saddle Faceballa and second only to the path of the South Wall. (
A/ from PD- to PD+; 2h'30/3h'00
from Sella;
A/PD; 4h'30/5h'00
through the complete South Couloir by base). From the base up
"zigzagging"
into the couloir searching snow slopes better, but, above all, identifying points better protected to make stops (usually on the right or left side orographic). Climbing still dangerous, better with rapid descent.
3)- Variant of 1970 rising to a groove secondary to Crest South-southwest and Southern Gully at the end:
from Sella, leaving on the right (Northeast) the main channel or South, climbing towards the West and instead, through a small gully , usually snowy and just steeper, reaching a small pass at an altitude of
3450 metres around
, which can be reached through rocks and debris even from Vallon of Molline, or from the West. This path (
see C1 in a photo in B&W
) it is convenient if the same is made up of snow; from the saddle climb for a short distance below the crest to the East moving below the characteristic and pronounced rocky head above. Then cross again to the right (East) bypassing the same, with path almost horizontal. Beyond a subsequent small rocky rib (steps of II°) enters into the end of the South Gully and this concludes
forty metres
before it bends to the right (
A/PD
with same difficulties;
2h'30/3h'00
from Saddle). Variant carried by Gino Buscaini and Silvia Metzeltin October 31th, 1970 with subsequent descent to the glacial route on the Southwest Slope of the Glacier du Mont Velan (
"Pennine Alps Vol I. 1971"
, p. 176/7 with sketch and layout by Gino Buscaini).
4)- Variant of 1976 in direct ascent to a diagonal groove and South Gully in the final part:
the Saddle Faceballa, leaving on the right (Northeast) the main channel or South, to go up instead of directly to the North, taking the entrance of a narrow gully rising diagonally from left to right under the Ridge South-southwest between this and the Southern Gully. Climb directly to
a hundred metres
to the right of previous itinerary reaching the base of the rock headland on the right (Northeast); from here a groove parallel, but with diagonal pattern, which after
less than 300 metres
goes to join the main one at an altitude
3550 about. Sail along the coast first of its orographic right side for about 150 metres
, through broken rocks and fairly easy (I°/II°) but exposed to falling rocks, reaching a small ledge with gravel. From this point it is better put on the crampons to fit in South Gully, where you see the water gushing, even if for the next
50 metres
should stay still on the rocks on the left, but not difficult routes. When these ends against a vertical wall to start the climb on the ice crossing the channel to reach the rocks of the other side (East) to a low of
thirty metres
; through these exit to Northeast at an altitude of
3630 metres
in the direction of the Minihorn with more right than the previous. You will soon reach the altitude where the ridges are joined (
3672m
; wooden Cross) and finally the Hood Summit (
A/PD/PD+; 2h'30/3h'00
by the Saddle Faceballa;
7h'00/7h'30
from the private dirt road under the Seytives Pasture
(2088m)
;
8/9h'00
from Glacier Hamlet or Champillon Alp). This road is being built by Osvaldo Cardellina, "Gigi" Gadin and Faustin Savoye 15th July 1976 with complete descent to the Northeast Ridge from Head of Ariondet towards Col de Valsorey
(3107m)
and then including the Doigt du Velan climbed alone by first. Made to avoid
"verglass"
in the South Channel and look for a safer route, actually it showed the same dangers, if not more with sudden drops of stones from Crest South-southwest. All in all, if good snow conditions, it is best couloir.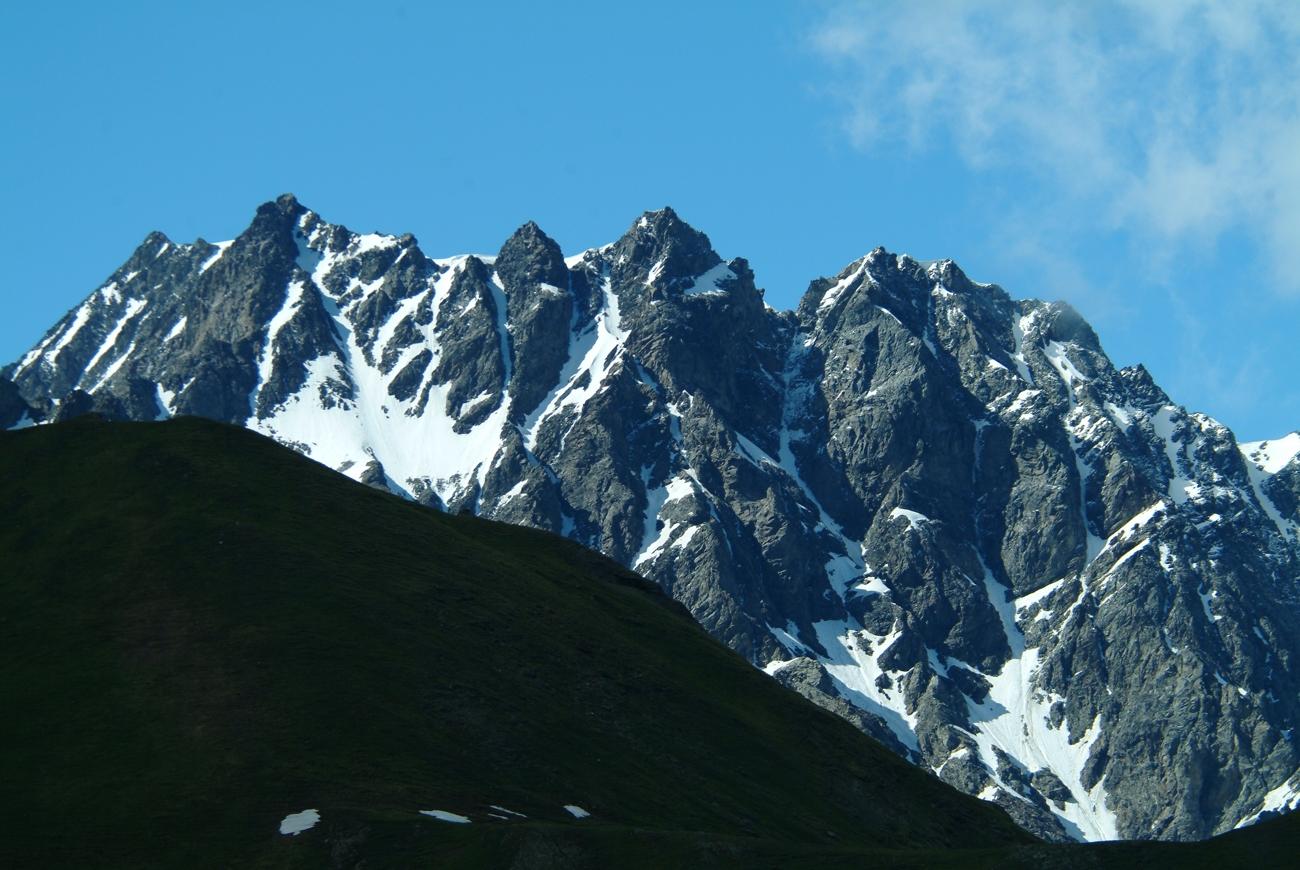 Diagonal Gully (centrally to the left) & Southern Couloir under Quota 3650 metres,

by emilius
5) - Fully for Cresta
"Italian"
South-southwest: this ridge that divides the Conca di By the Menouve Valley / Molline, in fact it is the only of the Mont Velan completely located in Italy. Originates from Quota
3672 metres
(
3680 metres
in the current Maps; trigonometric signal) and down to the Sella Faceballa and the Hill of the same name rise to four eponymous Summit and the three Heads Faudery, Salliousa, Col de la Salliaousa, Tête des Crêtes, two Mont Chenaille, Col de Champillon, Crou de Bleintse, Tête de la Praz to finish with the Mont Saron
(2681m)
above the Common of Allein. In fact, a large shoulder on the saddle, it splits sending a sub-branch more in the Southwest, able to contain the South side of the Glacier du Mont Velan. After the timid
"taste"
of the rope 1890 downhill and the achievement of the 1970 visit to the little saddle
3450 metres around
and then leave almost immediately by taking the same to the East, has been traveled in complete descent by Osvaldo Cardellina July 27th, 1997 from the Summit to the Col de Faceballa. The same occasion, after making the uphill portion of the Northwest Wall Quote
3708 metres
, is back in Val Molline through this path that includes the descent of the Western Slope of the Col de Faceballa, although it is certainly easier and less dangerous to fall in that direction from the Saddle Faceballa. The ridge is formed, after the Quota
3672 or 3680 metres
from the first short and easy stretch that ends well over a steeper than
sixty metres
; after this some minor bumps lead to the large shoulder where it splits. The final part to reach the Saddle Faceballa highlights a head followed by some rocky spiers of rock not too good (passages of I°/II° and short stretches of III°- almost always bypassed on both sides;
A/PD-/PD+; 1h'45 downhill
; calculate
3h'00/3h'30
uphill from the Saddle and
a quarter of an hour more
crossing by Col de Faceballa).
From Etroubles Municipality through Menouve Vallon and Molline Bivouac (2415m):
Aosta to go back to the North with the National Road n° 27 of the Gran San Bernardo, after Gignod Commune
(994m)
, reach that of Etroubles
(1280m)
to the West out of the same, and after two bends in a Cross, take a detour to the Northeast leading to Prailles Dessous small Village (the Holy Farm
"La Grandze in Tsi Inconnu"
) where, immediately after in the locality Quaye, is placed in the sign ban on driving and where it is obligatory to the parking lot. From the parking Quaye
(1650 metres about)
continue through the farms private dirt road, addressing himself to the North, enters and travels along the Menouve Vallon or Menovy passing to the West and high above the Torrent with the same name. Leaving the upper left corner of the Alpages Combe German and Plan Bois
(1893m)
the same reaches the next Alp Menovy
(1913m)
to the West at the next crossroads abandon the branch that leads to Trecaudette Pastures
(2133m)
and continue instead with the lower one to the great Alpage of L'Arvus
(1983m)
, where the dirt road ends. From this climb with a small path
not numbered
that goes above the grassy headland coming to a small basin where there are the ruins of an old alp, just below that of Molline Vieille (Old Molline;
2295m
) with a path parallel and in West of the Molline Torrent into the homonymous vallon continue with the path
n° 21
reaching the Molline new Bivouac (
2415m
; opened since 2005;
E; 1h'45/2h'00
by signal no transit), nearby the Mountain Molline. The trail ends here even numbered but continues with smaller and closer and closer to the torrent and then crossing through the path between small vallons and grassy humps reach a crossroads at
2519 metres
. Just before this point, and not long after camp begins the route to the West Slope of the Sella Faceballa, which brings us back to the basic routes of the South-southeast Wall and its small variations via the above steep South-southwest Ridge, dividing between Low Menouve and Upper Molline Vallon West and the Alp Faceballa to East in the most Western sector of the "Conca" of By (Doues/Ollomont) (
E; 0h'20
Molline Bivouac;
2h'10/2h'30 in total
).
Route towards Western Slope of Fabeballa Saddle
Leaving the path to Northwest, becomes a track and up to Molline Hill
(2915m)
, go up instead of few traces in the middle of the stony ground and, by means of an additional very small vallon, to reach through a grassy and steep promomontory the final stretch below the pass into a small basin with debris and blocks. This is steeper and, in the beginning of the season, covered with hard snow for to reach the Faceballa large Saddle (
3280m
;
2h'45/3h'15
from bivouac;
5h'00/5h'30 in total
from the end of road).
Quota 3678 metres, two Horns, two mini Horns & five Jags South-southeast Walls,

Picture by Antonio, traced by Osw
Avvicinamenti e Vie relative
Dal Bivacco Rosazza Savoie al Col du Boégno Bà
(2674 m)
: dal bivacco, raggiungibile da Glacier o Glassier
(1562 m)
con sentiero
n° 3
che passa per le Alpi di Cheval Blanc
(1962 m)
, Porchère
(2102 m)
, Tsa Porchère ed il Dos de Boégno Bà (
E; 2h'45/3h'15
), traversare, dopo avere guadato il torrentello, verso Occidente e rimanendo pressocché costantemente alla stessa altitudine di
2600 metri circa
raggiungere l'Alpe Faceballa
(2385 m)
, posta alla base dei due grandi speroni rocciosi discendenti dai Denti e dai Corni del Velan.
Variante:
non volendo raggiungere il bivacco e quindi effettuare l'ascensione in giornata, si può dal Dos du Boègno Bà iniziare la traversata dapprima ad Ovest-nordovest con sentiero
non numerato
raggiungendo Plan Bagò
(2436 m)
e da questi tramite una
piccola traccia
alla base delle morene della Parete Sud-sudest arrivare verso Sudovest all'Alpe di Faceballa (
E; mezz'ora in meno
). Si oltrepassa la successiva
"Comba Berruard"
e s'inizia la salita per il cono di detriti che discende tra il Colle (più a Sud di
circa 200 metri
) e la Sella di Faceballa arrivando all'altitudine di
2803 metri
all'inizio dei ripidi canaloni di Est-sudest (
EE; 0h'45
dall'Alpe Faceballa;
4h'00/4h'30
dal Villaggio di Glacier).
Direttamente da Glacier per il Vallone di Berruard e l'Alpe Chesal (2039 m):
dal parcheggio appena prima del ponte di Glacier sul Torrent de By prendere verso Nordovest il sentiero
n° 3
verso la Cascata di Barliard
(1548 m)
ed il soprastante Alpeggio di Berruard
(1947 m)
; evitando lo stesso sulla sinistra (Ovest) si continua lungo il torrent de Boègno Bà fino a raggiungere l'Alpe di Chesal
(2039 m)
lasciando ad Est quelle di Seytives e Porchère e dall'altra parte quelle di Vieille ed Econdu. Da questa, abbandonando il fondo del vallone che conduce al Dos du Boégno Bà ed ai precedenti itinerari, si procede sulla strada poderale concomitante con il sentiero
TdC o Tour du Combin
arrivando in successione alle Alpi Pleytau
(2096 m)
e Praz du Champ prima di quella di Vieille
(2064 m)
nonchè allo inizio della
"Comba Berruard"
. Scartata a destra (Nord) l'Alpe di Faceballa tramite morena ci si collega al precedente avvicinamento (
E; 1h'45/2h'00
dall'Alpe Praz du Champ;
2h'20/2h'40
dall'Alpe Berruard;
3h'15/3h'45
dal Villaggio di Glacier).
Variante con partenza dal Comune di Doues:
raggiunto da Doues-Lusey
(1251 m)
su strada in asfalto il parcheggio di Champillon
(2050 m)
si prosegue verso Settentrione con il sentiero
n° 2/TdC
raggiungendo il Torrent Terra Rossa a quota
2086 metri
e le successive Alpi di Néan, Plan Courtou ed Ansermin
(2095 m)
. Da questa, raggiungibile anche con la strada poderale che passa più in basso ad Oriente per le Alpi di Crêtes e Togne, lungo il Ru (Ruscello) de By si raggiunge l'Alpe di Econdu
(2137 m)
. Da questo punto due possibilità:
a)-
continuare a Nord e raggiungere Praz du Champ, donde come in precedenza;
b)-
percorrere appena più ad Ovest una piccola
traccia non numerata
per l'Alpe di Faceballa, ma non raggiungerla. Bensì al piccolo torrente sotto la quota
(2291 m)
, successivo al Torrent de Faudery, a circa metà percorso abbandonarla e, piegando a sinistra (Nordovest), entrare sulle noiose morene della
"Comba Berruard"
, donde continuare coi precedenti avvicinamenti. Questo itinerario é più panoramico e permette di risparmiare quasi
500 metri di dislivello
rispetto a Glacier, ma poi richiede una lunga marcia di avvicinamento (
E; 2h'00/2h'15
dall'Econdu;
3h'00/3h'30
da Champillon).
Via Orientale verso la Sella di Fabeballa e Parete Sud-sudest
Dall'imbocco dei canaloni, alla confluenza tra il Canalone Sud che scende tra la Quota
3650 metri
e quello Est-sudest, proveniente dalla sella, salire verso la sponda orografica destra del primo, ma poi attraversare verso la pronunciata costola rocciosa del secondo raggiungendola a quota
2800 metri circa
. Da questo punto esistono tre possibilità di salita (
vedi nella foto in B&W C1, C1/2 e C1/3-C1 ter
):
1)-
direttamente in centro al canale con percorso molto pericoloso ed esposto a cadute di pietre;
2)-
percorrere il lato orografico Sud del medesimo tramite rocce instabili e pericolose (
C1/3 e poi C1 ter
; Via del 1976); dapprima su rocce con terriccio fino ad un intaglio, che consiglia di traversare verso sinistra abbandonando momentaneamente il filo; allorché possibile e conveniente rientrare fino alla biforcazione a
100 metri scarsi
dall'uscita, che sale verso il Colle di Faceballa
(3239 m)
ed invece volgendo verso destra raggiungere la Sella di Faceballa (
3280 m)
.
3)-
Scalare la sponda opposta (Nord,
vedi C1
; Via del 1904, 1927 e 1928) restando sul suo margine interno; restare più o meno sul filo di cresta raggiungendo per mezzo d'una spaccatura nella roccia una placca che si supera da sinistra verso destra raggiungendo il colle
A/PD-/PD+; 1h'45/2h'15
dalla base;
5h'30/6h'30
per tutte le partenze. Molto variabile a seconda delle condizioni ed in presenza di neve).
Left: Quota 3650 metres, "Minihorn", "Brokenhorn", Horns, Jags & Tête d'Ariondet,

by emilius
Vie a varianti dalla Sella di Faceballa tramite la Cresta Sud-sudovest o per il Canalone Sud
Dalla Sella di Faceballa esistono varie possibilità di salita oppure di discesa, poiché questo itinerario é stato utilizzato, in alternativa al pericoloso Canalone Sud, per rientrare o verso la Conca di By (Agosto 1890, Giugno del 1904 e Luglio 1997) oppure verso il Vallone di Molline/Menouve (Luglio 1997). Vediamo questi itinerari mantenendo una scansione
"storica"
nel tempo ed allegando alla stessa alcune note tecniche sullo itinerario, nonché qualche osservazione in merito alle condizioni oggettive del percorso:
1)- Via 1890 in discesa per Cresta Sud-sudovest e Canalone Sud:
é il primo percorso in assoluto del Versante Faceballa (Conca di By, Doues ed Ollomont). Viene realizzato dagli inglesi Ellis Carr, William Martin Conway ed F.M. Devies con le Guide Svizzere Ulrich Kaufmann e Joseph Marie Lochmatter il 16 Agosto nella Traversata del Mont Velan. Gli stessi dopo aver iniziato la discesa sulla Cresta Sud-sudovest per
"circa un quarto di ora" (un centinaio di metri)
, incontrando i primi dirupi e difficoltà, entrano nel Canalone Sud, che scendono tramite molte peripezie appoggiando diverse volte in alternativa sulle due sponde del medesimo. Da relazione piuttosto incerta e confusionaria, si evince che abbiano cercato riparo dalla caduta di sassi
"rifugiandosi"
con percorso a zig zag sui lati più protetti soprattutto nella parte medio-inferiore, cioé al di sotto della corrispondente Sella di Faceballa (
"AJ XV"
, pag. 301.;
"Bollettino C.A.I. 1909"
con note di Agostino Ferrari, pag. 145/6;
"Rivista Mensile C.A.I. 1891"
, pag. 62;
"SACJ XXVI"
, pag. 389.
2)- Via 1904 in salita per la sponda orografica destra del Canale Est-sudest della Sella di Faceballa ed il Canalone Sud:
risulta come prima salita del versante Faceballa ed é stata realizzata dagli Abati Pantaléon Bovet e Giuseppe Maria Henry il 14 Giugno. Segue la cresta rocciosa che forma la sponda Settentrionale del canale (
vedi C1 nella foto in B&W
) raggiungendo la Sella; indi continuare nel vicino e soprastante Canalone Sud uscendo in diagonale verso destra (Nord-nordest) tra la Quota
3650 metri
ed una meno evidente Quota
3620/5 metri circa
, quasi alla confluenza tra le Creste Nordest (Valsorey) e Sud-sudovest (Faceballa). La stessa via venne percorsa durante la prima invernale al Mont Velan da parte dello stesso Pantaléon Bovet con Evanzio Blanc e Valérien Jaccod il 28 Dicembre 1904, in questa occasione la discesa sarà effettuata integralmente tramite il Canalone Sud. Anche le successive salite del 1927 (Amoretti) e dell'Agosto 1928 (Aldrovandi-Enrico) si svolgeranno tramite questo itinerario, che poi verrà ripetuto in discesa il 27 Settembre 1998 (
"Boll. C.A.I. XL 1909"
, pag. 145 con nota di Agostino Ferrari;
"Rivista Mensile C.A.I. 1904 e 1927"
, pagg. 460 e 312;
"Guida R.A.V.A. 1964"
, di Mario Aldrovandi, pag. 241). Sicuramente é la via più diretta passando dalla Sella e seconda soltanto al percorso del Canalone Sud in parete (
A/da PD- a PD+; 2h'30/3h'00
dalla Sella;
A/PD; 4h'30/5h'00
per il Canalone dalla base). Da questa salire
"zigzagando"
dentro il couloir cercando i pendii di neve meglio trasformata, ma, soprattutto, individuando i punti meglio protetti per effettuare le soste (in genere sul lato destro o sponda orografica di sinistra). Salita, comunque, pericolosa, meglio tramite una più che rapida discesa.
3)- Variante del 1970 in salita per un canalino secondario alla Cresta Sud-sudovest ed il Canalone Sud nel finale:
dalla Sella di Faceballa, lasciando a destra (Nordest) il canale principale o Meridionale, salire invece ad Ovest e, tramite un esiguo ed angusto canalino, in genere innevato ed appena più ripido, raggiungere una selletta a quota
3450 metri circa
, alla quale si arriva per mezzo di roccette e detriti anche dall'opposto Vallone di Menouve/Molline, ovvero da Occidente. Questo percorso (
vedi C1 bis nella foto in B&N
) risulta conveniente qualora il medesimo sia costituito da buona neve trasformata; dalla selletta salire per breve tratto sottocresta verso Oriente portandosi al di sotto della caratteristica e pronunciata testa rocciosa soprastante. Quindi traversare ancora sulla destra (Est) aggirando la stessa con percorso abbastanza facile e quasi orizzontale. Superata una successiva costolina rocciosa (II°) si entra nella parte terminale del Canalone Sud e con questo si conclude una
quarantina di metri circa
prima che questo fletta a destra in direzione d'una elevazione insignificante (
A/PD; 2h'30/3h'00
dalla Sella). Variante effettuata da Gino Buscaini e Silvia Metzeltin il 31 Ottobre 1970 con successiva discesa per la via glaciale del Versante Sudovest sul Glacier du Mont Velan sopra il Vallone di Molline/Menouve (
"Alpi Pennine Vol. I 1971"
, pag. 176/7 con schizzo e tracciato).
Diagonal Gully & South great Couloir below the S-SW Ridge Quota 3650 metres,

by Antonio
4)- Variante del 1976 in salita diretta per un canalino diagonale ed il Canalone Sud nel finale: dalla Sella di Faceballa, lasciando sulla destra (Nordest) il canale principale o Sud, salire invece direttamente verso Settentrione portandosi all'imbocco d'uno stretto canalino che sale in diagonale da sinistra a destra sotto la Cresta Sud-sudovest, tra questa ed il Canalone Meridionale. Salire direttamente per
un centinaio di metri
a destra della via precedente raggiungendo la base della testa rocciosa sulla sua destra (Nordest); da qui parte un canalino parallelo, ma con andamento diagonale, che dopo poco meno di
300 metri
và a congiungersi a quello principale a quota
3550 metri circa
. Costeggiare dapprima la sponda orografica destra per
circa 150 metri
, tramite rocce rotte ed abbastanza facili (I°/II°) ma esposte a caduta di pietre, raggiungendo una cengetta ghiaiosa. Da questo punto conviene calzare i ramponi per inserirsi nel Canalone Sud, dove si vede zampillare l'acqua dal ghiaccio, anche se per i successivi
50 metri
conviene restare ancora sulle rocce di sinistra, rotte ma non difficili. Quando queste terminano contro un muro verticale, iniziare la salita sul ghiaccio attraversando rapidamente il canale per raggiungere le rocce della sponda opposta (Est) per
una trentina scarsa di metri
; tramite queste uscire verso Nordest a quota
3630 metri circa
in direzione di una elevazione predente il Minihorn con percorso più a destra rispetto ai precedenti. In breve si raggiunge la quota alla congiunzione delle creste (
3672 m
; Croce in legno) ed infine la Calotta (
A/PD/PD-; 2h'30/3h'00
dalla Sella di Faceballa;
7h'00/7h'30
dalla strada poderale sotto l'Alpe Seytives
(2088 m)
;
8/9h'00
da Glacier o da Champillon). Questa via é stata realizzata da Osvaldo Cardellina, "Gigi" Gadin e Faustin Savoye il 15 Luglio 1976 con discesa integrale per la Cresta Nordest dalla Testa d'Ariondet al Col de Valsorey
3107 m)
e quindi comprensiva del Doigt du Velan, salito da solo dal primo. Realizzata per evitare il
"verglass"
nel Canalone e per cercare percorso più sicuro, in realtà ha evidenziato i medesimi pericoli, se non maggiori con improvvise cadute di pietre dalla Cresta Sud-sudovest. Tutto sommato, se in buone condizioni di neve, é ancora meglio il Canalone Meridionale.
5)- Integralmente per la Cresta "italiana" Sud-sudovest:
questa cresta, che divide la Conca di By dal Vallone di Menouve/Molline, in effetti é l'unica del Mont Velan completamente collocata in Italia. Prende origine dalla Quota
3672 netri
(
3680 metri
nelle Carte attuali; segnale trigonometrico) e scende verso la Sella ed il Colle di Faceballa
(3280 m, 3239 m)
originando le omonime quattro punte e le tre Teste di Faudery, La Salliousa, il Col de la Salliaousa, la Tête des Crêtes, i due Mont Chenaille, il Col de Champillon, la Crou de Bleintse, la Tête de la Praz per terminare con il Mont Saron
(2681 m)
sopra il Comune di Allein
(1253 m)
. In realtà, da uno spallone sopra la Sella, essa si sdoppia inviando un ramo secondario più a Sudovest atto a contenere il lato Meridionale del Glacier du Mont Velan in Val de Molline. Dopo il timido
"assaggio"
della cordata del 1890 in discesa ed il raggiungimento di quella del 1970 alla selletta
3450 metri circa
per poi uscirne quasi subito dalla stessa portandosi ad Est, é stata percorsa in discesa integrale da parte di Osvaldo Cadellina il 27 Luglio 1997 dalla Sommità fino al Colle di Faceballa. Nell'occasione lo stesso, dopo avere effettuato in salita la Parete Nordovest della Quota
3708 metri
, é rientrato in Val Molline tramite questo percorso tale da prevedere la discesa del Versante Occidentale del Col de Faceballa, anche se risulta sicuramente più facile e meno pericoloso scendere in quella direzione dalla vicina Sella di Faceballa. La cresta é formata, dopo la Quota
3672 o 3680 metri
da un primo breve e facile tratto pseudo rettilineo terminante sopra uno ben più ripido di una
sessantina di metri
; dopo questo alcune asperità minori conducono alla grande spalla dove la medesima si sdoppia. La parte finale per raggiungere la Sella di Faceballa mette in rilievo una testa rocciosa seguita da alcune guglie di roccia non troppo buona (passaggi di I°/II° e brevi tratti di III°-, quasi sempre aggirabili sui due versanti;
A/PD-/PD+; 1h'45
in discesa; calcolare
3h'00/3h'30
in salita dalla Sella di Faceballa ed
un quarto d'ora in più
dal Colle di Faceballa).
All Routes from Faceballa Saddle to the Valsorey Pass on South-southeast Faces,

Picture by Antonio, traced by Osw
"Modern Via 1998" & Normal "September 1891" for descent towards Valsorey Pass,

Picture & traced by Antonio
Dal Comune di Etroubles tramite i Valloni di Menouve/Molline ed il Bivacco Molline
(2415 m)
: dalla Città d'Aosta risalire verso Nord con la Strada Nazionale del Gran San Bernardo n° 27 e, dopo il Comune di Gignod
(994 m)
, raggiungere quello di Etroubles
(1280 m)
. Uscendo verso Ovest dallo stesso, dopo due tornanti e presso una Croce, prendere a Nordest una deviazione che conduce a Prailles Dessous (Agriturismo
"La Grandze in Tsi Inconnu"
) dove, subito dopo in località Quaye, è posizionato in cartello di divieto di transito e dove è obbligatorio effettuare il parcheggio. Dal parcheggio di Quaye
(1650 metri circa)
continuare tramite la poderale che, indirizzandosi a Nord, entra e percorre il lungo Vallone di Menouve oppure Menovy passando alta ed ad Ovest sopra l'omonimo Torrent. Lasciando in alto a sinistra le Alpi di Combe German e Plan Bois
(1893 m)
la stessa raggiunge il successivo Alpeggio di Menovy
(1913 m)
; al bivio successivo abbandonare ad Ovest il ramo che conduce all'Alpe Trecaudette
(2133 m)
e procedere invece con quello più in basso verso la grande Alpe dell'Arvus
(1983 m)
, dove la poderale termina. Da questa salire con un sentierino
non numerato
risalente al soprastante promontorio erboso arrivando ad una piccola conca dove si riscontrano i ruderi d'un alpe antica, appena sottostante quella di Molline Vieille
(2295 m)
. Con percorso in parallelo ad Ovest del Torrent de Molline continuare nell'omonimo Vallone con il sentiero
n° 21
raggiungendo il Bivacco di Molline (
2415 m
; aperto dall'estate del 2005;
E; 1h'45/2h'00
dal cartello di divieto), presso la Montagna di Molline. Qui termina anche il sentiero numerato proseguendo però con dimensioni più ridotte, quasi una traccia, e, avvicinandosi sempre di più al torrente ed in seguito attraversandolo, tramite il percorso tra valloncelli e gobbe erbose raggiunge un bivio a
2519 metri
. Appena prima di questo punto e non molto tempo dopo il bivacco inizia l'itinerario verso il Versante Ovest della Sella di Faceballa, che ci riconduce agli itinerari di base della Parete Sud-sudest e relative piccole varianti tramite la soprastante Cresta Sud-sudovest, divisoria tra il Vallone di Menouve/Molline ad Ovest e quello dell'Alpe di Faceballa ad Oriente nel settore più Occidentale della "Conca" di By.
Via Occidentale verso la Sella di Fabeballa
Lasciando il sentiero che diviene esile traccia fino al Colle di Molline
(2915 m)
, continuare invece con scarse tracce in un terreno sassoso e, per mezzo d'un ulteriore valloncello, raggiungibile attraverso un ripido ed erboso promomontorio si percorre il tratto finale sotto la sella in un piccolo bacino di detriti e blocchi. Questo tratto abbastanza ripido e, all'inizio della stagione, coperto di neve dura porta a raggiungere l'amplia Sella di Faceballa(
3280 m
;
2h'45/3h'15
dal bivacco;
5h'00/5h'30 in totale
dal termine della strada).
Italian Standard Route in descent towards Valsorey Pass (3107m),

by Marco Cossard, "Faustin" Savoye, "Gigi" Gadin & Osw
Difficulties & Equipment
DIFFICULTIES
From
PD/PD+
with short stretches to
AD-
for all the routes described above.
Da
PD/PD+
con brevi tratti di
AD-
per tutte le vie descritte.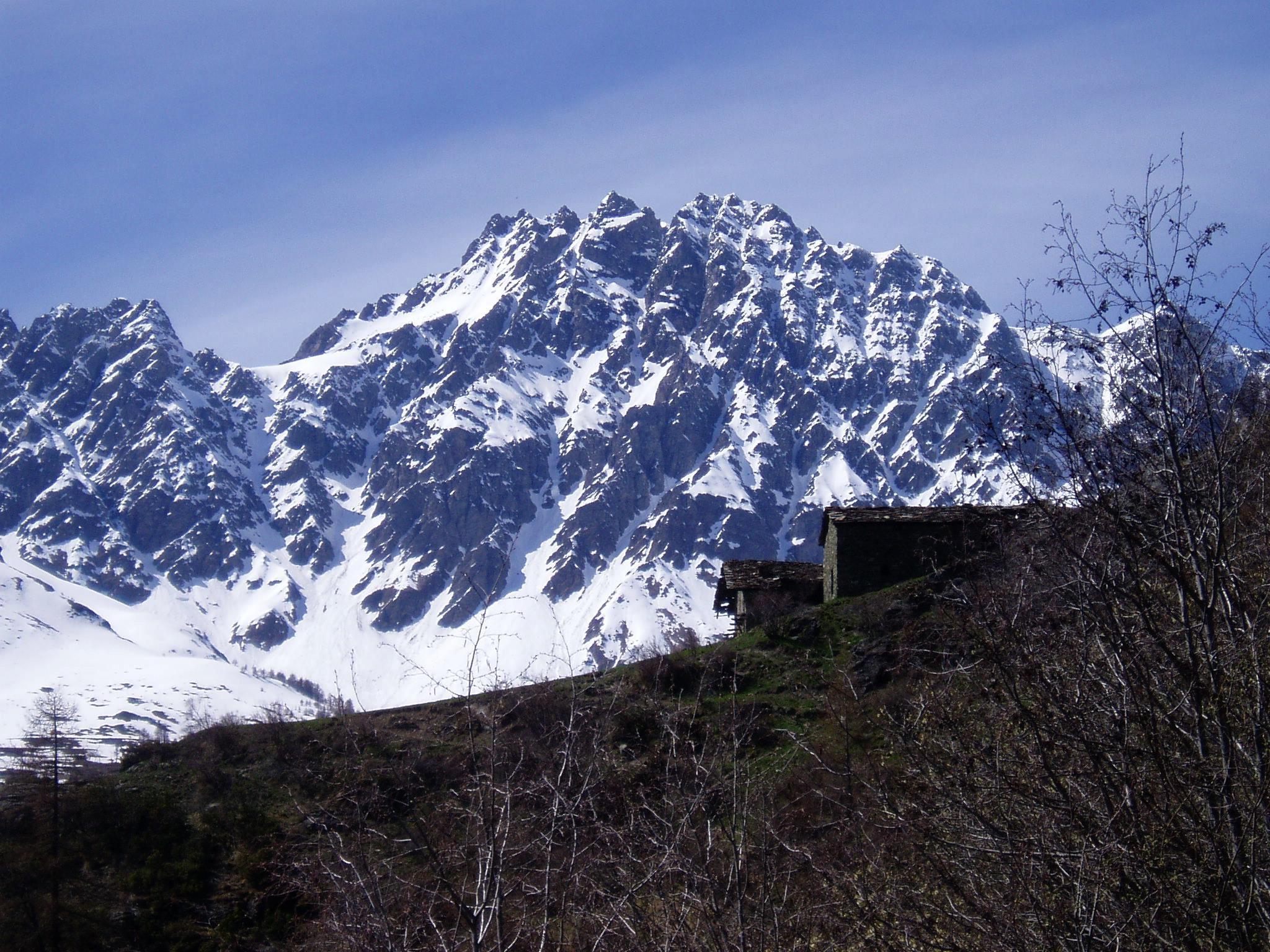 Southeastern Faces, between two ridges, by archiloco
EQUIPMENT
For High Mountaineering, with rope, axe and crampons.
Da Alto Alpinismo, con corda, piccozza e ramponi.