Zion National Park Canyoneering
Canyoneering
Conditions in Southern Utah are ideal for forming slot canyons with soft sandstone everywhere and flowing water to carve into it. The perfect example of this is in
Zion National Park
which is without a doubt the most outstanding location in the United States for canyoneering and best of all it has slot canyon adventures for all levels. Families can meander through cobblestones side canyons, hikers can challenge themselves on the sixteen-mile long Zion Narrows "Trail" and Canyoneers will find something to challenge them either among the classics or within the more unknown canyons of the park. The Zion Narrows is probably the best hike in the National Park System and if not the best it is certainly up there with the best. Visitors flock to Zion to wade in the waters of the Left Fork of the Virgin River and delve into the relatively new sport of canyoneering. Although some of the canyons in and around the park can be safely explore by hikers, others require advanced rope, rappelling and down-climbing skills.
ACA Ratings
Canyons are rated by the American Canyoneering Association. The rating is a key to what you should expect when you explore a canyon under normal conditions and during the canyon's "normal season". Be aware that most canyons will change after a flash flood, during winter conditions and after other adverse weather. Always be prepared for the unexpected. Canyons change constantly.
Rope Work
1
A rope is not needed but there might be some scrambling.
2
A canyon were a rope is needed for handlines and belays. Down-climbing and scrambling skills are needed.
3
Rope, anchor knowledge, pothole escapes and rappelling skills are required. Ascending skills are required to exit up-canyon.
4
Advanced rope work and skills are required.
Water Level
A
Usually a dry canyon but some water might be present.
B
The canyon will have pools of water but no running water. Swimming and wading might be required.
C
Flowing water in the canyon containing deep pools. Waterfalls might be present. Wetsuit or dry-suit might be needed.
Time Notation
I
Used if a canyon takes a couple of hours or less such as
Keyhole Canyon.
II
Used if a canyon will take a half day such as Pine Creek.
III
Used if a canyon will take most of a day such as the Subway.
IV
Used if a canyon is expected to take a full day like Kolob or Imlay, but starting early is suggested as well as being prepared for a bivy in case you run into problems.
V
Used to note a canyon that will take one full day and half
of the second day like the Zion Narrows.
VI
Used to note a canyon like Heaps that can take three or more days.
Classic Canyons
Visiting Zion
Zion is well known for it's canyoneering due to the numerous quality technical canyons within and just outside of the park boundaries. Exactly what is considered technical varies depending on who you ask, but for the most part, they are canyons that require skills to descend. This would put even the easier canyons like Subway, Orderville Canyon and Red Cave into a technical category. The skills needed vary with the canyon, but most of the time you will need to be able to down-climb, scramble, rappel, and swim. At least one person in the group needs to have a good knowledge of anchors and rope work.

Popular "Technical" Canyons

Popular Canyons Just Outside Zion
Birch Hollow
Fat Man's Misery

Other Canyons
Parunuweap Canyon
Mineral Gulch
Red Cave

Canyoneering Links
Tom's Site
Shane's Site
Bo and Tanya's Site

Zion is a mecca for canyoneering as well as hiking and climbing and has some of the best hikes in the National Park System. It is also known for backpacking, mountaineering and climbing, especially its big walls and bouldering. The park is a photographers dream place. As Utah's most visited park, many of the trails are crowded, but there are an abundance of routes that are off the beaten path in Zion and nearby the park boundaries. Bikers will enjoy the bike friendly Pa'rus Trail. You will also see bikers on the Zion-Mt. Carmel Highway and peddling along the Zion Canyon Scenic Road. If riding a horse in the park is your idea of adventure then you can choose from a one hour ($30) Virgin River Ride or a half day ($65)ride on the Sand Bench Trail. You must be 7 years old or more and under 220 lbs. Call for more information or for reservations: 435-679-8665 Kids will enjoy Zion's Jr. Ranger Program and Jr. Explorer Program. Visitors can picnic at the tables on the side of the Zion Nature Center or at the Grotto in Zion Canyon. There are also nature walks, evening programs, displays and a free movie at the Zion Canyon Visitor Center and the Zion Human History Museum.
Red Tape and Permits


Entrance Fees
America the Beautiful Pass and Fees
$80 (annual) Pass to "all" public lands (Does not really seem to be all though, but it's a good pass to most things.)
Private Vehicle $25 (7 days)
Zion Park Pass $50 (annual)
Pedestrian/Bike $12 (7days)
Oversized Vehicle Fee (2 times /7days)
Backcountry Permit: $10

If you are bringing a camper or bigger into the park you need to know that there is a $15 (good for 2 trips in 7 days) escort fee for anything 7'10" wide and/or 11'4" tall or larger.

Canyoneering Permits

Any information that you cannot find online can be obtained by callings Zion's Backcountry Desk: 435-772-0170

Applying for a Permit
The trip leader, the person applying for the permit, must be 18 years old or older and this person is responsible for the actions of the group and for following park rules and regulations.

Canyoneering Permits
Walk-in permits are limited and can be issued from the visitor center the day of or the day before a canyoneering trip. If you canyoneer in Zion often, apply for an Express Permit which allows you to obtain a permit on-line. Permit Application

Pristine Zones allow up to 12 people: Mystery Canyon, Imlay Canyon, Kolob Canyon, Behunin Canyon, Heaps Canyon , Echo Canyon, Spry Canyon, Englstead Hollow, Ice Box, and the Upper Right Fork of North Creek.

Primitive Zones allow up to fifty visitors: Orderville Canyon, Pine Creek Canyon, Keyhole Canyon, and the Subway.


Weather and Flash Floods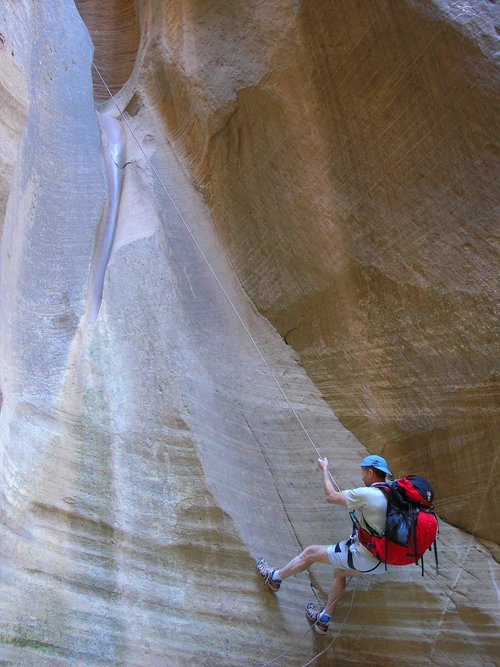 The mild seasons in Zion National Park allow for year-round hiking and recreation. During any season it is imperative to check the weather and flash flood conditions before ever entering a slot canyon.

Summer
Summer days can be hot and usually range from 95 °F to 110 °F on the canyon floor where it is only 4,000 feet, however the high canyon walls offer shade and therefore bring welcome hiking conditions. The east side of the park is at a higher elevation and thus cooler, but most of the hiking is in direct sunlight.

Autumn
Early fall is often pleasant for long hikes that are uncomfortable in the summer. The monsoon season is usually mid-July to mid-September when canyoneers must be extra cautious due to flash floods. Often these types of storms hit late in the day and canyoneers will try and do a canyon early in the morning. Late fall often brings snow in the few weeks before Christmas.

Spring
Spring weather is uncertain, but it is usually the wettest in March. During the Spring, it can be warm and sunny one day and storming the next. Around Easter the park is usually hit with a surprise snow shower. Watch for wildflowers to bloom in April and throughout this delightful season.

You are responsible for your own safety! Make sure to check weather reports before you enter a canyon!

Flash Food Reports
North Fork Virgin River

East Fork Virgin
River

Left Fork North Creek

Flood Watch
More About Zion


The Most Visited Park in Utah
Zion is the most visited park in Utah and is situated in three Utah counties: Kane, Iron and Washington. It is located in the southwest corner of Utah between Springdale and Mt. Carmel Junction. It takes up 228 square miles and consists of four unique sections: Zion-Mt. Carmel Highway and the east side of the park, Zion Canyon, Kolob Terrace and Kolob Canyons.

Discovery
Zion Canyon was discovered in 1858 by Mormons who settled in and around the canyon and was probably named by Isaac Behunin, a settler from the 1860's. Notice that one of Zion's Technical canyoneering routes is called Behunin Canyon. In 1909 the area was established as a National Monument and named Mukuntuweep, later in 1919 the Monument was made a National Park. The name Zion, meaning refuse or sanctuary, became the official tag in 1919 as Zion National Monument and later as Zion National Park.

Expanding Boundaries
The Kolob sections and the east side of the park were later incorporated to form the boundaries used today. To connect the canyon to the east side of the park two incredible tasks had to be undertaken; the building of the Zion-Mt. Carmel Highway and the Zion-Mt. Carmel Tunnel. The winding road leading from the Zion Canyon Visitor Center to the south side of the tunnel is known as the switchbacks. Building this section of road was actually a more difficult task than building the tunnel, according to Tom Haraden park interpreter, and the construction of the tunnel was known as an "engineering wonder of the times." The construction of the 1.1 mile tunnel began in 1927 and the road was ready for travel in 1930. This opened the park not only to the east side but to the other attractions including Bryce Canyon and the Grand Canyon.
Getting There


Directions


If you are driving from Salt Lake City or any of the cities up North:
To get to the east side of the park: Drive south on Interstate-15 and exit on Highway 20. Follow Highway 89 to Mount Carmel Junction. Take the Zion-Mt. Carmel Highway (Highway 9) to Zion's east entrance.

To get to the south side of the park: Drive south on Interstate-15 and take the Toqerville exit. Drive through Toqerville to La Verkin and take Highway 9 to Springdale and the south side of the park.

If you are driving from Arizona
Take Highway 89A going through Fredonia, Arizona and past Kanab, Utah where 89A will change to 89. Follow Highway 89 to Mount Carmel Junction. Take Highway 9 to the east entrance of the park. To get to the south side and Springdale, drive through the park.

Kolob Canyons
The Kolob Canyons section of Zion is closest to Cedar City, Utah. From Cedar City take Interstate 15 and get off at the signed exit. It is between St. George and Cedar City. Kolob Canyons is best known for the Kolob Arch, one of the world's longest arches.

Kolob Terrace
From the main section of the park, travel south on Highway 9 to the small (yet growing) town of Virgin and turn at the signed, Kolob Reservoir exit. This part of the park is known best for the Subway and Lava Point, where the West Rim Trail begins. Winter Road Info
Camping - Food - Lodging

Camping inside the Main Park

The Watchman Campground is near the south entrance of the park and is open year-round. Sites are given on a first come, first use basis November through March. Reservations can be made during the rest of the year. $16 per site without electric hookups, $18 per site with electric hookups, and $20 per site for river sites. Reservations: 877-444-6777

The South Campground is also located near the south entrance and is open March through October. All sites in the South Campground are first-come, first serve. $16 per site, per night.

Both of these campgrounds provide restrooms, picnic tables, RV dump, drinking water and utility sinks. There are no showers.

Kolob Camping

Primitive Camping
There are 6 sites at Lava Point in the Kolob Terrace section. Due to winter road conditions the campground is usually only open from June to November. At Kolob Canyons you can only camp in the back country, but there is a private campground in Kannaraville that has showers and it's open year-round.

Backcountry Camping
For any backcountry camping you will need to apply for a permit at the visitor center and there is a fee. Groups must be 12 or less. Backpacking permits can be obtained up to three days before your trip date.

Free Camping
Mosquito Cove is located between mile markers 23 and 24 on the south side of Highway 9, south of Springdale. You can also camp on the BLM land around Eagle Crags. In the Kolob Terrace, free camping is often found at Smith Mesa. If visiting Kolob Canyon look for side roads around the nearby towns like Pintura.

Showers
Zion-area showers: Tsunami Java & Juice and Zion Rock & Mountain Guides
Informative Links

Zion Narrows
The Zion Narrows is probably the most famous and most hiked slot canyon in the world. Hikers can begin at the top or just explore as far as they want from the bottom and return back to where they started.

Informative Sites

Zion Food and Lodging
Food and Lodging - NPS Site

National Park Service
This is the Zion National Park section of the National Park Services offical pages.

East Zion Tourism Council
The East Zion Tourism Council covers the area from the east entrance of the park to Glendale.

Springdale Chamber Commerce
Springdale is the small town adjacent to the south side of the park.

Bo and Tanya's Zion National Park site.
This Zion National Park site has a comprehensive volume of hiking, backpacking and canyoneering information for Zion National Park. It also includes information for the nearby parks, monuments and forests: Bryce Canyon, Grand Canyon North Rim, Grand Staircase-Escalante, Paria Canyon, Cedar Mountain, Red Canyon and the Coral Pink Sand Dunes.
SP Members in Zion's Canyons
About Bo Beck
About Bo: Bo has numerous years experience and a vast knowledge of the climbing, canyoneering, hiking routes and trails in and around Zion National Park. As a veteran Zion search and rescue team member, Bo has explored Zion in ways that few ever will.

Bo on SP

Stories by Bo on SP

Bo's First Heaps Canyon Ascent

Behunin Canyon - SAR Team mishap
Zion on Summitpost
Great Info: Zion on SP by Courtney
Beyond Zion on Summitpost
Great Info: Technical Slot Canyons of the Colorado Plateau on SP by Scott