Overview

Saddle Peak is one of the more prominent bumps on the long sharp ridge of the Bridger Range in southwest Montana. Impressive views from the summit include the Gallatin and Madison Ranges as well as the Crazy mountains and the Absorkas. Much of southwest Montana is visible from this highpoint.

Getting There

From Bozeman, Montana head north from town on Rouse ave. about 5 miles to a parking lot accessing the"M" trail and the Bridger Ridge Trail. Stay on the main trail following signs for Mount Baldy. Once reaching the ridge, follow it north over Mount Baldy, and Bridger Peak, before reaching a 700 foot ascent to the top of Saddle Peak. (time from the trail head about 5 hours one way). An alternate route is to achieve the ridge at Bridger Bowl ski area (16 mi. north of Bozeman), and then traverse south on the ridge about 2 miles to the summit. This route involves less distance than the route from the "M" trail. Each year people start the bridger ridge run from fairy lake. This involves summiting saddle peak along the 22 mile trek.
You can also access this peak from Middle Cottonwood Canyon on the West (town) side of the Bridgers. The trail is steep, but well marked, easy to follow, often used, and leads directly to the South Summit. This is probably the best round trip hike, unless your training for the ridge run and want to go over baldy!

Red Tape

The peak is in the Gallatin National Forest, and no permits are needed. Starting from Bridger Bowl depends on the ski area not being in operation. All other trail heads are open to foot traffic year round.

When To Climb

Most any time of year that is snow free or when snow conditions are stable. Typically June-October.

Camping

Camping is allowed but not needed. You would have to haul all of your own water as there is none along the trail.

Local Weather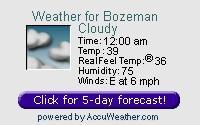 Images