Overview
The name "Bald Mountain" is repeated time and time again in just about every state there is and Nevada has a good number of them. This "Bald Mountain" is found in Lander county and is pretty much unknown and unvisited. Ken Jones and I decided to visit it when we discovered that it had prominence of over 2200' which made it
the 127th most prominent peak
in the state of Nevada. The slight problem we ran into was that there was no information about it at all so we became explorers in a modern sort of way, explorers who had a Benchmark map book of the state of Nevada and a desire to find our way to the top of this mountain.
This mountain is just southwest of
Mount Tenabo
and is located in the Red Mountain range of Nevada. I could find absolutely no information on the range or on the mountain, zero information, zilch, nada. The only info you'll find is what I've put down here on this Summitpost page so welcome to my world if you decide to chase after this one. Our routefinding was accomplished by driving as close as we could to the mountain and just driving up what looked to be a promising jeep track on the east side. There are also roads that go to the north of the mountain and as we observed while hiking, there are jeep tracks on the west and south side so the route we took might not have been the most efficient but it worked for us. By all means, please let me know of how you climb this mountain if you go from the north, west or south. Brad Boester, who signed the register on the summit indicated that he came in from the SE Canyon via the South Ridge and that may be similar to what we chose. He indicated that his hike was 8.3 miles round trip with 2700' of elevation gain.
Getting there
From the north, via I-80, take the turnoff for Beowawe south on highway 308. Continue on through Beowawe and Crescent Valley and follow the pavement for about 12 miles and watch for a turn at waypoint 40.2756 116.6874. Go left and then take a right at the next fork and cross a 4 way stop to waypoint 40.2306 116.7132. It is about 3.3 miles to this left turn that heads up into Cortez Canyon. This is a county road although it isn't signed at the turn off as far as I can remember but it gets a lot of traffic to the Barrick Mine since that is a major operation in the area north of Bald Mountain. This is where having a good Benchmark Mapbook of Nevada comes in handy along with topo maps with waypoints that you have made up. Now the key is finding county road 21,the gravel/dirt road that leads near the old ghost town area of Cortez (see your maps). A side trip to
Cortez
will net you one cemetary and a few remains of the towns original buildings but if you take this option, you will be in good position to find your way to the top of Mount Tenabo. To get to Bald from the north however, continue south on county road 21 to a junction at waypoint 40.0697 116.5790 and turn west.
Go 3 1/2 miles to waypoint 40.0763 116. 6426 and turn south on the dirt road you should hit about at this waypoint. Go south about 3.4 miles and watch for a dirt track that heads west. The waypoint for this one is 40.0289 116.6560. We were able to drive up this jeep track for another 1.6 miles to where we finally decided to park and call it our "trailhead". All of the waypoints are given in lat/long nad 27. Study the maps and have them with you. My waypoints were invaluable for Ken and I as I had made them prior to the trip.
From the east: Leave highway 278 just a short distance north of the small rest area on the signed Cortez-Beowawe road. This is a good quality gravel/dirt road that sees a lot of mine truck traffic. Follow it roughly 21 miles to where it intersects with county road 21. (You will go over Garden Gate Pass) Turn north and go to the junction mentioned above at 40.0697 116.5790 which is about 2 1/4 miles north. Remember to have a Benchmark Map book for Nevada with you, the roads are shown clearly on pages 50/51
From the south: It looks like Country road 21 (aka Grass Valley road) might be a way to go from US 50 (close to Austin) but it would mean driving at least 50 miles to reach the above mentioned junction on dirt track roads. An interesting possibility that would save a lot of miles if you are coming from the south. If anyone has success on this possibility, I'd appreciate you sharing your findings.
Route
We came in from the east and drove up a jeep track until it got questionable. We parked about the 6500' foot mark, and then followed another jeep track (not drivable to us)for awhile up the southeast ridge and followed relatively class 1 slopes up to the summit. Ken Jones
posted our GPS track
at peakbagger.com which might be of help to you if this mountain is on your Nevada list.
We also noted wild horses in the area during our visit and encountered a herd not far from the summit itself. Our route was about 4 miles roundtrip with an elevation gain of close to 2100'.
Summit register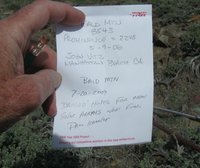 We found a John Vitz register that he left on his visit in 2006. The only other peakbagger we saw signed in was Brad Boester who visited the summit about a year prior to our visit. As you can see from the list below, 2015 has been the busiest year so far.
2006 - John Vitz (Calif)
2011 - Brad Boester (Nevada)
2012 - Ken Jones (Washington)
2012 - Dean Molen (Utah)
2013 - Andy Martin & Mark Nichols (Arizona)
2014 - Dennis Poulin (Oregon)
2015 - Bob Packard & John Hamaan (Arizona)
2015 - Richard Carey (Calif)
2015 - Bob Sumner (Nevada)
2015 - Ron Moe (Nevada)
Red Tape
None that I am aware of but for more information, you could contact:
Elko BLM office:
Address: 3900 E Idaho St, Elko, NV 89801
Phone:(775) 753-0200
There is also a BLM office in Battle Mountain:
BLM Battle Mountain District Office
50 Bastian Road
Battle Mountain NV 89820
775-635-4000
Office Hours: 7:30 am - 4:30 pm M-F
When to Climb / Weather
It might be possible to climb this mountain in any season, depending on snow accumulations (or lack thereof) but the area should be avoided if it has snowed on the roads or during wet weather since some of the roads might become impassable due to mud. Try and find out road conditions in advance from one of the BLM offices listed above but I'd avoid the area during bad weather.
Click for weather forecast
Click for weather forecast
Camping and warning
Car camping on BLM is approved as long as you choose a place where your visit will create minimum impact and you utilize the "Leave no trace" ethics. Also, please pack out your trash.
There are no formal campgrounds in the area although you could visit motels in Elko, Eureka or Battle Mountain for necessary lodging. The hike itself is not a problem, it is the getting there that might prove to be a challenge. Since you will be a good distance from any services, be sure to have a full tank of gas, adequate water and supplies, a vehicle with good clearence and be sure to let someone know where you are headed and when to expect to hear from you. Cell service is always sketchy in these isolated parts of Nevada but the proximity to the Barrick mining operation might be a game changer. I don't remember if we had cell coverage or not when we were out there since we didn't try to use our phones.
External Links
Cortez
Barrick Mining operation
Disclaimer
As road conditions can change and hiking or traveling in this type of country can be inherently dangerous, the above information is provided only as a courtesy. You accept all risk and responsibility for your activities in this area and I recommend that you let others know of your plans and where you will be hiking/climbing prior to heading to this area. Be self sufficient and carry plenty of food, water and shelter in the event of a breakdown. Good quality tires are a necessity on the rough and rocky roads you will encounter as is a vehicle in good condition. Having said all that, have a good trip and please let the author of this page know of changes that you encounter.