Overview
Beinn a'Bhuird ("Ben a voord" -Hill of the Table) is a vast mountain situated in the eastern Cairngorms and has one of the largest high tablelands in the area. On the west side it drops gently down into the surrounding glens, to the east it is riven by deep coires and steep cliffs of weathered granite. It is a beautful and lonely place.
The mountain is flanked by some extremely important remmanants of the once great Caledonian pine forest- this provides much interest on the walk in. This once formed part of a huge area of wild wood which covered much of Scotland. The summit area is a huge tableland consisting of gravel pans and arctic alpine plants and grasses.
The north and east facing coire's offer winter climbing and ski-ing in season - though only for the fittest and most motivated as access is difficult.
Getting There
The mountain seems to be most commonly accessed from Braemar - via either Gleann an t-Slugain or Glen Quoich, there being ample parking at the Linn of Quoich. Both access routes involve a faily lengthly walk in before the mountain is reached. A mountain bike may be of some use.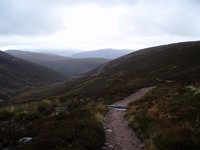 From Glen Quoich is an easy route of ascent up the west side of the mountain following a recently restored track. (This replaces an appalling bulldozed stalking road which nearly reached the summit and left a huge scar, though the damage has been repaired and seems to be healing).
Visit this link to see an overview map of the hill.
Red Tape
None that I am aware of. Be aware of deer culling and forestry work however and respect any requests from the estate management. The land forms part of the Mar Estate and is owned on behalf of the nation by the National Trust for Scotland.
Camping
Wild camping and bivouacs are permitted here, though again please respect the requests of the National Trust. Pack out all waste - the landscape is fragile, especially on the plateau where growth rates are akin to the Arctic.
Useful Links
Strathspey Weather - a useful summary of the current and past conditions in the area. Tempratures on the mountain tops are generally about 4 or 5 degrees lower.