Overview
Cleaver Peak is another Nevada peak that flies under the radar and is located south of Fernley. It is not a mountain that draws your attention to it but except for the fact that it is one of Nevada's peaks with over 2000 feet of prominence, few people would be interested in making a visit . With over 2200 feet of prominence, it is the 129th most prominent mountain in the state and that alone is the reason why those of us who are interested with peaks on the
prominence list of Nevada
are drawn to it.
With an elevation of only 6711',it is the highpoint of the aptly named
Desert Mountain range
and the vegetation found there is indeed desert in character. It is bracketed to the north by the
Lahontan Reservoir
and to the south by
Mason Valley Wildlife Management area so while the range is desert like, water is in seemingly abundance nearby.
Wisely, summertime is a good time to avoid climbing this one due to the high temperatures encountered in this part of Nevada although its low elevation does make it fairly attractive to those looking for a hike during the wintertime that might not be encumbered by a lot of snow. It is a stark landscape, with no trees and is covered with the usual desert like scrub plants that you'd expect in an arid area like this.
The peak was named in honor of a local rancher, Kirby Cleaver, who ranched in the area in the 1870's. History abounds in the area from the pioneer era and a visit to
Fort Churchill State Park is recommended when you are in the area.
Getting There
Using
Dennis Poulin's excellent peakbagger directions,
I approached Cleaver from Alt US 95 south of I-80 at Fernley. About 25 miles south of Fernley, passing the small town of Silver Springs along the way, I watched for a signed dirt road going east named Julian Lane. It is found at waypoint 39.1610 119.1910 (nad 27) This was about 25+ miles south of Fernley. If you get to Wabushka, turn around you've gone too far. After turning east on this road, take the left fork and after 1.7 miles from the highway there is a less improved road going northerly from Julian Lane. This road is unsigned and high clearance is recommended due to the rocky and rough condition of the road. 4WD might be helpful but at the time I was there, I didn't need to shift into it. Follow this road for another 1.9 miles into a canyon and to where it ends at an old prspect area at a forked canyon at elevation 5250. Park here as this will become your trailhead.
Route
From the end of the road at elevation 5220 (our trailhead), Cleaver Pk is about 2 GPS miles from where we started. We found the drainage to be the logical way to get up to a broad saddle area(elevation 5750). We traversed across this saddle area and then went left up the slope on the left to bypass a drop that was between us and Cleaver Peak and and we were west of point 6041 as shown on the topo. We traversed for a while on the Peak 6650 and found our way to the highest spot of this area which had over 400 feet of prominence and qualified as a bonus peak. We then dropped off of Peak 6650 and lost several hundred feet and crossed the dry drainage to climb the slope up to Cleaver Peak. For our descent, we worked up to the old road that is shown on the topo and followed it
till we intersected our ascent path and followed that back to our trucks.
Ken Jones has posted a GPS track on Peakbagger that is almost exactly the way we went. Our totals for the route which included hiking up to the bonus peak was over 2600+ when taking into account the ups and downs on the ascent and descent. Total mileage was 6 miles.
Alternate route: There is a road that comes up from the highway to the west but as far as we could discern, it is in very poor shape and neither of us were willing to test our vehicles on it. John Vitz used the road when he
visited this peak in 2005 and Brad Boester walked up the road in 2007.
Red Tape
None that I am aware of. No private property issues were encountered and as far as I can tell, the mountain is located on BLM land.
When to Climb
Any time of the year although summer can be a bit on the hot side. Carry plenty of water, there is none to be found on this mountain.
Camping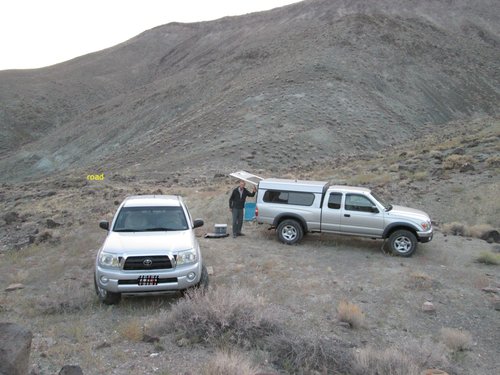 If you need to car camp, you can camp at the end of the road although there is plenty of lodging in Fernley or Fallon. Campgrounds are available at Lahontan Reservoir and at Fort Churchill State Park.
Weather
Wabuska weather
(near the peak)
Summit register
I found that almost 30 people had signed into a register, either on the mountain or on peakbagger since 1983. That is an average of one person a year but in reality, there are years when no one visits the top and years when a group of people top out on this one.

Peakbagger link
Bonus Peak - Peak 6640
A nice sidelight to this mountain is that either on the way up or the way down, you can pick up a
"bonus" peak
with just a bit more effort on your part. Ken Jones GPS track found on peakbagger was what we used to guide us and we felt it was worth the extra effort.
8 day trip
Cleaver was the first of 8 straight days of chasing Nevada peaks that had over 2000 feet of prominence.
8-21 Cleaver
8-22 Job Peak
8-23 Trinity Peak and Seven Troughs peak
8-24 Hannan Range H.P. and Juniper Mountain
8-25 Richard climbed Pah Rum Peak (I already had it)
8-26 Kumiva Peak
8-27 Virginia Peak
8-29 Tule Peak
Headed for home after Tule Peak as the temps were once again climbing
and that was enough to make us give up on doing one more day of climbing.
Richard Carey from San Diego was my companion and it was nice to have two
vehicles in some of the isolated areas we traveled to.