Overview
Craciunesti Gorges are a part of the Metalliferous Mountains, a Carpathian mountain range in western Romania. They are crossed by the road that links two villages: Baita and Craciunesti.
The main rock that you can find here is limestone. In the twentieth century, in the nearby there was a limestone quarry; however, in 1988 the area was declared reservation, and from 2006 it became a reservation of european interest - "Calcarele din Dealul Magura" (Limestones from Magura Hill).
There are two climbing areas. The first one is down, near the bridge, and is called Sturu Wall. Most of the routes are for sport climbing, they are 15-25m long and their difficulty vary between 5b and 8a.
The other one, Vanataria, is much bigger, it also has sport climbing routes, but here you can find many beautiful traditional climbing routes (2B...6A).
Getting There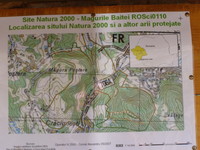 By car, from Deva following E79 (22 km) or from Brad (20 km). You can live the car near an old bridge that used to lead to the quarry.
Red Tape
You don't need any special permit to climb here.
Camping
Add Camping text here.
External Links
Add External Links text here.
style="display:block"
data-ad-format="autorelaxed"
data-ad-client="ca-pub-6523272176520096"
data-ad-slot="7132222476">