Overview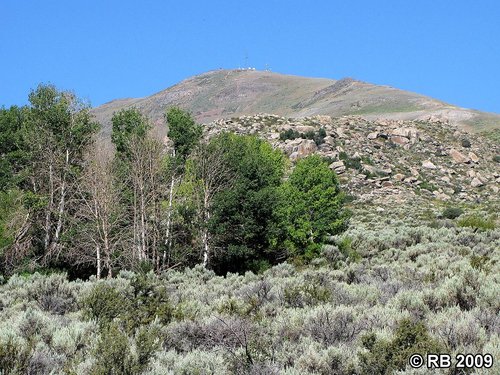 Located 16 miles south-southwest of Jackpot and 47 miles north of Wells in northeastern Nevada, Ellen D Mountain stands sentinel over Contact, a modest mining town that began in the 1890s. Contact reached a population of 300 by 1908, but is today a semi-ghost town with just a handful of residents and scattered abandoned ruins. The area bears evidence of extensive mining activity from its past, such as roads, mine shafts and adits, and structural ruins. Ellen D has an elevation of 8,633 feet, and with a prominence of 2,053 feet, makes the list of Nevada's 172 prominent peaks. I'm not sure of the peak's namesake, however, there is a Helen B. Smith Mine on the mountain's southeast slope.
An unimproved maintenance road leads to the top of Ellen D Mountain, where you'll find an impressive array of radio towers, solar panels and maintenance buildings. What stands out most are three wind turbines that power the KBSJ 91.3 FM radio transmitter, providing National Public Radio news, weather, and emergency information coverage to people in rural northeastern Nevada and southern Idaho. Prior to the placement of these turbines in 2002, there was no reliable FM coverage in these areas.
Although some of the land in and around Contact fall under private ownership, Ellen D Mountain is located on BLM-administered lands. Access here is not an issue, other than that induced by weather. Although the access road from Contact to the summit is decent, I would advise against driving a passenger vehicle on it. This area sees heavy snowfall in the winter and I'm not sure if this road is regularly maintained in the winter. An alternative for a winter ascent is snowshoes –
here's a good trip report that I found
.
A glass jar with a summit register is in the small rock pile at the summit. The register, placed there in August 1999, has 18 total entries as of August 2009.
Getting There
From US-93 15 miles south of Jackpot, turn and head west at Contact, driving 5.8 miles on dirt roads to the summit. Because of the mining activity that this area has seen over the years, there is quite a network of roads, thus you'll encounter some intersections. The best road leads to the summit and when you reach these intersections, it will be very obvious which road is the best.
Red Tape
BLM regulations apply. The driving route requires the use of public access roads through private lands; please stay on the access roads.
Camping
There are no developed campgrounds in the area. Dispersed camping on BLM land is permitted at no cost for a maximum of 14 days at the same location.
Food & Lodging
Jackpot, 15 miles north of Contact, or Wells, 46 miles to the south, are the nearest towns that will provide the basic necessities of fuel, food, and lodging.